Anthony Davis' Pet Marmoset's Wednesday Morning Wakeup
That adorably terrifying little creature is Anthony Davis' pet marmoset. His name is Meeko.
What's a marmoset, you ask?
It's a small monkey from South America and it needs endless attention if kept as a pet, which isn't recommended. That explains why Davis has a babysitter for the little fella while he's busy doing Anthony Davis things.
Anthony Davis apparently owns a Marmoset. His name is Meeko…this dude is babysitting. pic.twitter.com/VbfScj41vE

— Adam Lefkoe (@AdamLefkoe) July 11, 2015
MarmosetCare.com says keeping marmosets in a home environment is not advised; it is very unlikely to meet their needs; and they will stink up the house and destroy furniture.
But when you sign a contract for $145 million, who cares what MarmosetCare.com says.
And now I want a marmoset.
It's Kentucky's turn at SEC Media Days.
After two days of pretending to be interested in comments from coaches and players around the league, we'll finally get to hear from Mark Stoops, Jordan Swindle, A.J. Stamps and Melvin Lewis at SEC Media Days. Stoops is scheduled to follow Nick Saban at the podium this morning and we will have coverage here on the website and, hopefully, live audio on this morning's radio show. Anything he says today in Alabama, we'll be on top of it, plus everything from the three players in attendance.
Get ready for a lot of football talk all day long. Tyler will Periscope a lot of it so follow her at @MrsTylerKsr on your Periscope app.
John Calipari offered Dennis Smith Jr. last night.
Smith Jr. is the No. 1 point guard in the 2016 class according to 247Sports, Rivals, ESPN and Scout's rankings. Last week he told ESPN his list is down to Kansas, NC State, Wake, Duke, UNC and Louisville. However, a new offer from Kentucky will hopefully move the Cats into consideration.
Blessed to have received an offer from the the University of Kentucky.. 🙏🏾

— Dennis Smith Jr. (@Jhooper_3) July 15, 2015
Smith is very, very, very good, but it will hard to get him out of North Carolina. I think that's why Cal hasn't bothered pursuing him in the past.
Chuck Hayes may land a new contract today.
Hayes may be going back to Houston, where he played from 2006 to 2011 at the start of his NBA career. Hayes was spotted meeting with Rockets personnel yesterday and his agent confirmed there is mutual interest.
Could he be going back to H-Town soon? Not bad for an undrafted, undersized prospect in 2005.
Boogie bought dinner for Willie last night.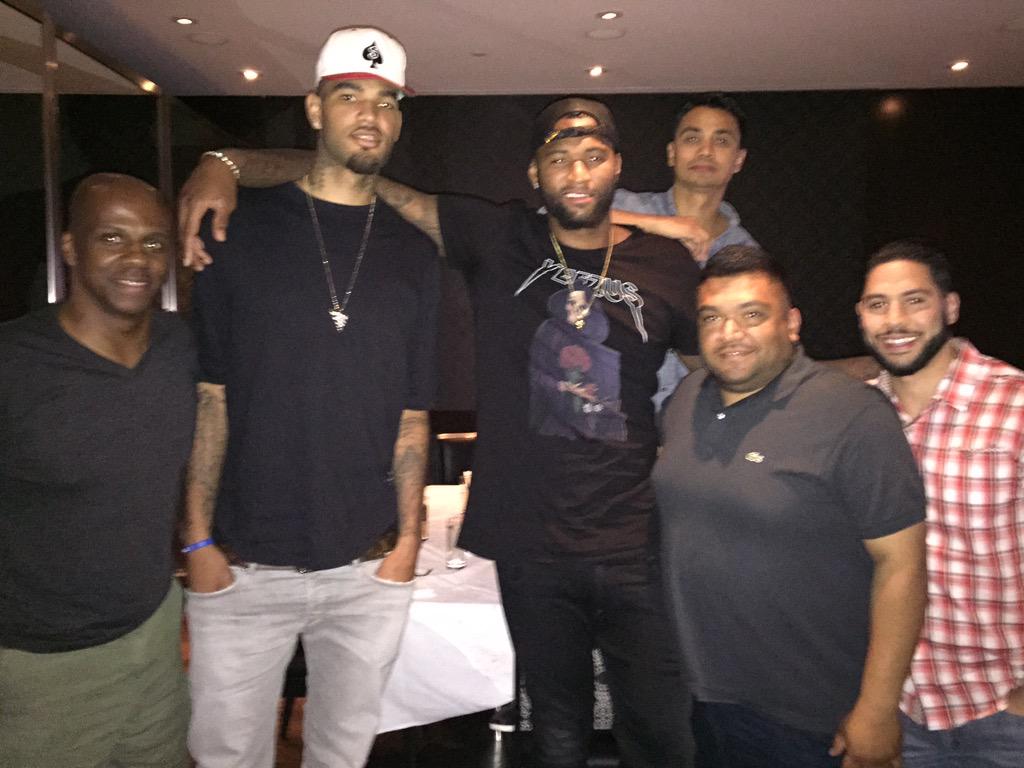 Good to see my favorite NBA frontcourt is getting along.
BTI is going to make a bold statement in one hour.
Check back at 9:00 am to see what your favorite KSR writer has to say. He predicts an active day in the comments section.
We leave for Las Vegas tonight.
Our annual Peach Jam crew (Matt, Tomlin and me) called a last minute Omaha to Las Vegas for our first trip to the NBA Summer League. We will #wheelsup from Louisville this evening for three full days of action in Sin City. And by action, I mean basketball action or any other variety of action we come across.
We were denied credentials (that's a funny story) but we plan to have daily recaps and takeaways from our seats in the stands. Plus stories from the strip, or at least the ones we can tell.
I plan to sleep about one hour a night until Sunday. SnapChat 'drew_franklin' if you care to see why there's no time for rest in Vegas.
LESSSSGGGGGGGOOOOOOOOO
KSR is in London this morning.
Get on out to Sleep Outfitters and pull up a bed to hear the show!