Amy's Tuesday Morning Wakeup
On Sunday, my husband and I saw "Amy," a new documentary about the late Amy Winehouse. Since Amy died in 2011, there have been several documentaries and shows about her, but this one was different in that it was told in her own words through unseen videos of Amy throughout her life. Award-winning director Asif Kapadia, known primarily for his 2010 documentary "Senna," directed the film, and carefully crafted a stirring and sad portrait of Amy's life using home videos and TV clips of Amy through time, along with interviews with her closest friends and unheard tracks.
We all know Amy's story and the tragic ending, but, as only a casual Amy Winehouse fan, I don't think I anticipated how moved I'd be by seeing it told on screen four years after her death. Seeing Amy's inevitable demise unfold is especially troubling in retrospect when you realize how much of an impact fame and the media had on her fall. Kapadia includes clips from TV comedians making jokes about Amy's addictions, including a particularly cringe-worthy one from George Lopez. (As with everything, probably unfair to judge him now on that, but still.) And don't even get me started on Blake.
The film isn't exactly a happy-go-lucky pick me up, but I'm glad I saw it for the simple fact that it reminded me just how much I loved her music. I'll kick things off this morning with my favorite, her cover of The Zutons' "Valerie":
That'll be in your head the rest of the day. You're welcome. Speaking of that day, here's what to expect:
Football momentum continues to build
Yesterday, 2017 three-star quarterback Mac Jones committed to Kentucky, getting the ball rolling on what could be a big week for the football program. Tomorrow night, three-star defensive tackle Kobe Smith will decide between Miami and Kentucky, and we're hearing VERY good things about Kentucky's chances. Like "get your dice ready" things. In addition, we're also hearing there may be another 2017 commitment in the works.
After a slow end to the 2015 class, recruiting has picked up major momentum and is now full steam ahead. Speaking of…
Jamar "Boogie" Watson will announce his decision on August 6th
The football "Boogie" tweeted out that his finalists are Kentucky, Virginia, and Old Dominion, and he plans to announce his decision on August 6th. The 6'2″ 220 lbs. outside linebacker visited UK on July 18th and we're hearing the staff is very, very high on him. Although he hasn't played football that long, his athleticism is off the charts, and this staff has a knack for discovering talent early on.
Kent Bulle tees off in the Kentucky Open
Bulle and his caddy Aaron Flener are KSR family, so if you have nothing better to do, go on out to Keene Trace in Lexington to cheer him on. Drew will be following them around all day as well, so remind him to put on sunscreen from time to time. Nobody wants a sunburnt blogger.
You'll vote for Kendra Harrison for the Bowerman Award again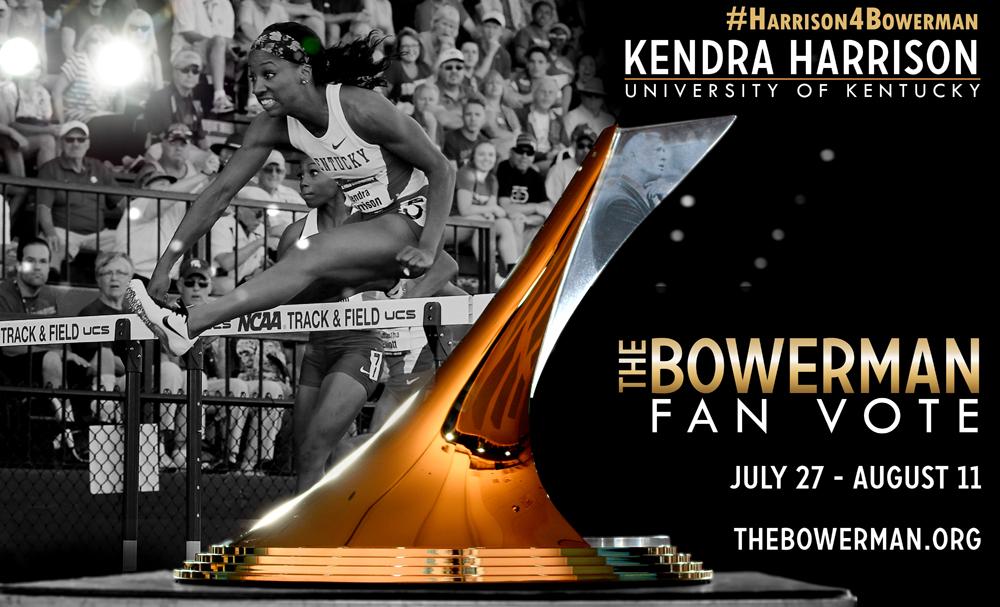 The senior hurdles star is the first Bowerman finalist in UK Track & Field history, with two NCAA individual championships and 15 All-American selections. She's the third-fastest collegian ever in the 100M and 400M hurdles, and you can help her win the prestigious award by clicking here. Voting continues through August 11 and you can vote as many times as you want. We got this, Kendra.
Congrats to the KSR-sponsored South Lexington Blue All-Stars on their third-place finish at the Bluegrass State Games
The South Lexington Blue All-Stars won third place, beating The Sluggers (Berea, KY), 11-10, with a walk-off triple in the last at bat. The South Lexington Red All-Stars won first place, beating Southeastern, 11-4, in the championship game. Pizza's on Matt the next time you see him, kids.
KSR is at the Don Moore GM Center in Owensboro
You ready, Western Kentucky?