A Moment of Zen: How Matt Jones' Jon Stewart Turn Brought Fresh Air to the Hot Air of Fancy Farm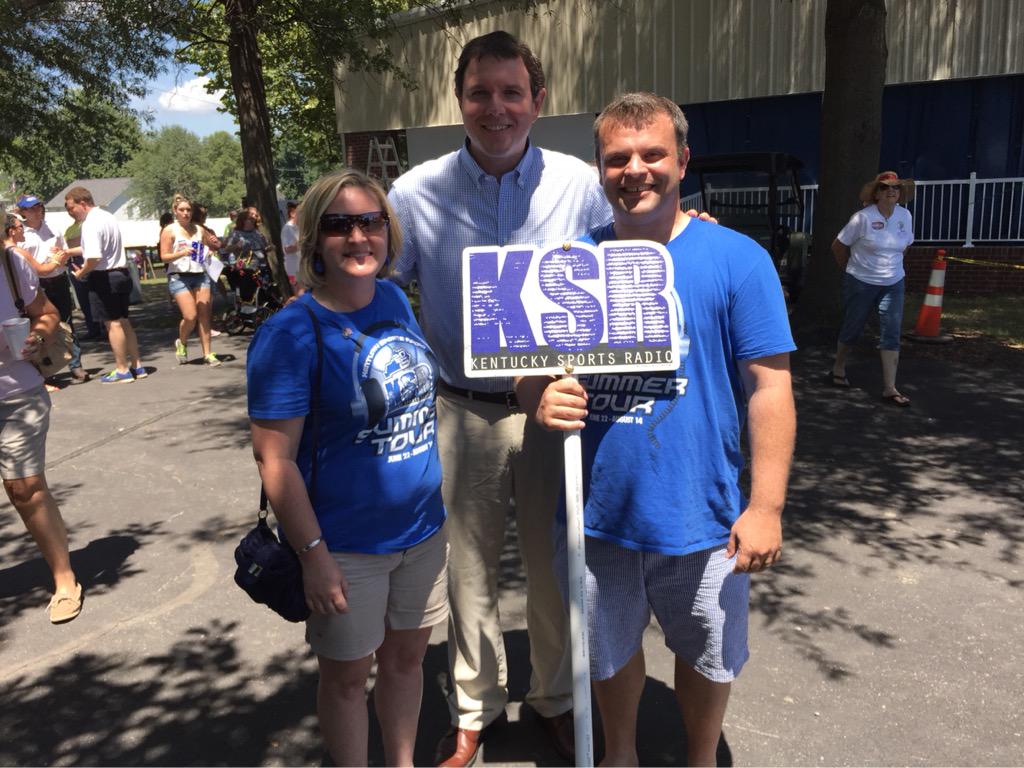 While the first Saturday in May presents Kentucky to the world in its most luxuriously resplendent garb, the first Saturday in August casts a truer light on our Commonwealth and what our politics has come to be.
Fancy Farm weekend, named after the tiny, far-western Kentucky hamlet in which St. Jerome's Catholic Church hosts the "world's largest one-day barbecue," represents politics at its very best, or at least the way we'd like to remember it.  While the picnic is the main feature, for the past few decades, a full weekend's worth of satellite activities have sprouted up all over the Jackson Purchase: meet and greets, watermelon smashes, bean suppers, country ham and egg breakfasts, even skeet-shooting competitions. There's plenty of hand shaking and baby kissing and bear hugging and back slapping and tall-tale telling. Most importantly, it's the only weekend of the year that the state's most remote region receives the full attention of the big-city slickers, power-wielding politicos and hangers-on, as well the budget-depleted Frankfort press corps.
Unfortunately, when the main speaking event begins on Saturday at 2 p.m., we sometimes see politics at its very worst.  Many years, Fancy Farm becomes a hyper-partisan, name-calling screaming match, a microcosm of everything Americans hate about politics.  During key election cycles, even before the headlining speakers clear their throats, the furious chanting, the blindly acid-laced yelling begins in full force, unleashing vocal abuse on partisan enemies. As an eight-time veteran of that stage, I can witness that the noise is so intense that it becomes nearly impossible to hear yourself speak. (Check out this 2003 clip in which this soft-spoken Jewish pischer was transformed into Elmer Gantry.)
This year's version did not veer far from the script, although it seemed a bit tamer than usual, perhaps because the speechifying was so predictable.  Every Democrat called out GOP gubernatorial nominee Matt Bevin for his mendaciousness, usually culling quotes from Senator Mitch McConnell's 2014 campaign against him. ("East Coast con man" and "pathological liar" headlined the party's talking points.) Meanwhile, every Republican made sure to mention President Barack Obama's name at least in every third sentence when describing the policies of the Democrats' standard bearer, Attorney General Jack Conway, or the rest of his ticket.
But for a ten minute oasis at the top of the program — usually reserved for patriotic platitudes and bland historical remembrances — Fancy Farm was actually fun.  The jokes were actually funny.  And Kentucky's favorite sports broadcaster — previously termed a motley amalgam of Bill Simmons, Keith Olberman and Howard Stern — morphed into a Bluegrass version of Jon Stewart.
Not all of Fancy Farm host Matt Jones' jokes succeeded. (His standard bit about Rick Pitino lasting for 15 seconds was a bit too blue for the family-friendly church grounds.)  But his incisive satire, softened by good-natured humor and near-perfect comedic timing, was often both cleverly thought-provoking and LOL funny.  Jones landed jabs against the state's leading Republicans, teasing McConnell for his discomfort with Bevin, Bevin for his resume fabrication, and Senator Rand Paul for his absence, peculiarly in light of his flailing presidential bid. Democrats too felt his friendly wrath: Conway for his 2009 Fancy Farm outburst, Governor Steve Beshear for his un-Democratic-like record, and Secretary of State Alison Lundgeran Grimes for her continued unwillingness to admit that she voted for Obama.  As usual, Jones' jokes revolved around a familiar theme: that politics has become a game a verbal dodgeball; as campaigners blow hot air while avoiding the tough questions, the people lose. (Watch the whole thing here.)
Most impressively, Jones owned the Fancy Farm stage — more than any of the powerful and prominent figures that I've seen take that mike.  With his imposing frame, booming voice, and celebrity countenance, he was able to quiet the raucous chanters dexterously with clever quips or smiling pleas.  He elicited a rare, moving, bi-partisan moment when he elegantly introduced the GOP's Lieutenant Governor nominee Jenean Hampton as history's first woman of color to address the picnic.  And while some may have blanched when he all-too-familiarily referred to a presidential candidate as "Rand" and the second most powerful pol in the country as "Mitch," I found it a refreshingly populist note amidst a crowd that often takes itself far too seriously.
Make no mistake: Matt Jones is my friend, and he pays me to write this column. (Although he never edits me or tells me what to write.)  But the very reason that I step out of my comfort zone on a weekly basis to share my pointy-headed thoughts to a rowdy KSR nation was on display yesterday afternoon in Graves County.  By stepping out of his comfort zone to discuss  politics instead of sports, Jones is not just simply opening up the public square to a new generation of Kentuckians who have eschewed our mainstream political media.  More significantly, Jones' persistent scolding of pols to answer his questions — to quit the spin, to cut the crap — is injecting a desperately needed virtue back into our political dialogue: honesty.  And he's doing it at a time when many Americans are so ravenous for pols to tell it like it is that they're either falling for false prophets like Donald Trump, or abandoning politics all together.
Matt Jones calls himself an entertainer, not a journalist, and he's the first to concede his biases. (He may be the only person ever to admit to voting for Barack Obama from the Fancy Farm stage.)  But as he dips his toes into the political waters, he's providing a unique platform where Kentuckians can actually have an unfiltered, brutally honest, and often engaging discussion about the issues that really matter.  And that really does represent politics at its very best.