A Big Blue Christmas Wish List
Dear Santa,
I know it's a little late-notice, but with your magic I'm sure you can pull off a last-minute Christmas Miracle.
You might want to put put me on the Naughty List, but I can admit my many faults. I didn't know how to setup the KSR Podcast, and even after I learned how to setup the equipment I couldn't start a podcast without a terrible intro. I cursed referees. I turned in homework assignments late. I haven't given my dog a bath in at least three months. I recreated a UofL recruiting visit. My posts have had more grammar errors than "Breaking Cardinal Rules." Even worse, I spent my summer working on a UofL radio show.
I know it's hard to forgive me, but if you show me a little love I know I can turn things around. Here's what I had in mind.
1. I wish Skal would learn how to play physical.
I have faith in the Haitian Sensation, but the thin-framed, inexperienced center needs to figure things out defensively sooner, rather than later. Camp Cal should do the trick, but a little help from you would go a long way.
2. I wish for Drew Barker to exceed expectations.
After the Cats pulled the plug on Patrick Towles, the team didn't dramatically improve. Drew has all of the physical qualities, but I worry that he cannot handle the heavy burden of expectations set by the Big Blue Nation. If he could be as good, or even better, the football team will be the best we've seen in a long time.
3. I wish for more songs from Kentucky Joe.
This one isn't for me, it's for Marcus Lee.
4. I wish Jared Lorenzen and I could agree on something.
After an entire season of KSR Football Podcasts, pumpkin cheesecake and Linkin' Park were the only two things we didn't disagree on. Maybe if Freddie Maggard starts sitting in between us, we could be less confrontational. No offense to Freddie, I have more trust in Santa.
5. I wish I could forget about Wisconsin.
The low-point in my college career, my Big Blue fandom, and arguably my life. It's been months, but I don't think that awful feeling will ever cease to haunt me.
6. I wish I could forget about the loss to Florida, and Auburn, and Vandy and UofL.
Just one of those games could've sent the Cats bowling. Just one. They could've won each game if they traded a few bonehead plays for a few great ones. The worst part — I don't know which loss was the worst.
7. I wish the UK logo wasn't so stupid.
We've beaten this dead horse all day, but it can't be beat enough. I could've shown them what the letter "K" looks like and made $80,000. Maybe you have a better design, Santa?
8. I wish Jamal Murray could find his shot.
His stats aren't bad — 39% from the field and 33.3% from 3-point land — but he's been inconsistent after a hot start to the season. If he can hit a streak when March rolls around, the Cats will be tough to beat.
9. I wish that Rick Pitino will never beat Kentucky ever again.
But why should I even bother asking? It's already a certainty.
10. I wish for a Bowl Win after the 2016 season.
If you only grant one wish, let it be this one. Please. I beg of you. I hate making New Year's Eve plans that don't revolve around football and I hope that 2016 can finally be the year for Kentucky football.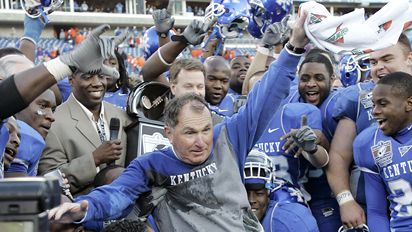 I know it may sound like I'm asking for a lot, but I hope you can understand. It's been a heart-breaking 2015 and this guy could certainly use a little Christmas Magic in 2016.
What are your Big Blue Christmas wishes?