21c Private Single Barrel Selects presents the Thursday Top 10
A message from our friends at 21c…
Nothing goes better together than Kentucky sports and bourbon.
Picture this: You're at the liquor store and there are a hundred bourbon options and none of them are wetting your whistle.
Time for a change.
21c may be the last place you would think to find a good bottle of bourbon, but it should be the first on your list for bourbon you can't find anywhere else. Our 21c Selects program is an exclusive way of enjoying Kentucky's favorite spirits. Our spirits experts from Proof on Main and Lockbox travel to distilleries all over Kentucky and beyond and hand-pick barrels to be bottled in limited quantities and enjoyed by you.
These selections stand out in unexpected flavor profiles and surprise and delight our guests. Not only can you order tasting flights at the bar in Lockbox, but if you love it, you can go ahead and take a whole bottle home. Our museum shop carries these limited edition bottles, so you can treat yourself to a glass in your favorite chair. After the riveting game, round out the night with a celebratory sip and bask in the glow of a Wildcat win. Perfect end to a perfect Kentucky evening.
Read more about 21c Selects here.
Want to plan the ultimate bourbon-filled retreat this year? Book 21c Lexington's Bourbon package.
Book online now or call 502.217.6300.
---
1. ICYSMI: Isaac Humphries is gone.
The biggest news from Wednesday was, of course, the somewhat surprising departure of Isaac Humphries. Humphries decided two years was enough at the University of Kentucky and he will pursue a professional career with an agent in tow, therefore he cannot come back.
Humphries had this to say to the fans:
"First and foremost, I want to thank the Big Blue Nation for its unwavering support," Humphries said. "Coming from Australia, I had no idea what to expect when I got to Kentucky, but you made me one of your own. Your support and passion over the last two years has been unbelievable. I can't thank you enough for making me feel at home.

"This decision didn't come easily for me. My goal has always been to play professionally. There is no better place to prepare you to take that step than the University of Kentucky. Over the last two years, thanks to Coach Cal and the coaching staff, I've gotten so much better and improved my game. I believe I have a lot more I can do, but I also believe that the time for me to take the next step is now.

"At the end of the day I have to do what I believe is best for myself and my family. I know turning pro is going to be the hardest thing I've ever done. I understand that these next few weeks and months with the pre-draft process is going to take a lot of hard work and maybe some realistic truths. But, because of what I've learned at Kentucky and the support I have from my family and this school, I also feel like I'm ready to face those challenges and that I'm prepared for whatever is next and wherever that may take me.

"It's going to be difficult not playing at Kentucky next season and I'm going to miss everything that comes with being a Wildcat. I'll miss my brothers. The friends I have made here and the relationships I have formed will last a lifetime. During such a developing time of my life, it was a true blessing to be surrounded by such incredible people, fans, and teammates who were always looking out for me and always had my back."
Many of you are wondering why in the world a sophomore who averaged eight minutes per game would think he's ready for the league, but keep in mind he is content with playing overseas and has already considered potential options. In the end that was his decision, although the staff would've loved to have had him back for a junior season.
2. Humphries will be a guest on today's KSR show.
If the statement he released yesterday isn't a good enough goodbye for your liking, be sure to tune in to today's KSR to hear more from Isaac himself. He will join Matt and Ryan for today's show out at Keeneland and we'll get plenty of more out of him there.
3. Please pay better attention to fake Twitter accounts.
Be cautious of all the fake Twitter accounts out there reporting serious news. Yesterday a Jeff "Gooodman" account reported Wenyen Gabriel is leaving and hiring an agent, and several UK fans took the bait. Then last night a fake Seth Greenberg account — @SethOnHooops — reported Bam Adebayo is returning (before testing the waters, which is unbelievable in itself) and Mohamed Bamba will announce today.
The fake accounts of the two ESPN college basketball analysts combine for about 50 total followers, a clear giveaway they're fake. Keep an eye out for things like this moving forward so you don't get burned.
4. ESPNU aired old Calipari games all day yesterday and it was glorious.
I spent my Wednesday night watching the replay of Boogie's tip-in against Mississippi State in the SEC Tournament and the '09 SEC/Big East Invitational game against UConn in Madison Square Garden. The latter gave me flashbacks to UConn fans being terrible and fighting everyone, including me. I've never seen a worse fan base.
5. Karl-Anthony Towns is the only player in NBA history with 2,000 points, 1,000 rebounds and 100 three-pointers in a single season.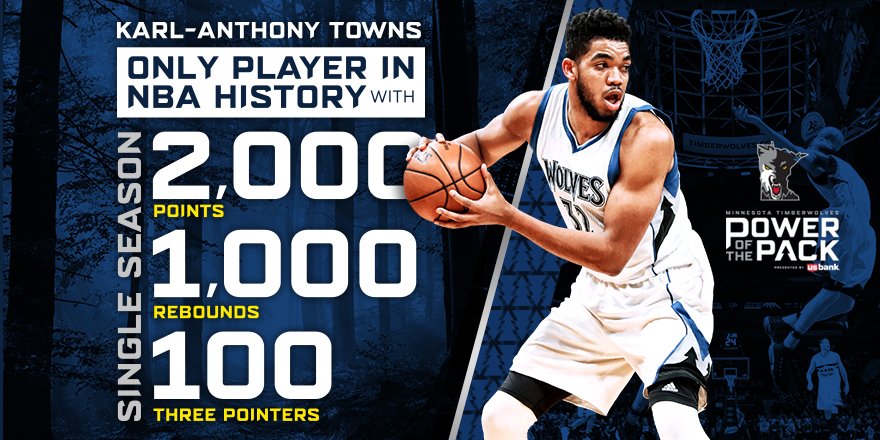 We miss him more and more each day.
6. John Calipari released a new podcast.
This one is a conversation with Malik Monk and De'Aaron Fox, Calipari's next two lottery picks. Monk makes up the first half of the podcast with talk of his upbringing in Arkansas, his time at UK, and Bam Adebayo's NBA chances. Fox takes over for the second half for more on his short career in Lexington.
7. Coach Cal's new 30 for 30 airs tonight on ESPN.
Trust me on this one, my friends: Be in front of the television at 9 pm tonight for One And Not Done. You will not be disappointed. I'll write a little bit more about it later today to give you an idea of what you can expect, but for now, make sure your schedule is open from 9 to 11.
8. It's Day 2 at the Jordan Brand Classic in New York.
Quade Green, Nick Richards, P.J. Washington and Jarred Vanderbilt will spend another day with Mohamed Bamba, Kevin Knox and friends. They're all up in the Big Apple for Day 2 of the JBC and we'll keep an eye on the happenings. The actual game is tomorrow night.
9. Get ready for lots of spring game talk.
We have lots of previewing today before tomorrow night's scrimmage in Commonwealth, but first we must pay our respect to one of the greatest storytellers of all time…
10. R.I.P. Charlie Murphy.
RIP Charlie Murphy pic.twitter.com/TjpZYfnn1F

— Best Vines (@TheFunnyVine) April 13, 2017