20 Things To Know: Lexington Catholic vs. Covington Catholic (Game of the Week)
A couple of ington Catholics will line up under the lights tonight in Kroger's KSR Game of the Week. We're going to Lexington for Lexington Catholic versus Covington Catholic and these are the 20 things you need to know before the game.
1. Lexington Catholic is located in Lexington's Rosemill neighborhood.
Rosemill is in southwestern Lexington between Southland Drive, Rosemont Garden, Hill-N-Dale Road and Clay's Mill Road, where you'll find Lexington Catholic High School, the site of tonight's game.
(From Rupp Arena head south on Broadway past KSBar then a couple more miles then veer left onto Clay's Mill Road in front of Hart's dry cleaner and you're there. Can't miss it.)
2. Lexington Catholic is a Blue Ribbon School of Excellence.
A U.S. Department of Education award program, the National Blue Ribbon Schools Program recognizes public and private schools around America for being excellent. Lexington Catholic received the honor in 2007.
3. Lexington Catholic formed in 1951.
The 27-year-old Lexington Latin High and the 128-year-old St. Catherine's Academy came together in 1951 to form Lexington Catholic High School. Students moved into a new building in 1957, the same building they use today.
4. Covington Catholic is older.
Lexington Catholic's football opponent for the evening, Covington Catholic, was established way back in 1925 on Covington's West 6th Street. Cov Cath (that's how they say it, I think) now resides off the Dixie Highway in Park Hills, Kentucky.
5. Park Hills is in Kenton County.
Kenton County is the third most populous county in Kentucky, behind only Jefferson and Fayette. We've been over this. It has the two counties seats–Covington and Independence–and I made that joke about goetta. Were you paying attention that day?
6. Covington Catholic is an all-boys' school.
I don't know how they do it. I can't even imagine.
7. Mascot check…
Lexington Catholic goes by the Knights, while Covington Catholic's athletes call themselves Colonels.
It's Knights versus Colonels tonight.
8. Covington Catholic is eyeing a fourth straight state title game.
The Colonels are expected to contend for a spot in Kroger Field for a fourth consecutive appearance in Class 5A's final game. Covington won in 2017, came up four points short against South Warren in 2018, and won again last year with a 14-7 defeat of Frederick Douglass.
9. Covington Catholic has EIGHT state championships.
One of our state's winningest programs, Cov Cath football has eight state titles in 33 years: 1987, 1988, 1993, 1994, 1997, 2006, 2017, 2019.
That's like one every four years. Save some for everybody else why don't ya?
10. Lexington Catholic has two titles.
The Knights won a modest two championships in 2005 (3A) and 2007 (4A), and missed out on a third in the school's only other championship game appearance in 2015.
11. UK's QB of the future was Lexington Catholic's QB the last four years.
Kentucky freshman Beau Allen was a four-year starter for Lexington Catholic from 2016-2019. Allen threw for 11,439 career passing yards and 127 touchdowns as a Knight and won the Paul Hornung Award for the state's top high school football player in 2019. He may see snaps for the Wildcats before his 2020 freshman season is over.
Former UK safety Winston Guy and wide receivers John Logan and David Bouvier are also Lexington Catholic alums.
12. Lexington Catholic's coach played at UK.
Head coach Nigel Smith, a longtime LCA assistant before he took over in 2018, is a Lexington native who played his high school football at Bryan Station before going on to West Point and then UK. Smith transferred from the United States Military Academy at West Point to Kentucky and was a part of the '98 Outback Bowl and the '99 Music City Bowl teams.
13. Notre Dame's tight end of the future (and present) was at Covington Catholic last year.
Former Cov Cath star Michael Mayer already has 15 catches and two touchdowns for the Fighting Irish in only his first fall on Notre Dame's campus. This time last year Mayer was guiding Cov Cath to the state championship and ended his high school career with Kentucky's Mr. Football award.
14. The two teams played last year at Covington Catholic.
The Colonels edged out the visiting Knights, 39-38, by overcoming a 14-point deficit late in the game. Lexington Catholic had a 38-24 lead with six minutes to play but gave up two late scores and the game-winning two-point conversion.
You can actually watch the entire game right here:
15. Covington Catholic is undefeated, Lexington Catholic has two losses.
Cov Cath comes in with a perfect 7-0 record while Lex Cath is 3-2 with early season losses to Lexington Christian and Boyle County. The Knights are on a two-game win streak though.
16. Cov Cath hasn't played a close game since Sept. 18.
After a couple close wins over Dixie Heights and then Beechwood to open the season, the Colonels hold a 206-10 lead over opponents with blowout wins over Cooper (41-0), Boone County (45-7), Highlands (42-0) and Conner (40-0).
17. The Colonels are ranked 10th in the KSR Football Prep Rankings.
Covington Catholic is ranked third statewide among 5A schools and tenth overall.
Lexington Catholic is not ranked in KSR's state rankings but we still love them.
18. Cov Cath has experience at QB.
The player to watch on the visiting team is QB Caleb Jacob, a two-year starter whose two seasons ended in the state championship game. This year the 6-foot-4 quarterback has thrown for almost 1,300 yards with 10 touchdowns passing and seven rushing. Jacob has offers from Brevard, Monmouth, Morehead State, Kentucky Wesleyan, Siena Heights, Thomas More and Urbana.
His top target is fellow senior Ethan Reardon, Cov Cath's leading receiver.
19. Lex Cath's QB has the unfortunate draw of following Beau Allen.
It's a tough to gig to take over for one of the school's all-time leading passers, but Jack Gohmann, one of Allen's former receivers, stepped in and has thrown for over 1,000 yards and 11 touchdowns in his junior season, his first at QB. Gohmann is also a key member of Catholic's basketball team.
20. It's the last game of the regular season.
It's Senior Night on Clay's Mill as the Knights send off guys like Bernie Sams, whose football hero is Vince Wilfork.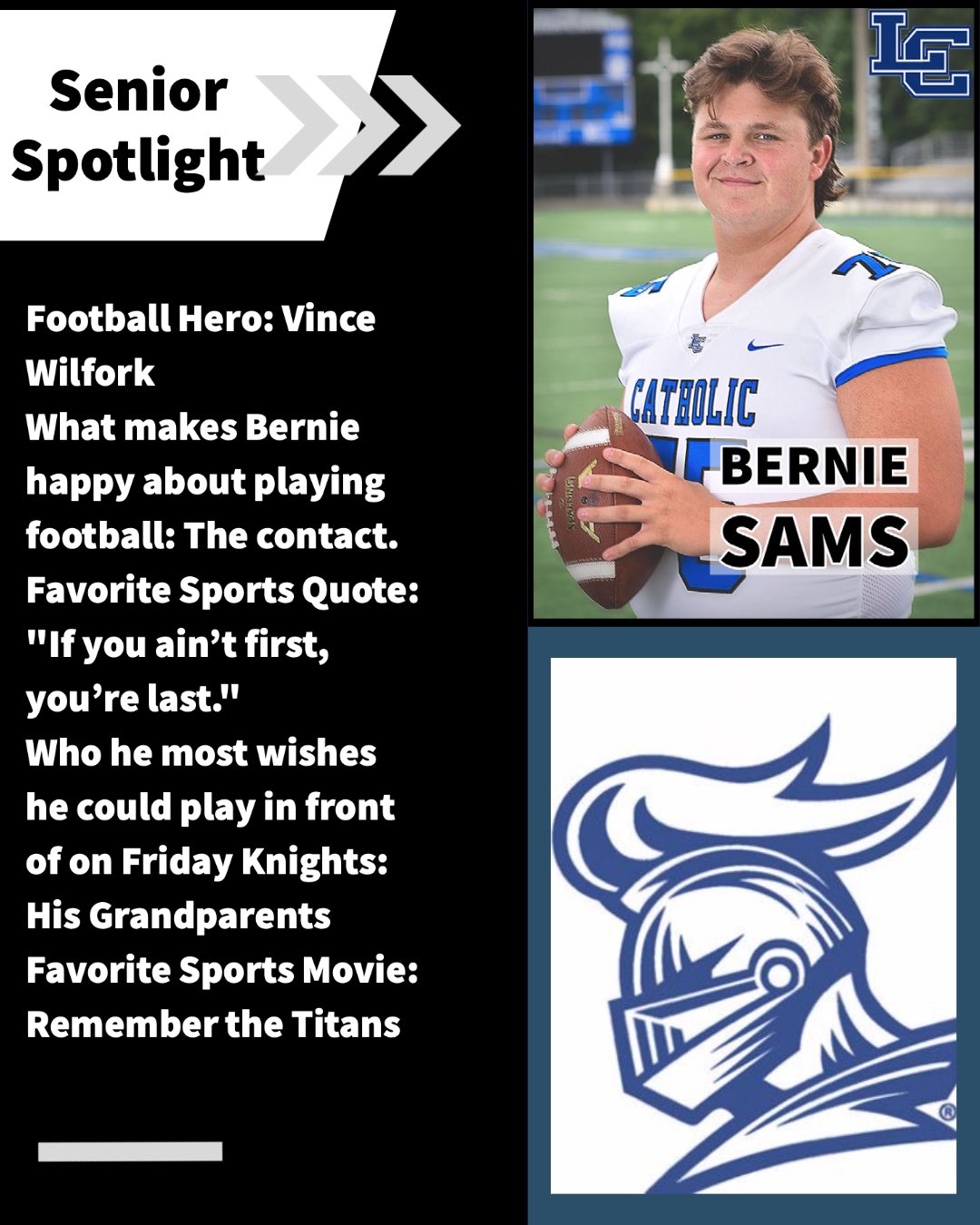 Good luck to both schools.