20 Things To Know: Frederick Douglass vs. North Hardin (Game of the Week)
Soon, the lights will shine over Frederick Douglass High School's football field, "The Farm," as high school football kicks off at Douglass, and across the Bluegrass, this coming Friday night. It has been a long time coming, to say the least, given all that has gone on around high school athletics (and all other aspects of life) in 2020. There was a time not long ago when high school football looked dead for the remainder of this calendar year, but here we are, two days from kickoff in a delayed, but highly appreciated, season.
Unfortunately, this upcoming 2020 KHSAA football season will come with many new challenges, plenty of new restrictions, and several other adjustments from the Friday night fun we've known in years past. This weird year does have its positives, though–one being KSR's partnership with Kroger to present a Game of the Week.
KSR and Kroger partner up to present high school football coverage
This week's game, the first ever Kroger's KSR Game of the Week presented by Kroger, is a matchup between two of the state's best teams–Frederick Douglass and North Hardin–to be played at Frederick Douglass.
These are the things you should know (and some things you don't need to know but I found them interesting and thought you would like to know). Most of them are accurate.
---
(1) Frederick Douglass escaped slavery to become a leader in the abolitionist movement.
Frederick Douglass escaped slavery in 1838 with the help of the love of his life, Ann Murray, a free Black woman from Baltimore. Douglass met Murray while still enslaved in Talbott County, Maryland, and her freedom inspired him to keep pursuing his own freedom so he could eventually wife her up one day (and be free, of course).
Within a year of meeting Murray, Douglass managed to board a train and escape to New York, where he and Murray met back up and were married 11 days after his arrival. Douglass went on to become an activist for reform, a successful author and a well-respected political leader, among many, many other things.
It wasn't until 2017 that he became a high school in Lexington, Kentucky.
(2) Frederick Douglass was the first African American to receive a vote for president in a major party's call vote.
At the 1888 Republican National Convention, Douglass became the first African American to receive a vote for president in a major party's roll call vote when he received one vote on a state's fourth ballot.
That state was Kentucky.
(3) Frederick Douglass was the most photographed American of the 19th century.
Douglass was photographed more often than Abraham Lincoln… and every other 19th century American, as I said.
He did not have access to photoshop, like the present day Frederick Douglass, the high school:
2020 @FDouglassFB Varsity Bronco Football Team. It was a different set of circumstances as we ALL Know but we are excited to play the 2020 season special thanks to @CarterExtreme for the awesome digital touch. #FINISH 2020 @coachnatemcpeek pic.twitter.com/gYCupkfLrX

— Douglass Football (@FDouglassFB) September 7, 2020
(4) Frederick Douglass High School is located within blocks of some of Lexington's finest shopping and dining in Hamburg Pavilion.
And within 0.8 miles of a Kroger, which is nice.
North Hardin is eight miles from the nearest Kroger, so the proximity-to-a-Kroger point goes to Frederick Douglass in Week 1.
(5) North Hardin High School is in northern Hardin County.
You don't say?
(6) John Hardin, for whom Hardin County is named, was a marksman from Virginia.
In one of his many battles, Colonel John Hardin was struck in the groin by a musket ball and it was never removed.
(7) North Hardin is located in Radcliff, Kentucky.
The second most populated city in the state's sixth most populated state, Radcliff's economy is boosted by nearby Fort Knox, the United States Bullion Depository that Auric Goldfinger tried to rob.
Radcliff is also known as the Knife Capital of Kentucky.
(8) The schools' famous alumni include:
For North Hardin, its most famous athlete is Andre Woodson, former quarterback at the University of Kentucky, a two-time Music City Bowl MVP.
Frederick Douglass is only three years old, so its alums are pretty young. Clemson offensive lineman Walker Parks is one to know, although his good friend Jager Burton will take his place as most famous alum when Burton moves across town to UK.
(9) There are four UK commits in the game.
How often has that happened?
Frederick Douglass has offensive lineman Jager Burton and wide receiver Dekel Crowdus as its two UK commits; across the way, cornerback Jordan Lovett and running back La'Vell Wright represent the Wildcats.
(10) In addition to the four UK commits, there are five other players with UK offers playing in the game.
How often has THAT happened?
Uncommitted players with UK offers include Frederick Douglass junior wide receiver Dane Key, a four-star talent with offers from all over the country, in addition to being the son of former UK linebacker Donte Key. Douglass also has Ty Bryant, a three-star athlete whose father, Cisco Bryant, also played at UK; Thomas Howard, a sophomore tight end with a Kentucky offer; and Isaiah Kenney, a sophomore cornerback with a Kentucky offer.
North Hardin sophomore offensive lineman Trevon Alexander is one more and the most recent of the bunch to earn an offer from UK.
(11) Douglass wide receiver Dane Key can do superhuman things.
Ryan Lemond will tell you all about him too.
(12) North Hardin's La'Vell Wright committed to UK on KSR.
Wright told the show, "I just wanna let y'all know I'm coming in to do big things and do big things early."
LISTEN: La'Vell Wright Announces his Commitment to Kentucky on KSR
(13) North Hardin has two alums on UK's current roster.
A couple of Kentucky's freshman defensive linemen, Octavious Oxendine and Isaiah Beasley, played at North Hardin last year.
HOW IS THERE SO MUCH TALENT AT THESE TWO SCHOOLS
(14) North Hardin went 13-0 in 2019, then lost to the eventual state champion, Louisville Trinity, in the Class 6A semifinals.
The team returns a lot of starters, as many as eight on offense alone, and they're eager to get back in the win column.
(15) North Hardin is coached by Brent Thompson.
Thompson is in his ninth season. He is the reigning 6A Coach of the Year in Kentucky.
(16) Frederick Douglass lost in the 5A championship last year.
Douglass is hoping to finish the job this time around after losing the title game to Covington Catholic, 14-7.
(17) Douglass head coach Nathan McPeek used to protect Byron Leftwich at Marshall.
He was good at it too.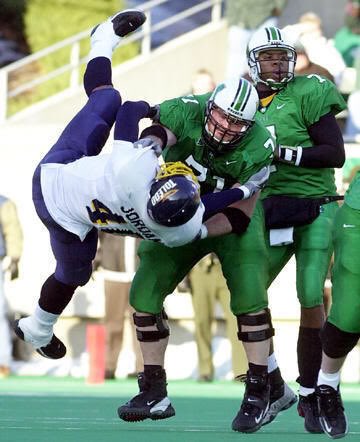 McPeek is in his first season as head coach after three years as the offensive coordinator.
(18) Mascot check:
Frederick Douglass Broncos (but not originally)
North Hardin Trojans
(19) Attendance is limited to family members only.
Unfortunately, fans will not be able to attend this big game unless they're related to one of the players, and even then, players are allowed only five tickets per game.
You can still catch coverage here on KSR, which I encourage you to do.
(20) It's the first ever meeting between the two schools.
And they're doing it in a year that both sides are ranked among the top teams in the entire state.
It's the Kroger/KSR Game of the Week presented by Kroger!