$1,804,068.77 Raised For The Kids at Dance Blue 2018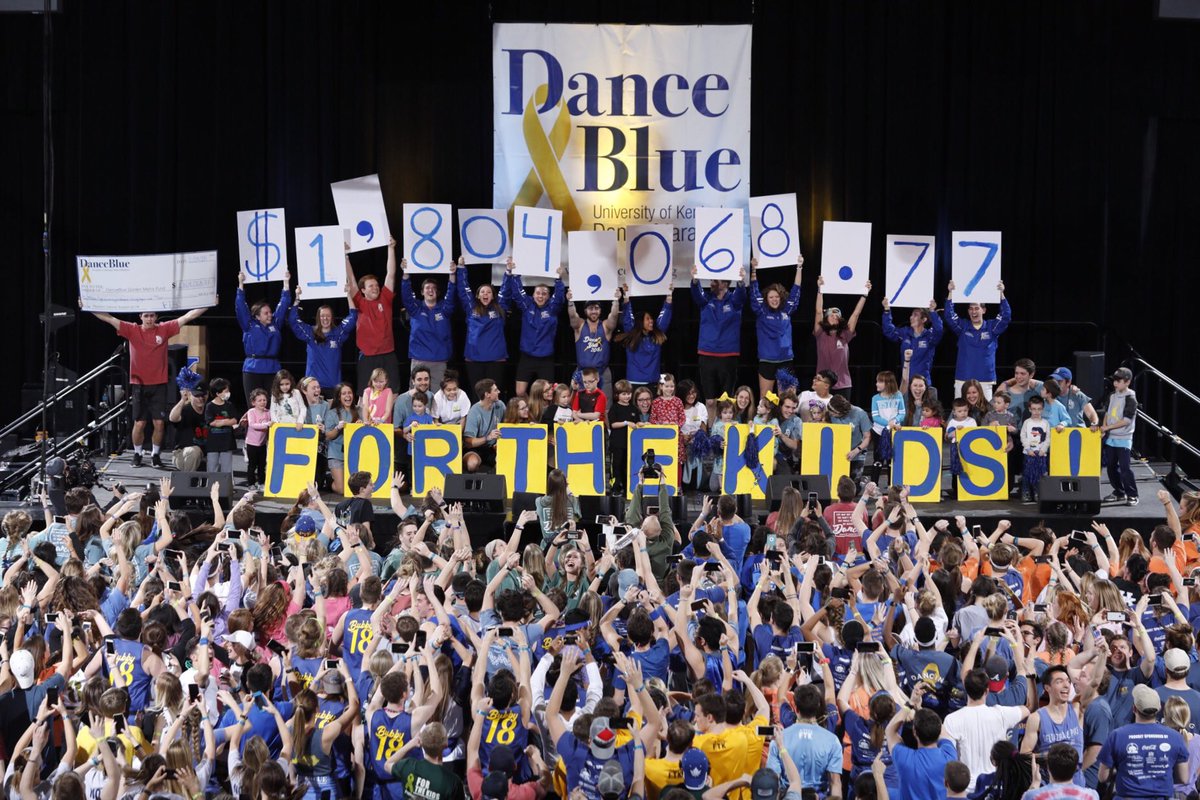 This post was contributed by Alex Holder and Brent Wainscott
Easily the best thing the University of Kentucky does, in my opinion, is their annual dance marathon to raise money for UK children's hospital, Dance Blue. This year was the 13th year of Dance Blue and each year is better than the last. As someone who has had a family member involved in the Children's clinic at UK, this event is truly astonishing and proves how much these students really care about the health of our future, along with the kids themselves.
At Dance Blue, UK students are on their feet 24 hours dancing for one cause and that's to help raise money for the UK children's hematology/oncology and all the proceeds to help children fighting cancer. It helped to build the current facility they're in and the state of the art equipment for the future.
On Saturday night, the marathon is primarily for the students to get acquainted with the line dance they do at the top of every hour and some years some of the athletes, mascots, or coaches will come join the students in the marathon. On Sunday, Dance Blue invites the families who have helped with Dance Blue or has had Dance Blue help them to come watch the event along with the children's talent show, the celebration of life hour, and of course the big reveal.  It's truly a great event.
Each year Dance Blue raises money and each year the end of marathon total increases, which is an amazing feat alone, but the total has now reached over 13 million dollars in 13 years after $1,804,068.77 was raised today.
Keynote speaker, Jennifer Mynear, said never in a million years did we think Dance blue would turn into what it is today…If we bottled up what dance Blue embodies and spread it this world would have fewer problems.
Alpha Chi Omega sophomore Margret Dolan participated for the first time this year and said participating in a cause that truly made a difference was inspiring.
"Being on the dance floor for the first time in dance blue was by far one of the best experiences I've ever had," Dolan said. "Seeing 1,000 students come together and being on their feet (and in a good mood) for 24 hours was unbelievable. The best part about it all was the kids, every dance and every second on our feet was for them. Knowing we're making a difference in Kentucky with pediatric cancer is an empowering feeling."
The AXO sorority raised over 11,000 for the event.
UK Delta Gamma sophomore is Katy Kerwin also participated in the great cause.
"Although DanceBlue is a long and tiring 24-hours, there's nothing more rewarding than seeing the families faces light up during the donation reveal," Kerwin said. "Often times people feel there is nothing for them to do to help a child who is fighting such a horrible disease, but DanceBlue has drastically changed my opinion on that. DanceBlue opens the minds and hearts and souls of every single person that even knows the word DanceBlue."
Delta Gamma had a goal to raise $31,000 but ended up raising over $33,000.
Michael Danahy graduated from UK in 2015 and is now currently part of the Golden Matrix Fund Advisory Council, a group of alumni that are stewards to raise all of the funds for DB.
He said standing for 24 hours isn't easy, but the end result makes it all worth it.
"Being on your feet for 24 hours is a tough task," Danahy stated. "But the reason so many students do it and so many alumni come back to cheer them on is because it's the least we can do to support the families of the DanceBlue Clinic."
What better way to show the kids that they are not alone than to dance for them for 24 hours
Well done, University of Kentucky students. Well done.