BTI's Rants and Ramblings: Taking Back the Losses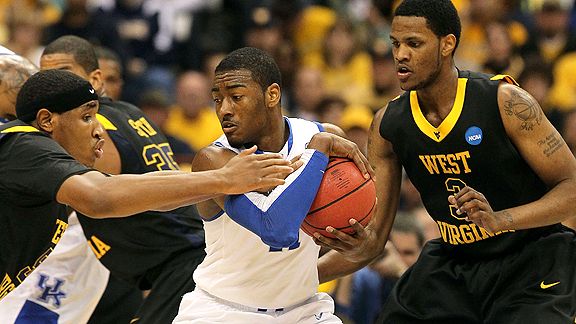 We have to admit the fact that this year's team could go undefeated.  I hate even typing that this few games into the season, but it is obvious.  What that also means for a team this good that any loss, whether it be in the regular season or tournament, will be especially painful.  Which means for many UK fans if this team loses a game this year, they will want that game back as much as any.
If I could have ONE game that Kentucky lost that I wish they would have won more than any other, it would have been the 2004 loss to UAB in the NCAA Tournament.  I had tickets to the Sweet 16 and never had seen UK play in the NCAA Tournament, loved that team, and hated UAB's players.  But I know that would not be on most UK's fans list of games they want back.  I also know that losing to Duke in 1992 would be #1 on a BUNCH of UK's fans lists, so I leave that one out because of how obvious it is and just to give a little variety to the conversation.  So my question to you is:  Of the 10 games listed below, which game do you want back the most and why.  I listed some reasons under each game of my reasons why, but I want yours.
2010: West Virginia, Elite 8
-What if Kentucky had won this game and went to the Final 4 in John Calipari's 1st season.  UK would have got the dream matchup with Duke and likely been favored to win the entire tournament.  Patrick Patterson would have firmly cemented himself as a Top 10 legend.  The Final Four streak would have ended at 12 years instead of 13.  UK fans would have dominated the home crowd in Indianapolis.
2005 and 2003: Michigan State and Marquette, Elite 8
-What if Kentucky goes to Final Fours in either of those 2 seasons.  Tubby Smith may still be the coach at Kentucky.  Maybe recruiting would not have dipped at the end of his tenure.  Maybe Dwayne Wade doesn't become the national superstar he did, doesn't get drafted by the Heat.  With a 2nd or 3rd Final Four Smith would have been considered loved by 100% of the UK fanbase.  And Tom Crean never becomes the IU head coach.
1997: Arizona, National Title Game
-What if Kentucky wins its 2nd straight title against Arizona.  This may have kept Pitino at Kentucky.  This would have certainly made UK the team of the 1990's, especially after the 1998 title.  But maybe a title in '97 would have prevented a title in '98, as the team would have had more pressure.  Maybe Lute Olsen never wins a title, leaves Arizona sooner than he did.
1996, Mississippi State, SEC Tournament Finals
-What if UK completes the first ever perfect SEC season.  They would have won 8 straight tournament titles, instead of the streaks of 4 and 3 on either side of this game.  Would they still have been as dominant in the NCAA Tournament and won the title?  Would they have gone down, without any questions, as the greatest UK team ever?
1986: LSU, Elite 8
-What if Kentucky beats LSU for a 4th time that season and goes to a Final Four in Sutton's 1st year?  They would have played Louisville in the Final 4, and maybe prevented them from winning their 2nd title.  They had already beaten the Cards by 5 earlier that year.     Maybe with a Final 4, Sutton's later antics and probation don't happen because the pressure to get to a Final Four decreases.
1983: Louisville, Elite 8
-What if Kentucky wins the original Dream Game.  Maybe the series between Kentucky and Louisville doesn't get renewed.  Maybe Joe B Hall wins a 2nd national title, getting through Houston and NC State to do so.  Maybe UL doesn't continue rolling in the 1980's.
1975: UCLA, National Title Game
-What if Kentucky beats John Wooden in his last game.  Does Kevin Grevey go down as a Top 2-3 UK player of all-time?  Maybe Joe B. Hall really gets the program rolling on a yearly basis, winning a title in '75 and '78.
1970: Jacksonville, Elite 8
-What if Kentucky, the top ranked team in the country, beats Jacksonville and goes to the Final Four.  They would have been favored to win it all.  Dan Issel would have a Final Four on his resume.  Maybe the school doesn't force Rupp into retirement 2 years later.
1966: Texas Western, National Title Game
-What if Kentucky wins Rupp's 5th title in 1966.  Do race relations change as quickly in college basketball as they do?  Does Rupp's reputation become as tarnished with future movies about the game?  Or is the pressure to recruit African-Americans to UK go away, preventing Tom Payne from coming later.
1952: St. Johns, Elite 8
-What if Rupp's top ranked team doesn't lose to the Johnnies, but instead makes another Final Four.  They could have won their 4th title in 5 years, something only UCLA will ever accomplish.  Maybe with a title, UK doesn't cancel it's next season, but instead figures out a compromise with the NCAA.