15 Things I Learned On That Stupid Trip To Gainesville
Everyone does something regrettable and stupid from time to time and my lonely road trip to Gainesville to watch Kentucky get spanked by 22 points falls under that category.
In a decision I wish I could take back, I drove straight from Florida's O'Connell Center all the way back to Lexington after the game. I left the arena around 12:30 am and collapsed on my couch as soon as I got home around noon on Sunday. It really, really sucked, but I learned these valuable lessons and hard truths while I was away…
1. Kentucky isn't a good basketball team right now.
I knew this before driving to Florida, but Saturday night's game further proved that Kentucky simply isn't good at basketball right now.
Why is that the case? I have no idea. They used to look pretty good and that has changed. You can point to several factors, defense being the most glaring of the problems, but there is no denying the fact that the Cats are underachievers right now.
Unfortunately I spent 20+ hours in a car to confirm it.
2. The players didn't seem all that fired up before the game.
It was somewhat of a lethargic entrance for the Wildcats as they were greeted by the home crowd's boos.
Here come the Cats pic.twitter.com/CTsx7oRTWJ

— Drew Franklin (@DrewFranklinKSR) February 5, 2017
But shout-out to that lady who was yelling Go Cats! as they slept-walked in.
Blue got in, per usual.
3. Karl-Anthony Towns' parents are some of the nicest people on the planet.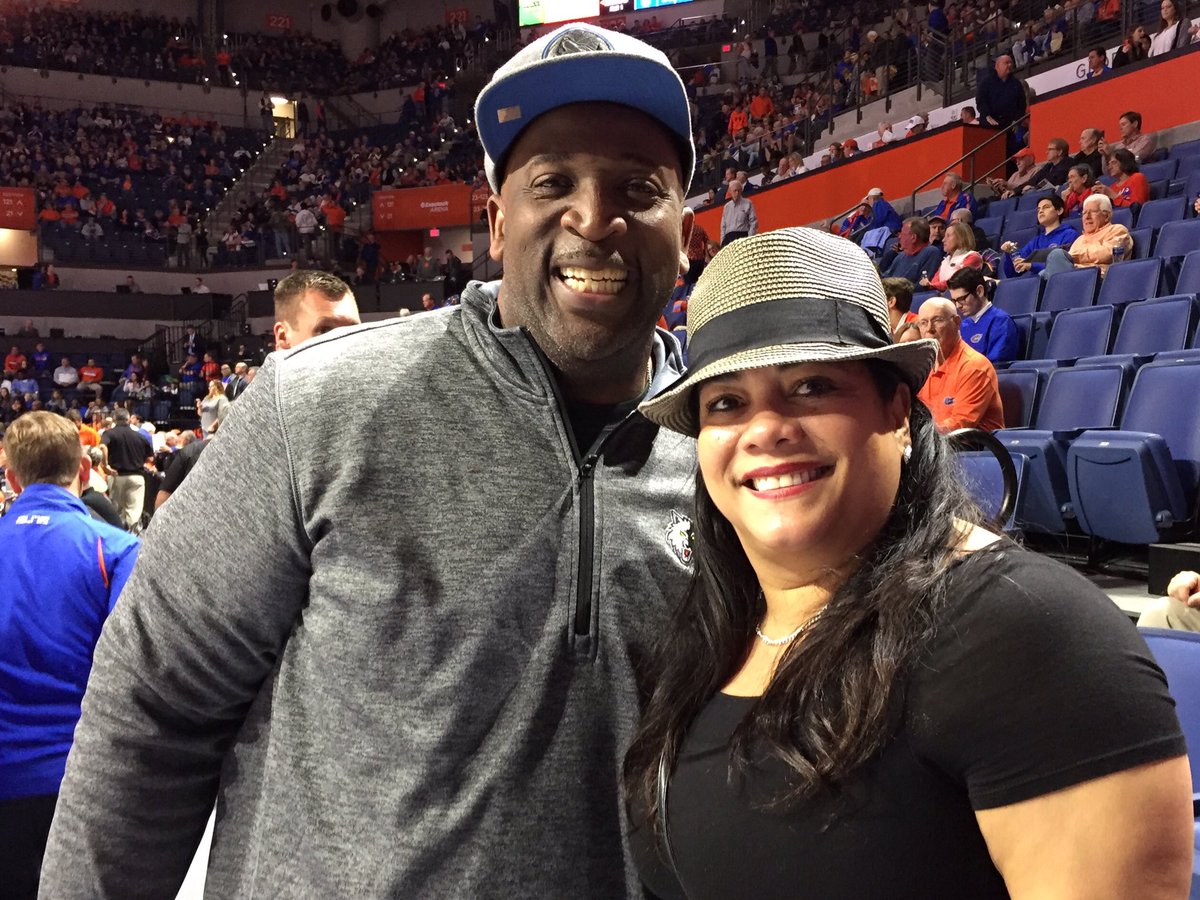 Prior to tip-off I chatted with Big Karl Towns and his wife behind the Kentucky bench, where they were sitting for the game. Karl Sr. was rocking Timberwolves gear from head to toe and he was nice enough to spend a minute talking to this idiot blogger from Kentucky, which I appreciated.
4. Florida uses Kentucky's old tricks with Kentucky in town.
Florida pulling out all the stops with Kentucky in town. pic.twitter.com/Qn5jVbwpZ6

— Drew Franklin (@DrewFranklinKSR) February 5, 2017
Turning the court into a screen? That was cool when Kentucky did it. Four years ago.
5. When John Calipari is ready to leave a press conference, he leaves the press conference.
The questions were still coming in for Calipari after the game when he stood up from the table and said, "I'm tired of talking. I'm out."
6. The O'Connell Center employees are the least helpful people you will ever meet.
If you have a question, you'd be better off asking a wall.
7. You can park anywhere you want on Florida's campus.
I was running a little late to the game and the traffic around campus wasn't cooperating, so I made my own parking spot in a grassy area right outside the entrance to The Swamp, only a block away from the arena. (I "sat 'er down.")
After the game I was 100 percent certain I would be ticketed or towed, but nope, she was right there where I left her and ready to get on the road.
Saved me about $15 in parking, too.
8. The University of Florida is really proud of Gatorade.
As it should be. Gatorade has literally saved my life on many Sunday mornings. (And this morning.)
9. DJ Khaled has a twin and that twin is a Florida fan.
Bless up.
10. Four Red Bulls and two Diet Cokes will really get your heart rate up.
Unfortunately they still weren't enough to keep me awake for the long drive home. I had my head hanging out the window until the rain came down around Atlanta and then I decided it was time to pull over before I kill someone.
11. The Kangaroo parking lot in Cartersville, Ga. is a peaceful place to take a nap.
Because I am a human being, I needed a brief nap on the long drive home from Florida. And because I am a great employee, I saved Kentucky Sports Radio, LLC about $125 by sleeping next to my suitcase and golf clubs in the back of my SUV.
Hotels are for divas.
12. There are some really terrible podcasts out there.
When I wasn't listening to Zayn and Taylor Swift's new jam, "I Don't Wanna Live Forever," on repeat, I tried out some new podcasts to pass the time on the road. I'm not normally a big podcast guy so I had no idea what to listen to, but I can tell you that some of the biggest names in podcasting produce some really awful shows.
13. The ocean is really, really cold in February.
I forgot to mention that I drove to Panama City Beach before Gainesville to visit my dad and some of his friends who were vacationing. We decided to get into the water and I'm pretty sure I'm unable to have kids now.
14. White Castle lunch and Taco Bell dinner was an all-time horrible decision during the drive down.
I'll spare you the details.
15. I have zero interest in going back to Gainesville for anything.
Aside from the fresh roadside cantaloupe I purchased along Interstate 10, which was a hot topic on the pregame show, I can't say I enjoyed anything about the trip to Gainesville. The basketball sucked, the food at the arena sucked, Florida's happiness sucked, the two guys who made a snide comment about me being from Kentucky sucked, the bank on campus that didn't have any cash when I needed cash sucked, the entire state of Georgia sucked, Tennessee sucked, the whole situation sucked and I'm glad to be home.
Now let's get some good UK basketball back in our lives please.