10 Things We Learned From #KSRDoesAmerica
Four thousand and seven hundred miles.
That is how far Kentucky Sports Radio drove to attend last week's UK basketball game at UCLA. With the help of the Kentucky Office of Highway Safety, Pie Five Pizza and Sternberg Automotive, and the moral support of KSR readers and listeners everywhere, we traveled the country in a Dodge Caravan to watch the Cats in sunny Los Angeles. What an adventure.
The trip began following the third quarter of Kentucky football's season finale, two Saturdays ago. We left Commonwealth Stadium early to get ahead of the game day traffic in order to make it to Louisville for the postgame show. From there, we spent nights in Columbia, Missouri; Wichita, Kansas; Tucumcari, New Mexico; and Las Vegas, Nevada before arriving in Los Angeles just in time to go to the arena for the pregame show.
I stuck around L.A. for the weekend — that was an adventure in itself — but Matt, Ryan and Shannon got back on the road immediately after the game for the long haul back. They made it home late Sunday night, completing eight long days away from home and over 30 hours of driving.
With so much time together, we learned a lot about each other and this great country of ours along the way. Tonight, I will share with you my takeaways from the first leg of the trip, before I tapped out and traded the back of the van for Hollywood.
Here are 10 things we learned from #KSRDoesAmerica…
1.) Arrowhead Stadium is a great place to watch a football game.
The first official stop on the #KSRDoesAmerica tour was the Chiefs-Bills game in Kansas City, which was projected to be one of the worst games of the day, but turned out to be a shootout. We sat through freezing rain to watch Tyrod Taylor and Alex Smith throw the ball for a combined 446 yards and five touchdowns in the back-and-forth battle between two AFC playoff hopefuls.
I had been to Arrowhead several times, but it was the first trip for the other guys. They were so excited to see one of football's best environments, Ryan Lemond dusted off his LEX 18 coat from Winter 2001.
Of course, we had to get a little action on the game, so Matt and Shannon teamed up with the Bills while Ryan and I took the Chiefs for a friendly wager. Kansas City narrowly covered our five-point spread, giving Team Lemond/Franklin the victory.
The game also won me $125 in the KSR Fan Duel Contest. I selected only Chiefs and Bills players for an entry I thought would certainly come in last, but somehow took third out of 1,000 for the unexpected payday. It was a big Day 1 on the trip.
Go Chiefs.
2.) Y'all loved the #KSRDoesAmerica Periscopes.
@DrewFranklinKSR drew speaking the truth. Late night talking #KSRdoesAmerica @KySportsRadio pic.twitter.com/YY0BUA1ift

— Billy Wilford (@wilfob) December 2, 2015
these slap happy periscopes are the best #KSRdoesAmerica pic.twitter.com/1RGjbaW3Hz

— emily (@emilycease) December 2, 2015
Watching @ryanlemond Periscope and it froze on @KySportsRadio at the best time… #KSRdoesAmerica pic.twitter.com/Ml17QWwyOx

— Jason Tretter (@jasontretter) December 3, 2015
3.) Shannon The Dude really, really, really hates Kansas.
It's really amazing how much The Dude can hate one state by only driving through it. He badmouthed the Sunflower State every chance he could, even calling it the worst of the 50 United States of America and saying he would rather die than live there.
I agree that Kansas doesn't have a ton to offer the rest of civilization, but Shannon's hatred of it is astonishing.
Don't ever bring it up around him. Don't even mention tornadoes or hum the tune of "Carry On My Wayward Son." He will lose it.
4.) But Shannon The Dude doesn't mind dressing up as Dorothy when in Liberal.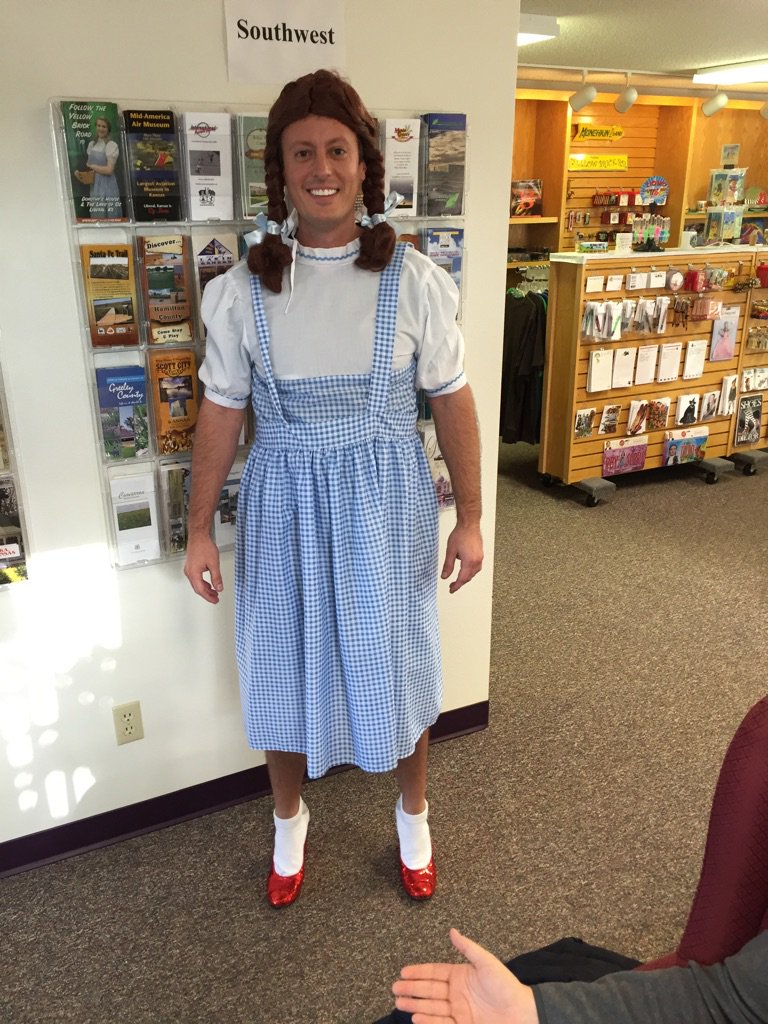 While Shannon's hatred of Kansas is second to none, he, like everyone else, appreciates The Wizard of Oz. We stopped in Liberal, Kansas to visit the home of Dorothy and the famed Yellow Brick Road, and Shannon couldn't resist dressing up in Dorothy's gingham dress and ruby slippers.
Special thanks to the Liberal Visitors Bureau for allowing us to do last Monday's KSR pregame show at the "Land of Oz." It was very nice of them to host us and teach us all there is to know about Liberal, The Wizard of Oz, and the Pancake Day Hall of Fame.
I finally crossed skipping down the Yellow Brick Road while singing "We're Off To See The Wizard" off my bucket list.
5.) Ryan Lemond looks good in lingerie.
In our second cross-dressing moment in a two-day span, Ryan willingly dressed up as a woman in our impromptu Old Western photo shoot in Sedona, Arizona. Unfortunately, I drew the short end of the stick and had to help him get into his lingerie.
Please note his belly hanging out. And his face. And his fishnets. And his feather boa.
And then forget you ever saw any of it.
6.) Sedona, Arizona is gorgeous. It's also empty in December.
Of all the gorgeous views we saw from Kentucky to California and back to Kentucky, the best was Sedona, where we spent our fourth night. Sedona is also where we survived Poco Diablo — the haunted, abandoned resort surrounded by red-rock monoliths that Matt booked as a "treat" for one night.
When he booked Poco Diablo — which means Little Devil — he was unaware we would be the only four people staying in the ENTIRE 137-room resort, or that it had a known scorpion problem, or that the pool was shaped like a coffin, or that there was a good chance the twins from The Shining were in the room next door. It made for a quiet, haunting night of sleeping in fear that we would wake up and one of us would be missing, or beheaded and left on the hood of the Caravan.
Luckily we all survived the night and enjoyed the morning walking around downtown Sedona. It's a lovely place aside from the Bates Motel. I highly recommend going when there are other people in town.
7.) The closer to Mexico, the better the food.
And the better the food, the smellier the van.
New Mexican food for consecutive meals was one of our best, and worst decisions.
8.) There isn't much to see on U.S. Route 66, and that's what makes it awesome.
One of the original highways in the U.S. Highway System, U.S. Route 66 is like a trip back in time. Its historic gas stations, diners and motels, though very sparse, are unlike anything you'll see on the eastern side of the United States. And between the very limited selection of places to eat, sleep or fill up, it's a lot of flat, desert land.
I never thought I'd actually drive along one of the most famous roads in a America, so it was a very cool experience. It's one of those places you see in movies but never imagine you'll actually visit.
It's also one of those places you don't want car trouble, especially at night. There are 75-mile stretches with nothing in sight.
9.) Morning radio after a night in Las Vegas is the best kind of radio.
If you missed the first hour of last Thursday's KSR morning show, do yourself a solid and go back and listen to it. Ryan and I stayed out until about three hours before we went on air, and Ryan was living the ultimate struggle while trying to do the show.
Here's a photo right before everything got blurry, just as Ryan began to slap random people across the face with one of the 20 balloons he carried around the dance floor all night.
I would tell you what else we did until 4 am that night, but I think I'll take it to the grave instead. You know what they say: what happens in Vegas, dies after 24 hours on SnapChat.
You can listen to the first hour of the Vegas show here.
Stare at this picture of Ryan while you do: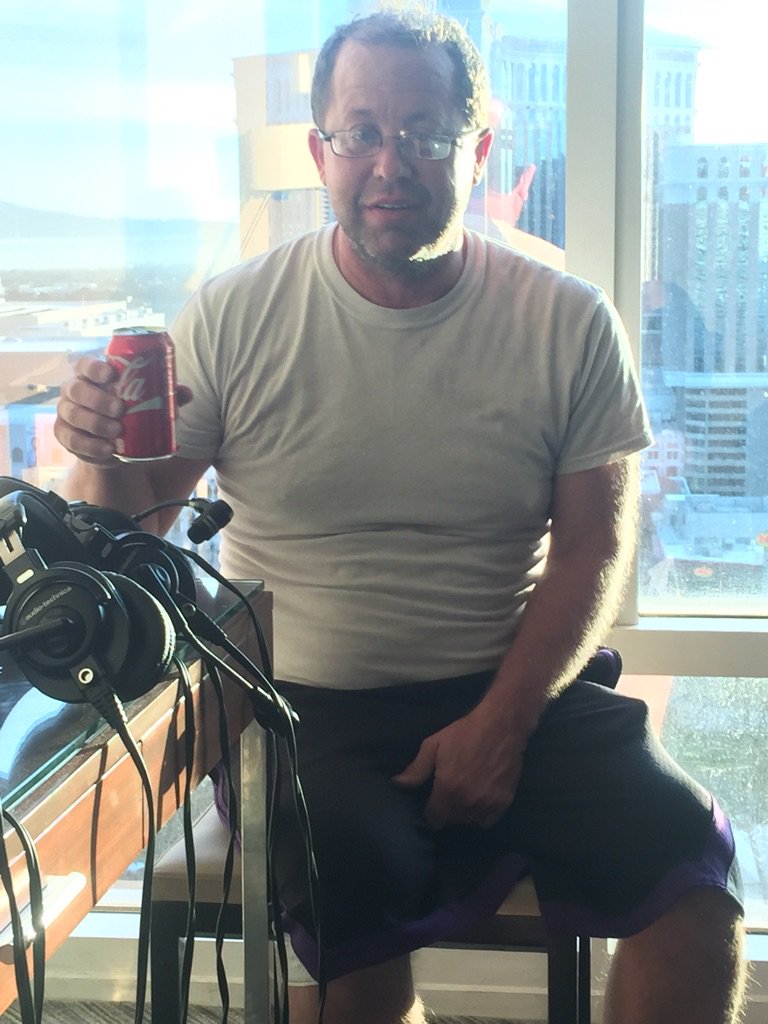 10.) The UK-UCLA game was UCLA's Super Bowl.
Last and certainly least, we learned Kentucky can lose to a bad team when it plays like it did last Thursday. Credit the environment, UCLA playing its best basketball and Kentucky playing its worst. The Cats flat out got stomped from start to finish in Pauley Pavilion, and KSR drove 4,700 miles to witness it.
Our road trip started with a football loss to Louisville and it ended with a basketball loss to UCLA, a team that had lost two of its last three, plus another loss to Monmouth earlier in the year.
Outside of that, we had a blast.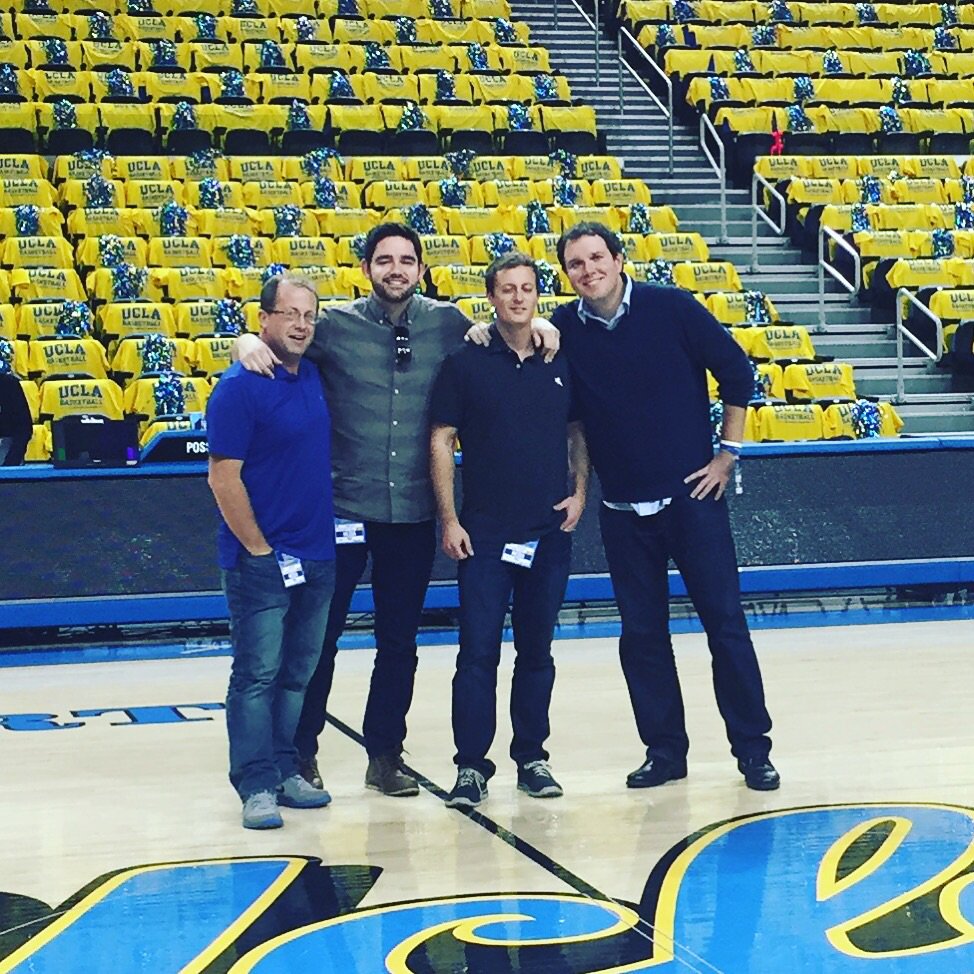 Run it back next year for the North Carolina game in Vegas?