10 Things You Just Can't Miss at the Marshall County Hoop Fest
Got plans this weekend? Some of the best high school basketball players in the country are converging in Marshall County for the 19th annual Marshall County Hoop Fest. Several UK targets and a signee will be in town today through Sunday, making this the perfect opportunity to find your inner basketball scout. I attended the festival two years ago, and after looking at this year's schedule, put together this list of ten things you just can't miss.
1. Tonight at 8pm ET: Sunrise Christian vs. Orangeville Prep (Thon Maker)

Calipari will be in the building for this game to see 2016 phenom Thon Maker. This is Maker's second-straight weekend in our fair state; last weekend, he took an unofficial visit to UK for the Providence game, sitting behind the bench with his brother while in town to play in a tournament at Dunbar. This week, he visited Louisville for the Ohio State game. Now, he'll play two games in the Hoop Fest before heading back up to Canada. It will also be Cal's second-straight weekend watching Maker, thought by many to be the next big thing in basketball. There's a decent chance Maker will reclassify to 2015, a decision he will make in the next month. If he does and picks the Cats…I can't even.
If you're not already at the game, don't worry; you'll have another chance to see Thon play on Saturday night.
2. "Coaches Row"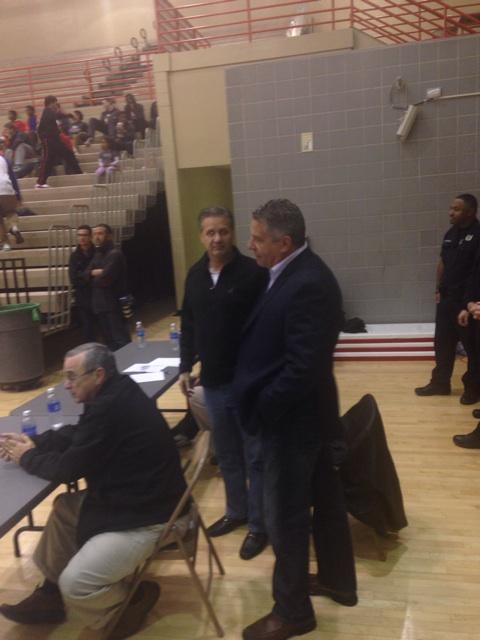 John Calipari is just one of many high-level coaches who will be in the beautiful Marshall County gym this weekend. Kansas is in the mix for several of the recruits playing and they play Friday night, so I'd expect to see Bill Self or one of his assistants there on Saturday, along with Rick Pitino, Bruce Pearl, and maybe even Tom Crean. Those photo opps alone are reason to go. (By the way, send those to us!)
3. Friday, 8 p.m. ET: Callaway (Malik Newman) vs. Archbishop Carroll
At one time, it seemed like Malik Newman was at the top of John Calipari's 2015 wish list. That may still be the case, but Newman's recruitment has been a hard one to follow. The Mississippi native doesn't do many interviews, but right now, it looks like it's down to staying in his home state at either Ole Miss or Mississippi State or going to one of the blue bloods at Kansas, Kentucky, or UConn. Newman, a combo guard, recently said that he would have no problem playing alongside current UK commit Isaiah Briscoe, a point guard, which is promising news for the Cats.
This game is at the same time as UK/Texas, and while I'm sure the game will be on TVs/smartphones throughout the building, no one will blame you for waiting until Saturday night to see Malik.
4. Friday, 11 p.m. ET: Oak Hill vs. Reach Your Dream Prep (Skal Labissiere)
This is the first of two chances UK fans will get to see the future Cat play in Kentucky this weekend. Saturday night, he'll play in the Legacy Nissan Classic at North Laurel High School in London, but if you're located in the Western part of the state or just can't wait, he and his slightly sketchy Reach Your Dream Prep squad will face perennial power Oak Hill Academy in the late game Friday night.
5. Larry Vaught
Larry Vaught loves four things in life: his family, Danville, the dance team, and the Marshall County Hoop Fest. Nothing will keep Larry away from the Hoop Fest, not even the UK/Texas game. That's right, Larry is missing out on tomorrow night's showdown to devote his full attention to the high school basketball. Be sure to say hello to him over on press row.
6. The BBQ Nachos
The Hoop Fest was the first event I covered as a full-time KSR writer, and after I settled into my seat on press row next to Larry Vaught, a basket of delicious BBQ nachos magically appeared in front of me, thanks to the Marshall County Dugout Club. Aside from all the elite prospects on the court, the BBQ nachos are the star of the Hoop Fest, and just one of many impressive offerings from the concession stand. If memory serves me right, there were ribeye sandwiches, waffle cones made on the spot, and even designer cupcakes. This is not your average concession stand fare.
Maybe that's why Larry loves it so much.
7. Saturday, 7 p.m. ET: Archbishop Carroll vs. Villa Angela-St. Joseph (Carlton Bragg)
Calipari will also be in the building for this game before he hops on his private jet and heads south to see Jaylen Brown play in Georgia. Kentucky and Kansas are the perceived favorites for Bragg, who surprised everyone when he eliminated Ohio State from his list a little while back. The Cats are in a good spot with Bragg, who visited for Big Blue Madness. If Trey Lyles ends up going to the NBA in the spring, Bragg would be a perfect fit to replace him.
8. Saturday, 8:30 p.m. ET: Oak Hill vs. Our Savior (Cheick Diallo)
This will be your only chance to see Cheick Diallo, the best power forward in the 2015 class. Kansas, Kentucky, Iowa State, and St. John's are in hot pursuit of Diallo, with the Jayhawks leading his 247 Sports Crystal Ball. In turn, Bill Self and his hair plugs will likely be on the front row.
9. Saturday, 10 p.m. ET: Orangeville Prep (Thon Maker) vs. Callaway (Malik Newman)

If you can only go to one game this weekend, make it this one. Thon Maker vs. Malik Newman will be the premiere showdown, with the most exciting player in the 2016 class vs. the best scorer in the 2015 class. Expect plenty of coaches in the building for this one, with plenty of caffeine in hand.
10. Seeing teenagers become rock stars
Two years ago, we were still wrapped up in the Andrew Wiggins saga, and Wiggins got his first taste of the BBN at the Hoop Fest. Wiggins was mobbed by fans for pictures and autographs throughout the night, to the point that the festival organizers opened the gym floor up after the last game for fans to line up to meet Wiggins; the Harrison Twins had similar lines in the lobby.
For many kids, this is their first time playing in front of crowds as passionate about basketball as Kentuckians. By now, they're used to the AAU/EYBL tournament circuit, but having fans treat them like rockstars afterwards can be a new experience, and it's always interesting to see how they react. I expect Skal to get a HUGE ovation from the crowd Friday night, and I can't wait to hear how he interacts with fans. Be sure to give him a warm welcome to la familia if you go.
Tickets for the entire fest are $35 and $15 for single sessions. For a full schedule and more information about tickets, visit marshallcountyhoopfest.com.