SEC Slant: Eastbound, but down?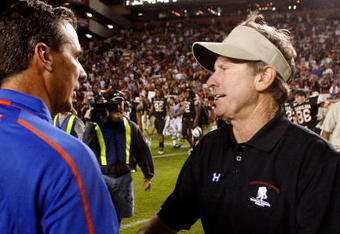 Turn your back on the SEC for even a day, and look what happens. Mark Ingram hurts his knee and the NCAA denies Ole Miss the services of QB Jeremiah Masoli for 2010. What will tomorrow hold?
His reign is over. For four, going on seven years, Tim Tebow pillaged the SEC, forgave it of its many, many sins, won 2 national titles, a Heisman, and generated more publicity than any college athlete ever. And he's gone. Thank Tebow. It's time to resume life as usual here in the SEC East, with everybody chasing Florida, a ball coach with a foot on the golf course, a bulldog with a simmering seat, and three new coaches just hoping for a taste.
Swamps
Well, let's start with the obvious: outside of Mallet, John Brantley has the most potential of any other QB in the league. Unfortunately, your first SEC run-through can be rocky. But he's surrounded by the proverbial Florida Speed and in Urban's Spread, will have plenty of chances to make plays. But it's the defense yet again that should propel the Gators to the division crown, behind what might be the best secondary in the nation.
Sked: Trip to T-town on 10/2 could be the SEC-CG preview. Potential for another 10+ win season.
UGA
Mark Richt built the framework for a castle in the beginning of the decade, with SEC Championships in 2002 and 2005. At the same time, Florida Zooked their way into mediocrity and Tennessee was riding the Claussen family hard, to respectable, but not great, seasons. The door was open for the Dawgs, and it seemed as if the East would now have to go through Athens. But, it just never worked out. Poor defense has been largely to blame for the recent failures, which is why Todd Grantham was plucked from the Dallas Cowboys to man a new 3-4 defense. The offense has loads of potential, but that'll hinge on freshman QB Aaron Murray not being Joe Cox. The east is open for UGA to contend, and the future of Mark Richt could depend on it.
Sked: The road trip to Boulder shouldn't cause any problems, and an early season trip to Columbia and Arkansas at home will dictate the season.
Cayuts
Pappy Van Brooks will be listening on a static-y transistor radio from his bass boat as Joker Phillips looks to keep the Cats out of the cellar. With major question marks lingering under center, Kentucky will ride all-conference playmakers Randall Cobb and Derrick Locke haaarrrd. While not an NFL stocked defense, there's enough skill on that side of the ball to keep things respectable. Like always, the season will come down to the handful of games UK can win. They stole two on the road last season in Athens and Auburn, and will have the chance to do so again at Ole Miss. Beat Louisville, Vandy, Miss State, and a quarter century of history (UT), and you have the groundwork for what could be an 8 win season.
Sked: feasible. Swapping Bama for Ole Miss is a legit shot at an extra conference win. Plus, big swing games at home, with SC, Auburn and UGA coming to Commonwealth.
Vandy
It's almost as if Bobby Johnson got up one morning, studied his roster, then the schedule, then the roster, then the schedule, and said "f*ck it." Now, former O-line coach, and pig farmer, Robbie Caldwell will try to commandeer some Southeastern respect. Two years ago, the Dores boasted a winning season, only to swiftly plummet back to reality last year, finishing 0-8 in league play. Things could easily spiral out of control again with a brutal schedule, but they have some pieces to minimize the blowouts, maybe even steal one here or there. Junior QB Larry Smith is a touch north of awful and RB Warren Norman has the skill to play for anybody, but is coming off knee surgery. LB Chris Marve is one of the best in the league, but that about does it in terms of big time playmakers.
Sked: Slippery. Open with Big10 sister school, N-Western. Non-con also sends them to a tough UConn and they get Wake Forest at home to close. Looks like a 3-4 win ceiling.
Cacks
Another season, another QB soap opera for the ball coach. Stephen Garcia was fairly solid last year, but will begin the season sharing the field with freshman Conor Shaw. The Cocks return a bevy of playmakers on defense, in the trenches and boast arguably the best receiving core in the conference, led my WR Alshon Jeffrey and TE Wesley Saunders. The Cocks have even garnered some national buzz as a potential sleeper. But they'll find a way to grind out 5 losses. They always do.
Sked: Bumpy. Starts tomorrow night with So. Miss. Aside from a visit to the Swap, conf. slate has some opportunities, with UGA, Bama and Arkansas at home.
Volz
Change can be hard. Especially when you're breaking in your third different head coach in as many years. Sometimes, you just have to go out there and cause ruckus, transfer, or quit to start that budding rap career. Whatever the reason, Derek Dooley is dealing with a thin deck that has many on the mountain bracing for the worst.
Sked: Oregon's visit to Knoxville is a chance for the Vols to atone for their failed UCLA series, but likely adds another L on top of a rocky SEC slate.
Predictions
Florida
UGA
SC
UK
UT
Vandy
MVP: Randy Cobb
Best Game: Cocktail Party
Official all-time SEC East Mascot: This exact image