Will Florida's losses be Kentucky's Gain?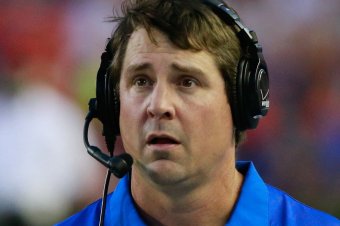 There's something rotten in the city of Gainesville. After stealing away George Brown Jr from the Cats on Friday, two would-be Gators decided to pass on Florida and re-open their recruiting. That marks the fourth decommit in ten days for Florida and if things don't go well this season things could get much worse. In regards to the players leaving George Brown spoke with Chad Wilson of the radio show Gridiron Studs and had this to say:
"Some people are just waiting to see what the offense looks like this year the first few games, I think we'll be getting some big-time commitments pretty soon. That's pretty much it with the new offensive coordinator, they just want to see how the offense works. If it goes well, we'll have some pretty big commits coming in pretty soon."
If it doesn't go well? Things could be falling apart pretty quick in Florida and perhaps George Brown could be back on the market. Vince Marrow certainly doesn't think it's a done deal as he tweeted this after Brown's commitment to the Gators last week:
Big Blue Nation… Relax. It's only the first round. This is a Title Fight. #BBN

– CoachMarrowUK (@vincemarrow) July 25, 2014
All those decommits have dropped Florida down to 41st in 247sports' composite rankings which is a few spots behind Wake Forest. Meanwhile the Cats are holding strong at 21st.  If Florida has another bad season this year then Kentucky targets could be back on the board.
Next signing day where to you thing George Brown will end up?