Who Takes Over For Jason Hatcher?
With yesterday's announcement that Jason Hatcher would miss the first two games of the season due to suspension and Kobie Walker still recovering from ankle surgery Kentucky's strongside linebacker position was cleared out completely. Luckily thanks to some new depth Kentucky has plenty of guys that can step up for the first two weeks of the season. Take it from the head man himself:
"We have a lot of options that we can move some guys around, depending on the scheme, depending on how big we want to get, what we're getting from the offense. We have some big DBs … that we can put a little closer to the line of scrimmage in the personnel groups and how big the offense is." Just who could Stoops be referring to? Let's break down some options
Candidate 1: Jabari Johnson
Kentucky's current starting DE played linebacker for his first two seasons in Lexington before making the switch to backup Bud and Z. Jabari's move to LB would also free up the starting end position for redshirt freshman Denzil Ware who could be occupying the spot by year end anyway. Johnson's size makes him a great option for week 1 and the run heavy offense of Louisiana-Lafayette.
Candidate 2: Dorian Hendrix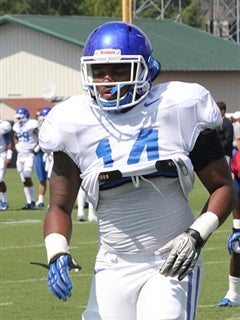 Hendrix has been on campus for a year and a half adapting to the college game and building his body up to play linebacker in the SEC. Coming out of high school, Hendix was ranked the 26th inside linebacker in the country and is currently listed with Nico as 2nd on the middle LB depth-chart. He's a guy that the staff has always been high on and he's a guy that could most benefit from early playing time, even if it is out of position.
In weeks two South Carolina will bring a more balanced attack. Hendrix's balance of strength and speed could be a nice counter for whatever the Gamecocks are throwing at us.
Candidate 3: Alvonte Bell

Bell has only been on campus for a few days but he was a guy Stoops specifically mentioned when talking about potential replacements for Hatcher. Alvonte was once the crown jewel of Joker Phillip's final class of but academic issues made him take the JuCo route. Now he's arrived on campus and flying a bit under the radar. If his fundamentals are in place and he can quickly pick up the defensive schemes of DJ Elliot then he could be the guy for the first couple of weeks and a solid option for beyond.