What We Learned After Mark Stoops' Week 1 Press Conference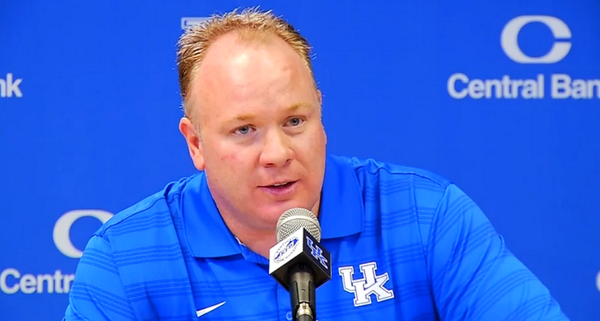 1.  Ya never know what defense Mark Stoops is going to throw out there.  There aren't too many defensive depth charts that look as funky as the Cats, but that will be the theme for Stoops' second-year D.  If the Cats are in a 4-3 or nickel, Bud Dupree will play defensive end.  If they start in a 3-4,  Bud will step back behind Za'Darius Smith, giving room for Jason Hatcher at defensive end.
Putting Bud and Z on the same side just sounds scary, but Stoops likes the move because it can get Hatcher more quality minutes on the football field.  "That's going to be a big part of it.  We wanted to get Jason on the field a year ago.  He went through some good growing pains.  He's getting better," Stoops said.
2.  Stoops isn't going to hide anything.  When starting a season against a D-II opponent, many coaches only use a fraction of their playbook so teams down the road have less material to scout.  Coach Stoops will operate in similar fashion, but "we aren't taking anything for granted."  The Cats will have a primary focus for their gameplan this week and will try to keep the playcalling within those parameters, but do not expect the Cats to come out cautious.
3.  Playing at home is a great way for young guys to settle in.  Home openers are rarer than you think — UK's last season-opener at Commonwealth was in 2007 — and Mark Stoops hopes to use it as a springboard for his young squad.  The fans' support can help gain some early momentum, "We need to go out there and start fast and play good football, play with great energy, play with great discipline, make it exciting for the fans."
There isn't much he can do during practice to prepare them for a crowd of 60,000, "they just need to go through it.  We have to throw them out there and see what they can do."  Stoops said the biggest adjustment will be getting used to the speed of the game, whether it's pre-snap alignments are being prepared to swap units on the sidelines.   With four redshirt freshmen playing on the offensive line and four true freshmen receiving significant clock at wide receiver, they'll need to adjust quickly.
4.  You'll see an early Boom.  Boom Williams and Mikel Horton will have some carries in Week 1, but most of the action at running back will be split between Jojo Kemp and Braylon Heard.  Stanley Williams Jr. is looking for a way to earn the nickname "Boom" from Neal Brown.  His best chance to make a play on the field will be as the starting kick returner alongside Braylon Heard.  You should be excited, Coach Stoops certainly is, "I will be excited to see him with the ball in his hands.  He's definitely a difference maker. "
5.  A final roster tidbit.  Stoops said today that he expects to redshirt freshman tight end Darryl Long.  Long is a big guy, but he needs to add to his frame and is not discouraged by the coach's decision.  Stoops also said today that Josh Clemons tweaked his knee during a preseason scrimmage.  They've been using Josh on an "every other day" basis to try and mitigate the chance of injury, but it will be week-to-week as to how Clemons will be used.  They're hoping he can still be a specialized power running back, but they aren't going to push him too hard with a deep group of running backs.