What NFL Draft implications will the TaxSlayer Bowl make on eligible Wildcats?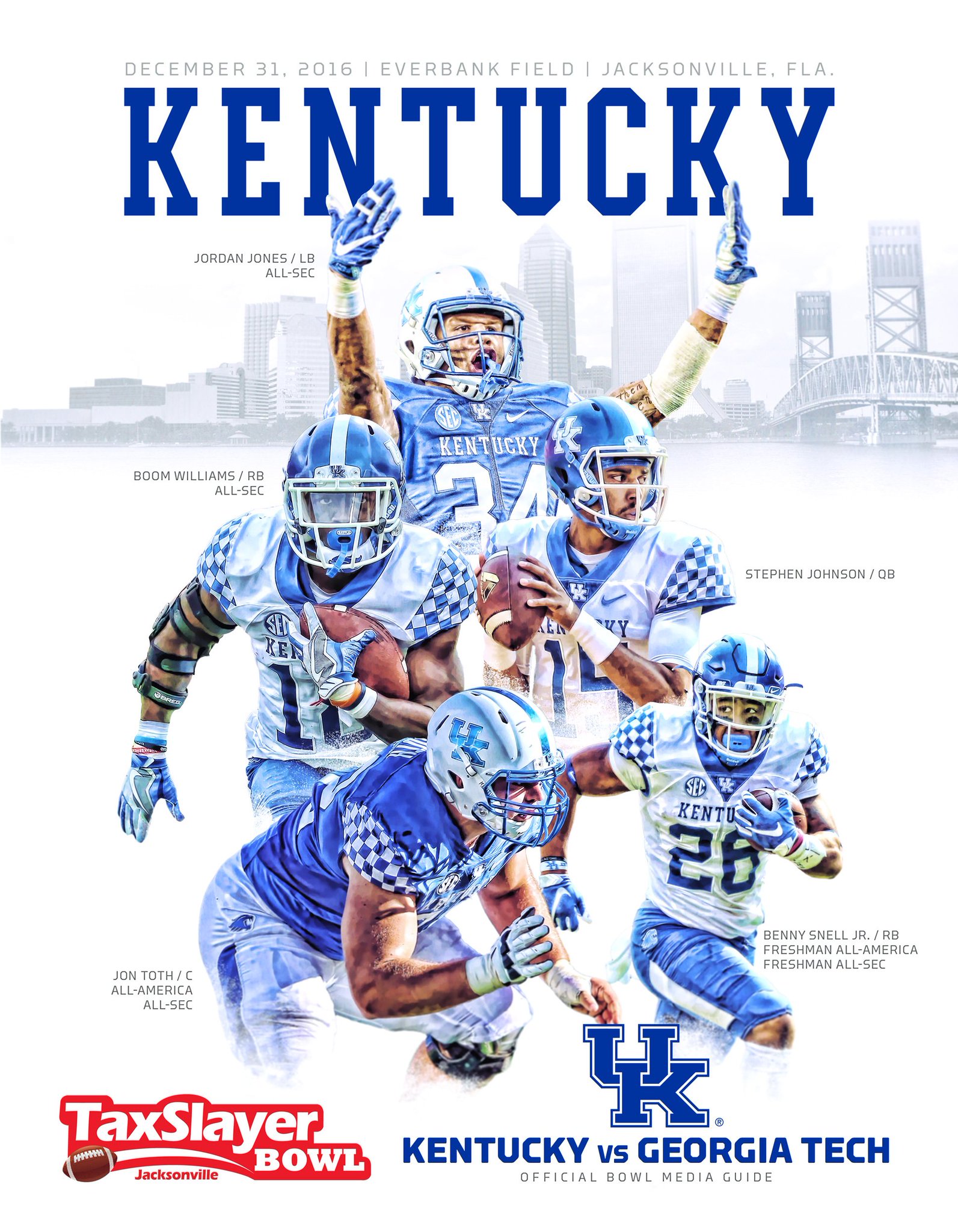 In just ten days, Kentucky will be taking on Georgia Tech in the TaxSlayer Bowl, where some big-time media attention will be placed on the Wildcats. The game will be nationally televised (ESPN, 11 AM), two hot teams on late-season upswings, and a whole lot of talent on both sides of the ball.
Though the recent talk in the media has been centered around Leonard Fournette and Christian McCaffrey opting to sit out of their bowl games, the TaxSlayer Bowl will be used as a platform for Kentucky athletes to prove to NFL scouts what they're capable of on a big stage in front of a wide audience.
Let's start with the big one:
Stanley "Boom" Williams
Boom recently said after the bowl game he and his family would sit down and have the big conversation to decide what was best for his football future. His options: Come back and break nearly all of Kentucky's rushing records as a senior with one of the most dynamic backfields in all of college football consisting of he, Benny Snell, and AJ Rose? Or strike while the iron is hot and go pro, as NFL RBs have a notoriously short shelf life due to injury?
In his first two seasons, Boom really struggled with injuries, but stayed fairly healthy throughout his junior year. He went down with stingers every once and a while, but always managed to come back strong and played an an extremely high level. Should he risk coming back and getting injured, or would another year of proving to NFL teams his durability be worthwhile?
From a talent standpoint, Boom has proven himself as a runner, but has been limited in versatility. Most smaller backs in the NFL stick around longer as pass-catchers or returning kicks, two aspects of Williams' game that he has not been able to utilize in his time at Kentucky. Could he return and ask to return kicks/be utilized further in the passing game, or go pro and try it out against the biggest, strongest athletes in the world? Again, a really tough decision for him.
This bowl game is big for Boom. If he goes out there and lights up the field in front of a national audience and scouts, he may feel that it's his time to go, especially with teams, family, and friends in his ear telling him to declare. If he struggles or gets hurt, who knows at this point. Many view bowl games as meaningless exhibition. For Boom, however, this game could earn him a handsome chunk of change.
Jon Toth
As a senior, we already know Toth is getting drafted, the only question is where.
Toth dominated in his career at Kentucky, and proved to be one of the top centers in all of college football. CBS Sports lists Toth as the 180th prospect in the country, and the 5th best draft-eligible center in the draft (5th/6th round), and most other services seem to have him in a similar spot. I've seen as high as the third round, and as low as the sixth. Regardless, it's not high enough.
With an NCAA-leading 47 consecutive starts under his belt, not only has he been dominant, but he's proven to be one of the most durable players in all of college football, a statistic scouts certainly notice.
It's incredibly hard to find guys of Toth's caliber and durability, and I believe another solid effort in Jacksonville will push his stock up to where it deserves. With this likely being a run-dominant contest, there will be countless opportunity for him create holes for Boom Williams, Jojo Kemp, and Benny Snell, showing off what he's capable of. The good news for Toth is that he still has the Reese's Senior Bowl and (likely) the NFL Draft Combine to impress the scouts.
Jojo Kemp
Not many people are discussing Kemp's ability as an NFL back, but I think he has a decent shot to make it as an undrafted free agent. Back in 2010, Alfonso Smith made the roster for the Arizona Cardinals and lasted in the leage for roughly five years, despite not rushing for over 315 yards in a season for the Wildcats.
Kemp hasn't put up flashy numbers, he's not a physical freak, and he's not the most fascinating player to watch, but his heart on the field stands out amongst his peers. Could he develop as a 3rd down back in the league? Develop some hands and be utilized out of the backfield? Who knows. All I know is Jojo Kemp would go to war for any NFL team if given the opportunity, and would find a way to capitalize. Call me crazy, but I think it happens.
Other seniors:
JD Harmon will likely get a shot on an NFL roster as a special team's athlete, and maybe some reps at corner. Courtney Miggins and Marcus McWilson finished the year strong, and some teams may sniff around there in free agency. Ryan Timmons and Blake McClain are long-shots, but they may find opportunities as practice squad members. A big bowl game for each of these seniors could open up some opportunities to further their football career a few years.
Underclassmen
The focus is on guys potentially going pro after this season, but the young guns will have the spotlight on them, as well. As far as underclassmen go,  a solid bowl performance could turn some heads for NFL scouts going forward. Mike Edwards, Chris Westry, and Jordan Jones are three big ones that already have attention from league executives, and this will be a great opportunity for them to show against an impressive offense, specifically with tackling and run-defense scenarios. Josh Allen, Denzil Ware, Adrian Middleton, CJ Conrad, Jeff Badet, Logan Stenberg, and Bunchy Stallings are some of the others with pro futures.
We're still a ways away from guys like Landon Young and Benny Snell going pro (thank God), but you better believe scouts will be taking notes on them, as well.
On that note, #BEATLOUISVILLE!