What is a Louisiana-Lafayette?
Kentucky will open its 2015 season and its new Commonwealth Stadium this coming Saturday when Louisiana-Lafayette comes to town. Before that games kicks off, you're probably asking yourself one very important question: The hell is a Louisiana-Lafayette?
Allow me to educate you, if you will…
The University of Louisiana at Lafayette
Formerly the Southwestern Louisiana Industrial Institute, the Southwestern Louisiana Institute of Liberal and Technical Learning, and then the University of Southwestern Louisiana, UL-Lafayette is one of the nation's best institutions for undergraduate education, according to The Princeton Review's college rankings. The school has achieved several milestones over the years, including becoming the first all-white southern public college to desegregate, the first to offer a masters in computer science in America, and the first of many to lose to Kentucky in the 2015 college football season.
The university's motto is "Fortiter, Feliciter, Fideliter," which is French for "Forts, Felicias, Fidelity." (I think.)
Location: Lafayette, Louisiana
Just west of Baton Rouge and about a two-hour drive from the 2-for-1 Hand Grenades and Hurricanes in New Orleans, you'll find Lafayette, the fourth-largest city in the Bayou State.
Nicknamed "Hub City" for reasons I don't care enough about to Google, Lafayette was founded in 1821 and renamed in 1884 for General Lafayette, a member of George Washington's clique. Lafayette and Washington were, like, BFFs back in the day. Serious man crush going on there. Lafayette even named his son Georges Washington to honor his good friend.
Anyway, the city of Lafayette now boasts a population of about 120,000ish, give or take a few folks. It's also home to one of the world's largest Cajun and Creole museums, the actor who played Walter White Jr., and the last remaining Borden's Ice Cream Parlor in the United States.
USA Today named Lafayette No. 1 on its list of Best College Town Weekends.
Notable Alumni
Frank Ocean: Singer, songwriter and rapper; former ghostwriter for John Legend and Justin Bieber
Ali Landry: Smokeshow, best known as the Doritos girl in the 1998 Super Bowl commercial
Peanut Tillman: Cornerback for the Chicago Bears from 2003 to 2014, now with the Carolina Panthers
Richard Simmons: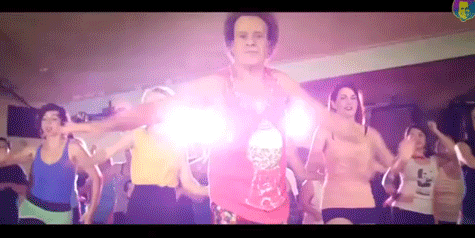 Cheerleader Scouting Report
Oh hey there. What did your parents name you?
Mascot: "The Ragin' Cajuns"
UL-Lafayette adopted the Ragin' Cajuns nickname in 1963, when then head coach Russ Faulkinberry changed the nickname of the football team from the "Bulldogs." It took about a decade for the entire athletic department to catch up and make the "Ragin' Cajuns" name official.
It has a better ring to it than the "Angry Acadian-Creoles."
Ragin' Cajun Cheers
"Give 'em Hell!  UL!  Give 'em Hell!"
"G-E-A-U-X  Geaux Cajuns Geaux!"
"Ragin' Cajuns!  Geaux!  Geaux!"
… Those are stupid.
Head Coach: Mark Hudspeth
Coach Hudspeth is entering his fifth season with the Ragin' Cajuns with four nine-win seasons under his belt. He led his team to New Orleans Bowl wins in each of those four years, after zero postseason appearances in school history prior to his arrival.
Though he's loved around Lafayette, Hudspeth will likely make the jump to a Power 5 football program next year. His name was tossed around as a potential replacement for Will Muschamp at Florida last winter, as well as other attractive openings around college football.
Fun fact: Hudspeth was Ole Miss head basketball coach Andy Kennedy's backup quarterback in high school. The third-string QB on that team? Our own Matthew Mitchell.
Players To Watch
Elijah McGuire, Running Back: McGuire was the 2014 Sun Belt Conference Player of the Year as a sophomore, having rushed for 1,264 yards and 14 touchdowns, ranking fourth in school history for most yards in a season and tied for fourth in touchdowns. He is the 2015 Preseason Sun Belt Conference Offensive Player of the Year heading into this season. He is really, really good.
Dominique Tovell, Linebacker: The team's leading returning tackler is a Preseason All-Sun Belt Second Team selection and a member of the Lombardi Award Watch List. The Ragin' Cajuns defense will look to him for leadership in his senior season.
Gunner Hudspeth, Daddy's Boy: I'm going to go out on a limb here and say Gunner's athleticism didn't land him a spot on the team. Being the son of the head coach probably did that.
Here's a welcoming video if you need to know more…
Now let's play football.