UK wide receivers recruiting evaluation
While browsing the interwebs I came along this gem (video attached), from last year's football media day. Pretty entertaining stuff. These guys are as goofy as they come, and they carry the swagger that UK needs in the critical WR position.
Anyways, I've decided to take a deeper look into the recruiting ratings of our current receiving corps and I'll be talking about the players that UK has on offense that need to make a big impact for there to be a real air-raid system in New Commonwealth this season. The good news is that truthfully the offense is well stocked, and with a veteran line, sure quarterback, and a running back whose nickname writes its own headlines, the wide receivers are the only bunch left in question. But, that isn't to say that they are the least talented group by any means. This group boasts some big personalities and they are an incredibly deep unit.
2015 Big Impact Receivers
DORIAN BAKER
Wide Receiver


Class of 2014, Sophomore
Cleveland, OH
Dorian is a big, physical receiver that can make a huge impact for the Cats this season. Rated a four-star player in the 2014 class, he came in last season and caught 19 passes for 199 yards, and recorded one touchdown in 3 starts as a true freshman behind Timmons, Javess Blue, and Demarco Robinson. This season as a rising sophomore he will be expected to increase his role on the field tremendously and take the place of one of the two graduated seniors. He's a big hit with the coaching staff.
BLAKE BONE
Wide Receiver


Class of 2014, Sophomore
Woodruff, SC
Bone, another huge recruit out of the 2014 class had a decent season as well last year as a true freshman in the SEC. He caught 14 passes for 174 yards on the year, and two touchdowns. He will be looked upon to replace the other of the two graduated seniors, side opposite of Dorian Baker. He lacks great speed, but makes up for it with his athleticism and height. Bone needs to have a big time sophomore season at receiver for UK to be a better unit than last season, where UK had 3 players' total five-hundred plus yards in 2014.
RYAN TIMMONS
Wide Receiver


Class of 2013, Junior
Frankfort, KY
Timmons was a big recruiting get in Stoops first class as head coach. The three-star player scored 45 touchdowns his senior year at Franklin County. He was a heralded recruit with blazing speed and big play making ability, which has all been true, but last year was a bit of a sophomore slump for the Kentucky native. Timmons caught a case of the butterfingers, and was hampered by injuries to end the season. While only starting in eight games last season, he still managed to lead the team in receptions and yards. Timmons needs another 500+ year in slot, and as a bonus I bet we see him in some trick play action this year.
GARRETT JOHNSON
Wide Receiver


Class of 2014, Sophomore
Winter Garden, FL
Juice is one of the most athletic guys we have on the outside. He's not necessarily a big physical guy, but he's quick and has great body awareness. He can change direction very quickly and he's dangerous in the open field. He had 22 catches for 271 yards and two touchdowns as a true freshman in the slot last season. If Juice can get loose, we're gonna have some fun. This is your X-factor ladies and gentleman, know this name.
Next Up
JEFF BADET
Wide Receiver


Class of 2013, Sophomore (Med. RS)
Orlando, Florida
Badet did not play last season after the tennis ball incident. He will provide depth and quality minutes at receiver this year, and will be a valuable member of the receiving corps as a redshirt sophomore. He's another elusive type player who can make you miss in the open field, and turn small catches into big gains. I expect him to have a big season after taking a year off.
ALEX MONTGOMERY
Wide Receiver


Class of 2013, Sophomore (Med. RS)
Weston, FL
Alex Montgomery also did not play last season after sustaining an injury while celebrating a touchdown catch during the 2013 season. He's stands at 6'1″, athletic, and has great hands. He was a big play maker in high school, had 200 yards and three touchdowns in his state championship game. He will be useful this season, and will see good minutes if he can get his head right after his time consuming injury.
T.V. WILLIAMS
Wide Receiver


Class of 2014, Sophomore
McKinney, TX
This dude is quick. In high school he ran a validated 4.31 forty-yard dash, and showed up well at combines he went to as a rising sophomore and junior. Last season he only had 4 catches for 64 yards, but he didn't see great minutes in the slot, despite coming to campus a semester early. This year, he is still overshadowed by Timmons and Juice, but OC Dawson has made it aware that he does like to run with 4 wide-out sets at times. Williams, can provide quality depth for the Cats this season and will see more minutes on the field.
Honorable Mention: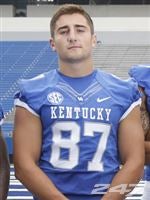 Joey Herrick: The lone senior to make the list. From the class of 2013, he's a guy who had 8 catches for 116 yards a year ago and will provide a similar performance this season as he mans the #1 position on the mid-summer depth chart at his position. I really like Herrick, one of the hardest working receivers on the team and will see the field as a senior.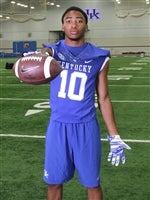 Thaddeus Snodgrass: The all-name team all-American was dished the unfortunate news last year during fall camp that he would be receiving a redshirt for the 2014 season, as he needed some time to get bigger and develop into what receivers in his class already were. Not to mention, there actually wasn't enough room for him on the roster. He will be a surprise kid that can make big plays as a redshirt freshman, he was four-star kid coming out of high school.
It's honestly a little too early to tell for the young guys (freshman) who will make a real impact this season because of the depth of talent already in the pre-existing receiving corps. Jabari Greenwood and Tavin Richardson both are talented players, and will have their chance to compete during fall camp. We have a lot of talent in this department, but only so many guys can get reps. Did you notice anything different? Anything at all?
7 OF OUR TOP 9 RECEIVERS ARE SOPHOMORES OR FRESHMAN!!!
The youth is real, folks. 1 redshirt freshman, 6 sophomores, 1 Junior, 1 senior. That's what we're working with. We've got considerably one of the youngest talent corps in the SEC and we will be relying on guys to make plays who only have at max one or maybe two years under their belt. This will be a solid group because of their depth, but have some patience with these young guys.