Tuesday's Top 10 Almost Didn't Happen
Have you ever woke up in the middle of the night to use the restroom, but your bedroom door won't open? That's what happened to me last night at 2:00 a.m. My doorknob had a few kinks in it before my mother decided to paint all of the doors in the house. I'm not sure exactly what she did, but I was not a happy camper at 2:00 a.m.
It's amazing how your brain functions under stressful conditions. My mind immediately went back to my days of using credit cards to break into rooms at the old fraternity house. Badda boom, bad bang, 10 seconds later I was free. At least one thing I learned in college was put to good use today.
Calipari Offers 2017 Guard
Breaking News from the Herald Leader's Ben Roberts; during last night's in-home visit, John Calipari extended a scholarship offer to combo guard Shai Alexander. The former Florida commit is the No. 43 player in the class of 2017. The Canadian-born baller only recently entered UK's radar after reopening his recruitment earlier this month. Alexander could be one Calipari's most important recruits as uncertainty surrounds the status of 2017 guards.
Two SEC Players of the Week
For the second consecutive week, Benny Snell was named SEC Freshman of the Week. In those two weeks he's rushed for 320 yards and 3 touchdowns on 5.6 yards per carry. Not too shabby. Adrian Middleton received his first All-SEC honors, tabbed as the SEC's Defensive Lineman of the Week after getting four tackles and a tackle for loss against Mizzou.
"I see him making a lot of growth. I'm very proud of him and the way he's grown and his effort," Mark Stoops described Middleton's play at yesterday's press conference. "You saw him finishing some plays behind the line of scrimmage when earlier you saw him back there disrupting but not always finishing"
JoJo Kemp has a Broken Hand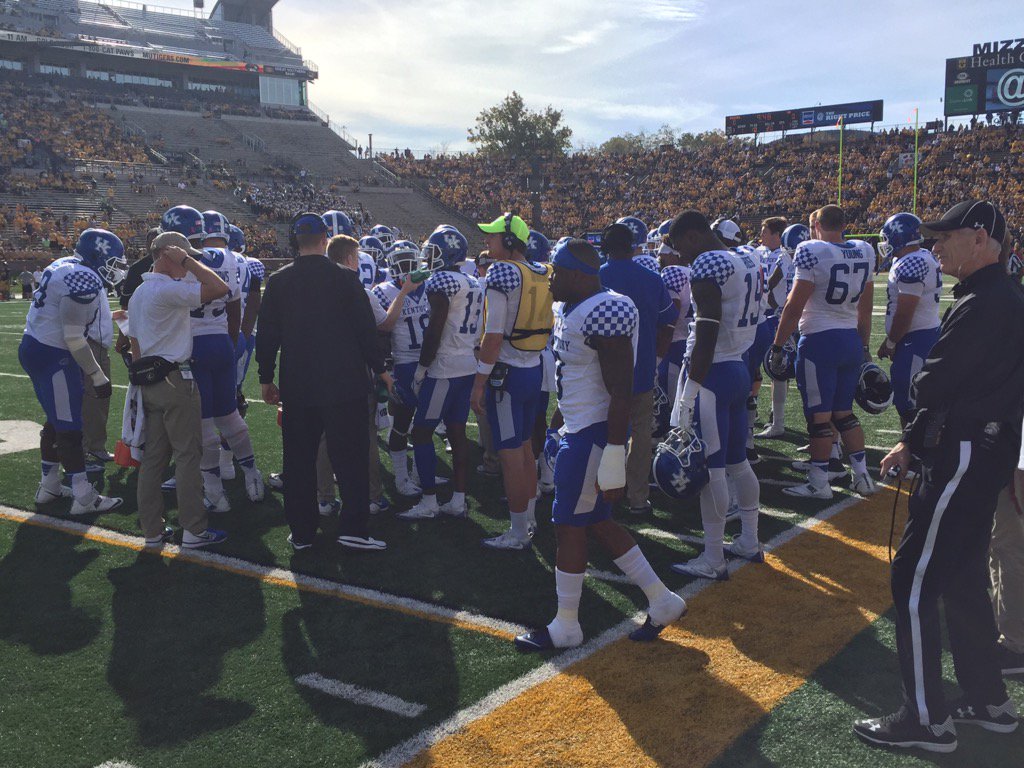 I first saw the cast on Kemp's left hand when he got off the bus in Columbia. The hard black cast was replaced with a soft one during the game. Stoops said after the game Kemp could be used in an emergency situation, but he never specifically addressed the injury. During last night's call-in show Stoops revealed Kemp has a broken hand. He can be used in emergency situations and will be evaluated on a week-by-week basis.
We'll Hear from the Offense
Tonight Eddie Gran and Stephen Johnson will take the podium. I'm not sure exactly what will be said, but I have a feeling this will be mentioned:
Pack Commonwealth
If you follow any of the players on Twitter, you've been seeing messages similar to this one from Kash Daniel.
If commonwealth isn't full this week then something's wrong.

— Kash Daniel (@KashDaniel15) November 1, 2016
He's not wrong. What more could you ask for? Kentucky could beat Georgia to become bowl eligible for the first time in six years under the lights. I don't want to tell you how to be a fan, but there's no excuses. Last year we packed the house, only to be let down on more than one occasion. This team will give you something worth cheering for Saturday night.
Don't have tickets yet? You can get tickets for the Cats' final two home game for only $85, just visit UKFootballTix.com.
The First College Football Playoff Rankings are Released
I don't know about you, but I can't wait to see where the committee ranks Kentucky.
UK No. 2 in the Preseason AP Poll
The first official college basketball poll of the season was released yesterday, with only Duke ahead of Kentucky. The Cats are followed by Kansas, Villanova, Oregon, North Carolina, Xavier, Virginia, Wisconsin and Arizona.
Even though you probably shouldn't take too much away from preseason polls, we're going to anyway. UK has five opponents in the preseason Top 25, but none from the SEC. In the eight seasons under Calipari, UK has been in the Top 10 in every year except 2011 (no. 11). Kentucky has been in the Top Two for four consecutive years and five of the last six. That's not bad, not bad at all.
Boogie Broke a Franchise Record
In the Kings' 105-96 loss to the Hawks, DeMarcus Cousins had 14 points and 12 rebounds. The double-double was the 246th of his young career, surpassing Chris Webber for the most double-doubles in franchise history. His best highlight from the night:
Nimble DeMarcus Cousins goes thru the lane and throws it down with the left hand. #BBN #Kings pic.twitter.com/WcGWQbDN1R

– Scott Charlton (@Scott_Charlton) November 1, 2016
Louisville got a Shoutout on Last Week Tonight
John Oliver's weekly satire is one of the few shows I never miss and last night I was pleasantly surprised to hear my hometown receive praise. This week's big topic was school segregation, a.k.a. busing. If you want to get people from Louisville fired up, the phrase "busing" works faster than "hookers in the dorms." Hearing an outsider's perspective is refreshing, especially when it's positive.
DISCLAIMER: It's an HBO Show, so expect to hear NSFW language.
Only One Week Until the Election
After what feels like 50 months, we are down to the final week of the 2016 Presidential Election. Regardless of political affiliation, I think we can all agree that the sooner this thing is over, the better.