Totally Random and Completely Incomplete Media Days Recap: Missouri
I'll be honest, I was a little worn out after UK's big morning at SEC Media Days, and Gary Pinkel's soft monotone had me very close to nodding off a few times. Thankfully, Media Days stalwart Bob Holt livened things up a bit when he reminded Pinkel his team was picked sixth in the SEC East in 2013 and fourth in 2014 after Pinkel claimed he never paid attention to that stuff.
"Really? That upsets me," Pinkel joked, injecting a little bit of life back in the room.
I say "little bit" because…
Missouri may be the most boring team ever
The Tigers have won the SEC East two years in a row, something Pinkel brought up constantly to remind us why we should care about them. Except for maybe Derek Mason, Pinkel had the shortest session of any coach at Media Days, probably because half of the room was asleep or still working on Alabama's stuff. The Twitterazzi got so bored they started a meme with this uber serious shot of Pinkel at the podium:
"I'm not mad, I'm disappointed" – Gary Pinkel as your father. #SECMD15 pic.twitter.com/9A3qf88gzg

— Kimmie (@kimmiexj) July 15, 2015
"He died. That's what people do." – Gary Pinkel preaching your funeral. pic.twitter.com/BtrGO1srx4

— Mark Ennis (@MarkEnnis) July 15, 2015
This might be the most excited Gary Pinkel has ever been. pic.twitter.com/jEULWIcIir

— Austin Huff (@AustinHuff) July 15, 2015
While the rest of us were sleepy, the photographers were still working hard
Prentice Elliot caught this hilarious video of a photographer crawling around the floor in front of the podium. You can see me in the upper left yawning and attempting to look interested.
How much gel do we think is in Maty Mauk's hair?
Half a tube? More?
I'm still not over this Alabama fan dressed as Bear Bryant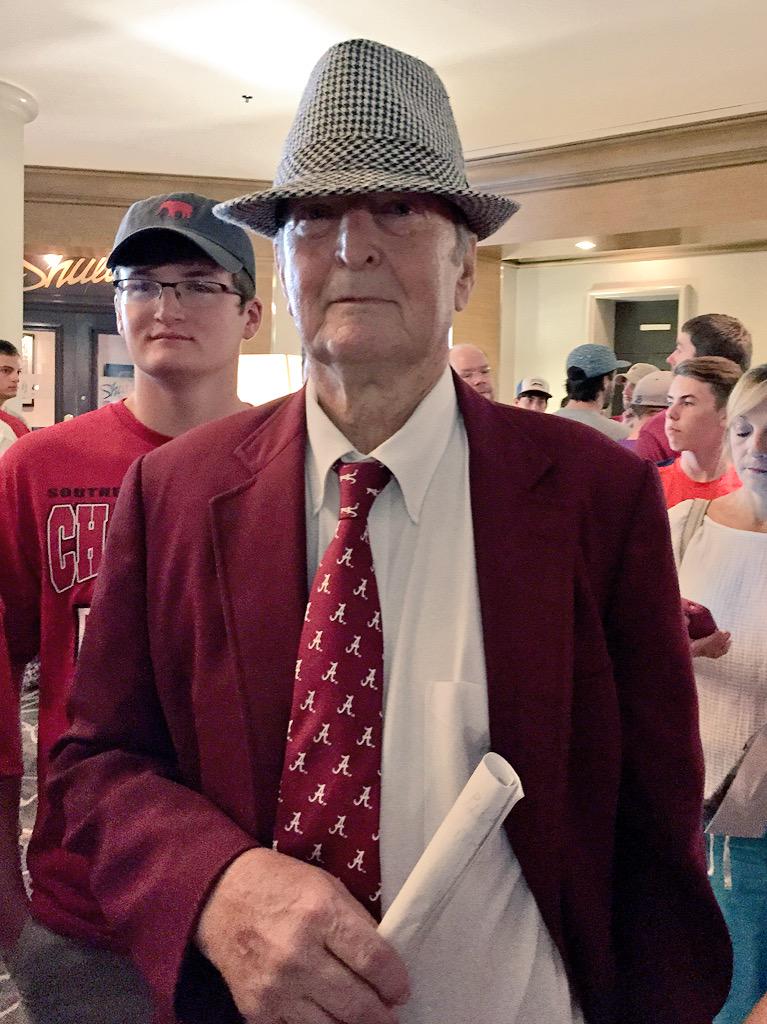 Or is he the real Bear Bryant back from the dead? Either way, he was the star this morning in the lobby.
Apparently Bret Bielema's wearing some crazy shoes, so I'm going to step away and investigate.