Totally Random and Completely Incomplete Media Days Recap: Mississippi State
You never know what stories will stick at SEC Media Days, especially in the social media age. Today, it was Mississippi State head coach Dan Mullen and his adidas Yeezy Boosts, which, for the footwear illiterate, is a shoe designed by Kanye West. The shoes popped up on my Twitter feed well before Mullen took the stage, and someone was brave enough to ask him about it in the main room. Mullen's response? Classic.
"I try to be swagged up in footwear. I've got a little sock game going today too. You know what, I was talking to the guys at Adidas, like, hey, this is the hottest shoe. I'm like, well, I'd like to wear kind of cool shoes," Mullen said. "With the sock game and the shoe wear, I try to have some swag on any time I do that stuff. So I was pretty excited."
Mullen said the shoes only came in this morning and he had a backup pair of custom adidas shoes ready just in case. And no, the backups weren't the Stark Vegas shoes he's worn before: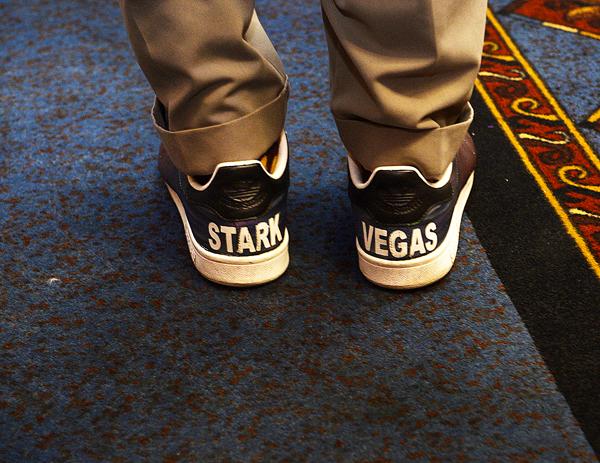 Between the shoes, answering questions with "ya" instead of "yes," and the references to when he would have "a beverage or two" in college, I can't figure out if Mullen is actually cool or just trying way too hard. I'm leaning towards the latter.
Anyway, shoes aside, here's what happened during the Bulldogs' session:
The SEC West is so proud of the SEC West
The SEC West has won the SEC Championship the past six years, a fact not lost on Mullen and company this afternoon.
"I can make a legitimate argument for all seven teams in the West of how they can win our side of the league," Mullen said. "You can't play an okay game and find a way to squeak it out at the end. That's not going to happen in the SEC West."
Senior defensive end Ryan Brown went as far to call the SEC West the "SEC Best," and said that pride extends to the entire league. Brown said he was heartbroken when Ohio State, a Big Ten school, took home the National Championship.
"Yes, yes, yes, it hurt my heart. Every time. I can't even watch the replay of them playing Bama. SEC, I take a lot of pride in playing in the SEC. When we lost, it broke my heart."
Brown says watch out for UK
Kentucky hung with Mississippi State when the Dogs came to Lexington last October. Mullen's crew was ranked number one in the country at the time, but Kentucky refused to roll over, an effort that didn't go unnoticed by Brown.
"We found out it was harder to be number one than compete for number one. It turned into a whole different ball game," Brown said. "We played Kentucky, it was a wakeup call for us."
My ears perked. I asked what made the UK game a wakeup call for the Bulldogs.
"They were a great SEC team. We knew they had a lot of potential. They were just all in that night, they were unstoppable. I thank God that those key players stepped up in those situations and we learned that every game is a big game. Don't take anybody lightly, don't underestimate anybody. Kentucky is a great team."
In fact, Brown says the Cats are on the rise.
"Yes. They will be on the rise. We will have an eye on them."
Mississippi State DE Ryan Brown on Kentucky pic.twitter.com/cEnDVlWHFa

— Tyler Thompson (@MrsTylerKSR) July 14, 2015