Totally Random and Completely Incomplete Media Days Recap: Georgia
The last day of Media Days is like the last day of vacation. Everyone is tired, dehydrated, and basically give no F's if someone catches them looking at Facebook during Mark Richt's press conference. Richt addressed the sleepy room of reporters this morning and gave us a few soundbites. Here's a breakdown…
He got a haircut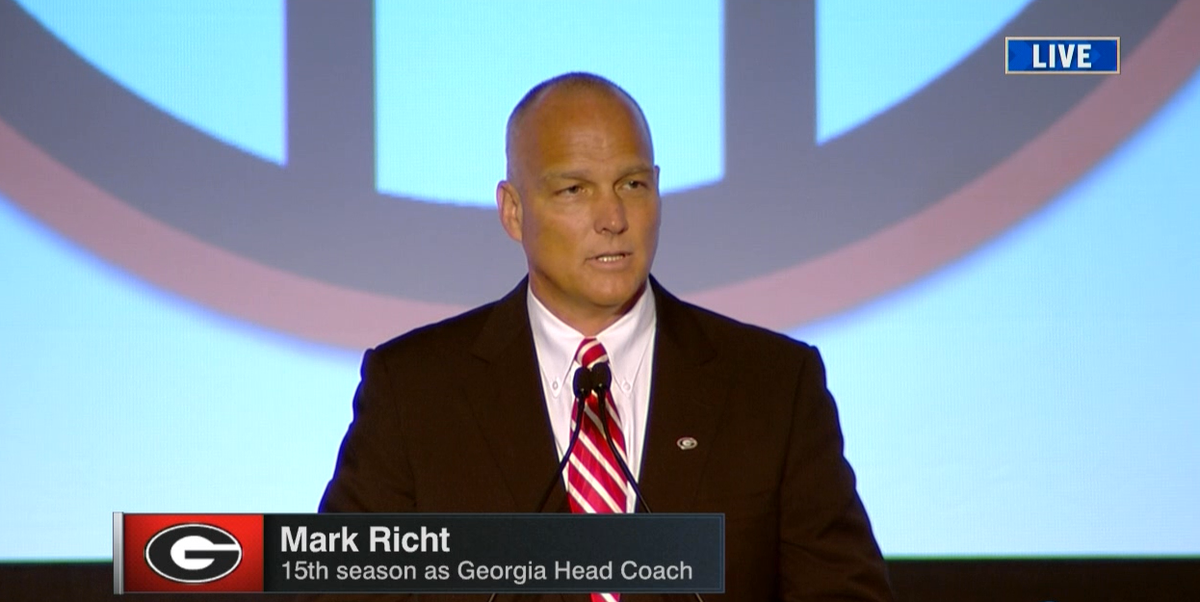 I've always thought Richt looked like Stephen Collins, the actor that played the dad on "7th Heaven":
Given that we learned Collins is a child molester in the past year, I don't blame Richt for shaving his hair off. I also may or may not have spent 80% of his session photoshopping a Heisenberg hat on his head, but the final result didn't look as much like Walter White as I wanted, so I deleted it.
He doesn't care if he's on the hot seat
By most program's standards, Richt has been successful during his 14-year tenure at Georgia, but he hasn't been successful enough to escape criticism from fans with high expectations. When asked about that lukewarm seat, Richt broke out a joke.
"I didn't know I got criticism," he said to laughter. "If you can't take criticism, then you shouldn't coach."
Then he trotted out an odd analogy to parenting.
"People are going to have opinions, even as a parent, if you say you've got to be in at 11:00 and everybody else gets to stay out until midnight, you might get criticized for that. You may hear grumbling and all that kind of thing."
Because not winning enough games and having an early curfew are the same thing? I don't get it.
He doesn't know who the starting quarterback will be
Junior Faton Bauta, sophomore Brice Ramsey and freshman Jacob Park all took reps for the Bulldogs this spring, but Richt is in no hurry to name a starter.
"I have no idea who the starter is going to be," Richt said. "We are going to have a tremendous competition, continue that competition for that position. It's going to — I think it's going to take a while."
My money's on Brice Ramsey. That just sounds like a Georgia quarterback name.
Nick Chubb is going to be good
The uncertainty around the quarterback spot isn't as troubling as it could be since the Bulldogs have Nick Chubb. The sophomore tailback is coming into this season as a Heisman candidate after putting up 1,547 yards and 14 touchdowns in his freshman year.
Even though Chubb will be Georgia's star, Richt said he didn't bring him to Media Days because Chubb is a pretty shy guy.
"Nick is a very — he's a pretty quiet, unassuming guy," Richt said. "And he doesn't really like the hype."
Senior WR Malcom Mitchell wrote a children's book
Malcom Mitchell was Georgia's representative for the "Beyond the Field" initiative for a very cool reason. Mitchell wrote a children's book entitled "The Magician's Hat," the first copy of which he brought with him to Hoover.
"Today is the first time I've talked about it," Mitchell said. "With writing it's almost personal. This is a piece of me. It's my vision, it's my heart it's my words. Opening up and sharing that with everybody isn't the easiest thing to do, but if you want to get a message out you have to open your arms and allow people to step in and today is my attempt to do that."
How cool is that?
---
Les Miles up next…