Totally Random and Completely Incomplete Media Days Recap: Day One
Confession time: I'm not in Hoover, Alabama…yet. A family wedding took me to Colorado for the weekend, and I only got back in Nashville this afternoon; however, I am heading down to Hoover bright and way-too-early tomorrow morning to make it to the Wynfrey in time to see Steve Spurrier take the stage. Few things can get me out of bed at 5 a.m. Steve Spurrier is one of them.
Freddie's been doing an excellent job of covering Media Days from the couch so far, and because I'm not in Hoover yet, I'll join in the fun. From what I can tell from snippets from the airport TVs, tweets, and some late afternoon SEC Network binging, here's what happened in Hoover today…
It didn't take long for someone to mention Jim Harbaugh
The picture of Michigan's new coach going shirtless during a satellite camp in Alabama made waves this summer, and it didn't take long for Harbaugh and satellite camps to come up at Media Days. One session, in fact. Auburn's Gus Malzahn was asked about it near the end of his turn in the main room, and had a pretty bold statement about Harbaugh's attempts to poach players from his state.
"I think that whole thing kind of got blown out of proportion, to be honest with you," Malzahn said. "The chances of a team up north coming into our state and a player that us or Alabama wants are slim to none."
After the league showed a sliver of vulnerability last season, Harbaugh has stepped in as a new foe. Personally, I welcome it.
This quote from Malzahn about Will Muschamp made me laugh
Malzahn hired Muschamp as his defensive coordinator in December and gave reporters this doozy of a quote this afternoon.
"Will Muschamp [is], in my opinion, the best defensive mind in all of football, not just college football."
Whoa there, buddy. Slow down. I realize Auburn had a top ten defense when Muschamp was defensive coordinator in 2006 and 2007, but a lot's happened since then.
They've already run out of paper towels in the bathroom
When well over 1,000 media are credentialed for one event, I guess you can't be surprised the bathroom is already out of paper towels.

— Seth Emerson (@SethEmersonAJC) July 13, 2015
And the Dr. Pepper is flat:
@SethEmersonAJC Dr. Pepper in the soda fountain is already flat, too.

— Zac Ellis (@ZacEllis) July 13, 2015
Ahhh, whining on Day One. Media gonna media.
Derek Mason is trying his hardest to make Vanderbilt cool
…Including dubbing it "West End" (the main road bordering Vandy's campus). Mason used his new nickname for Vandy at least ten times in his remarks today, and I have to give him props for effort. The best way to get really talented recruits to come to a school like Vandy? Call it something else. At least he's not calling it Demonbreun. Given the program's recent off-the-field drama, that would be bad.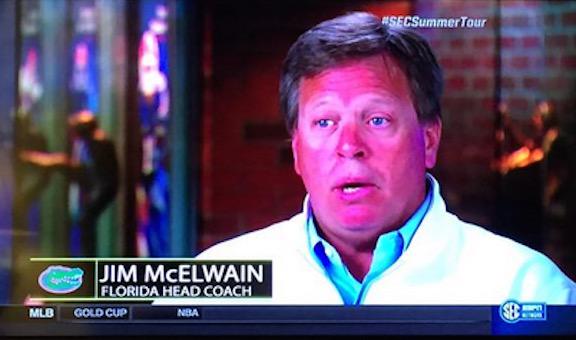 That picture of Jim McElwain's sunburn is epic
It was all over social media today and is pretty much all you need to know from Day One at SEC Media Days. It begs so many questions, my main one being how big were the sunglasses he was wearing?! Coppertone, you have your new spokesperson.