Today on KSR: Proper Etiquette with Mark Stoops
Last night Mark Stoops did not practice what he preached.
"I'm not showing proper etiquette," Stoops admitted to Matt Jones and Drew Franklin on the Paul Finebaum Show. "I'm doing an etiquette class, or an etiquette dinner, with my team tonight and I got mixed up on the time. I had to step out of an etiquette dinner to take this call."
The etiquette class was a part of UK's weekly 4 for 40 series. Sallie Plass and John Fugate showed the players how to tie a necktie, explained which forks you should properly use at a dinner table and how to greet a stranger by looking them in the eye with a firm handshake. It's one of the many different life skills classes, like how to balance a checkbook, Stoops has brought to his team this summer.
"When I say we try to help them in all areas of their life, it's not just lip-service. That's a fact," said Stoops.
Cats Pick Up a Commitment
A week before training camp begins on UK's campus, Kentucky has a top 20 recruiting class following the addition of Carrington Valentine. The three-star cornerback from Cincinnati Moeller is UK's 14th commitment in the class, the second defensive back and the fourth from the state of Ohio. Just like Andru Phillips, Valentine does not hesitate to drop his shoulder and lower the boomstick.
Catching up with Big George
George Asafo-Adjei's training camp tryout begins this week. Before the action cranks up for the New York Giants, he shared his passions off the field and detailed his path to the NFL with Kylie Callura.
Torres gets a Big Time Guest
The Aaron Torres Sports Podcast might have just reeled in its biggest guest to date. Tyler "The Bucket" Herro will talk about his time with Mr. Torres. Make sure you are subscribed to the Aaron Torres Sports Podcast to hear the former Wildcat talk about his time at Kentucky.
?? BIG. GUEST. ALERT: Tyler Herro joins today's Aaron Torres Sports Pod, to talk about his big Summer League, time at Kentucky and a scouting report on the 2020 Cats. Subscribe at the link, to have the episode sent straight to your phone when ready https://t.co/qSpx3zYSwc pic.twitter.com/KCsEYAysYd

— Aaron Torres (@Aaron_Torres) July 25, 2019
A New Podcast Debuts
In the middle of Talking Season around the world of college football, we're talking football more than ever. Today 11 Personnel will hit the podcast airwaves for the first time. Adam Luckett and I spent an hour talking about what went down at SEC Media Days, the league's quarterbacks and where Terry Wilson falls in the pecking order. You can listen by subscribing to Kentucky Sports Radio on iTunes.
Not Too Shabby
Mr. Luckett pulled out this shiny statistic about Mark Stoops' program. Here's how the Cats have finished in the SEC East since he took over in 2013.
2013: 7
2014: 6
2015: 5
2016: 4
2017: 3
2018: 2
Old Twitter is NOT Dead
The new desktop version of Twitter is an absolute abomination. Trying to navigate it is a complicated headache, one that doesn't even want to work on Safari. Have no fear, there's a way you can access the Twitter you learned to love. Just follow these simple instructions to get the right Twitter back in your life.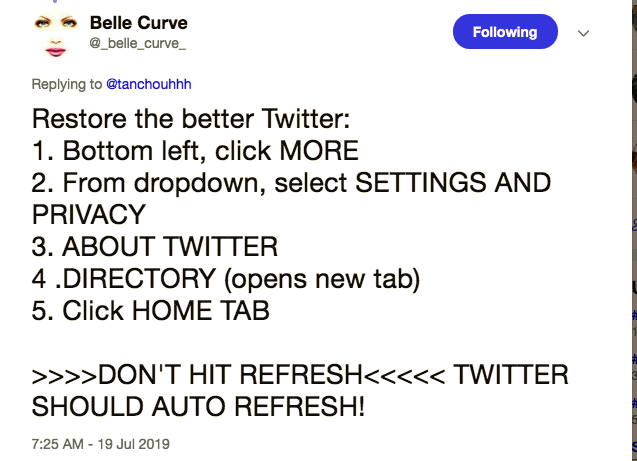 KSR is in Campbellsville
There are a few KSR Summer Tour stops that are staples each and every year. Yesterday they were in Monticello at Conley Bottom. Today they're taking their talents to Mr. Gatti's in Campbellsville. A venue that never lets us down, come hang out with Matt Jones and the rest of the KSR crew, beginning at 10:00 a.m.
[mobile_ad]