Today on KSR: Beat Florida
The Streak
Kentucky fans have waited thirty years to see the football Cats take down the Gators. Most of the people reading this have never seen it happen. Is today finally the day? All of the signs point to an historic win in front of a sold out crowd at Kroger Field.
The Kentucky rush defense has never been better, Benny Snell's powered through defenses for more than a hundred yards in consecutive games and Stephen Johnson has the poise of a playmaker prepared to lead his team to the promised land. On the other side of the ball, the struggling Florida offense enters tonight's game off a Hail Mary victory over rival Tennessee. Their first true road test, Florida is always Florida, but the Gator athletes aren't as intimidating as they have been in previous years.
The opponents are evenly matched. The Cats have the crowd on their side. Can they use the momentum to carry them to a win and keep the ball rolling through the SEC East? Before the day is done we'll find out who is in control of the race to Atlanta.
It's almost time for #UKvsUF in sold out Kroger Field. We can't wait to go to work Saturday #BBN pic.twitter.com/azsuKTUHnC

– Kentucky Football (@UKFootball) September 21, 2017
A Great Start to the Weekend
Before gameday arrived, the Big Blue Nation already has multiple reasons to celebrate. Kentucky's past was honored at the UK Hall of Fame induction ceremony. Randall Cobb, Collin Cowgirl and John Wall were among the honored guests (Watch their acceptance speeches). Fans also got to celebrate the future. Immanuel Quickley announced he will be John Calipari's next point guard.
Quickley to UK has been a foregone conclusion for quite some time, but it can't be taken for granted. Unlike point guards that came before him, Quickley already has a summer of practice with Cal under his belt. His experience and consistency will shrink the learning curve when he arrives on campus. His charisma will help lure other elite talent to Kentucky in 2018.
The Schedule
Noon — 7.5 hours of Pregame Show on 630 WLAP starts with the KSR Football Podcast
3:30 — The KSR Pregame show begins at the Bluegrass RV Lot
4:30 — LexTran shuttle services start
5:15 — The Cat Walk
5:30 — Countdown to Kickoff with Freddie Maggard & Christi Thomas
5:35 — Aly'An Concert at the Gate 12 plaza
7:30 — Kickoff on the SEC Network
How to Watch/Listen
Tom Hart, Jordan Rodgers and Cole Cubelic are on the call for the SEC Network. If you haven't memorized where to find America's favorite television channel…
Cable: 516, 517
AT&T UVerse: 607, 1607
DirecTV: 611
Dish: 408
If you're stuck on the road and can't watch, there are multiple ways to listen to Leach and Piecoro.
AM: 840 WHAS, 630 WLAP
FM: 98.1 WBUL
Satellite: XM-190 and Sirius-137
Online: iHeart Radio
Sorry, No Stephen Johnson Masks for You
The NCAA is not a fan of awesome. We were prepared to share the face of awesome with the BBN, but the NCAA does not want to see a sight this beautiful.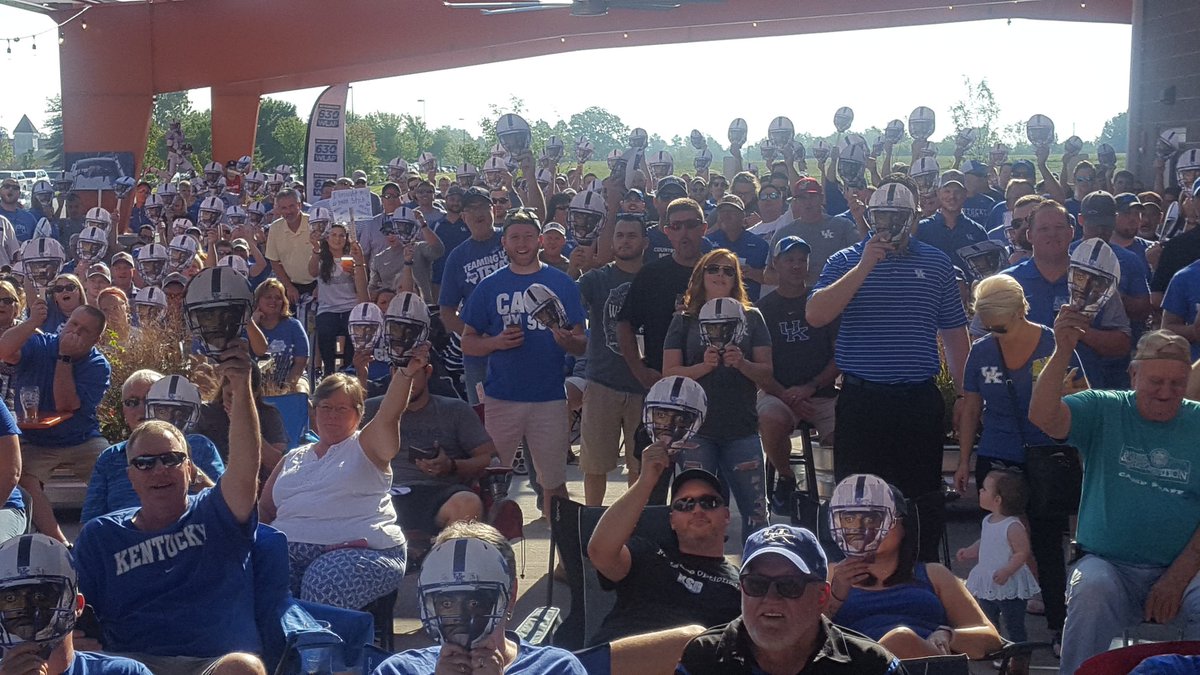 We still would like to thank our friends at PrintLEX for creating the awesome Stephen Johnson masks. PrintLEX can cover all of your printing and design needs. They will design your business cards, brochures, vinyl banners, yard signs, and more. If you're looking for a quick turnaround and are needing items in bulk, give Lynn and his team a call, (859) 272-7014. These guys have years of experience and provide outstanding customer service. PrintLEX is located at 257 E Short St Suite 120. Thanks PrintLEX!
Do NOT Forget Your Clear Bags
Prior to Kentucky's home-opener, I was bleeding from the ears preaching UK's clear bag policy. Still, one of my friends had to run back to the car to drop off his lady's purse because somebody was not paying attention. If you won't listen to me, please pay attention to Daniel Boone.
For the people who forgot their bags week one, UK officials were handing them out near prominent gates. I'm sure they'll do the same once again, but please try to remember this time.
Eat Gators, Then Beat Gators
Symbolically destroying your opponent is a great way to prepare for the game. There are a few fine local establishments are providing an opportunity to eat gator before the Cats beat the Gators. Starting at 11:00, Bourbon n' Toulouse in Chevy Chase will be serving delicious alligator étouffée. Red State BBQ will be grilling up gator all weekend long. Magee's Bakery on Main is providing an alligator breakfast option; deep fried alligator on a biscuit with chorizo gravy.
Two New UK Athletics Apps
Out with the old and in with the new. UK has moved passed the Gameday app to introduce the new UK Athletics app for iPhone and Android. Of all its new features, the best is the prize package. You could win this VIP experience for the Missouri game:
Two (2) Woodford Reserve Club tickets and one (1) parking pas
VIP tour for two (2) of Kroger Field with a pregame on-field visit and an opportunity to meet the UK Sports Network Radio team of Tom Leach and Jeff Piecoro
Two (2) Pregame Big Blue Zone hospitality passes (includes food and drink)
Standing on the 50-yard line for the coin toss
Free pizza for a year from Hunt Brothers Pizza
If you'd just like to get on the Kroger Field video board, download 15 Seconds of Fame. The app is making video board moments a little more personal with the Big Blue Nation this season.
Freddie is too Modest
Today you're getting an extra three and a half hours of pregame show on 630 WLAP. Before they all start at noon, listen to a full slate of KSR Podcasts. Freddie Maggard likes to act like he did nothing during his time at Kentucky, but the school's sixteenth-ranked passer could sling it.
He may have handed off quite a bit but @FredMaggard did throw a pass or two! pic.twitter.com/UAPTSTsUZw

– Tony Ray (@TDKYRay) September 22, 2017
This scramble and throw was pretty good! pic.twitter.com/WJz6CqKOHn

– Tony Ray (@TDKYRay) September 22, 2017
Today's College Football Schedule
Noon: N.C. State at No. 12 Florida State on ABC
Noon: Texas A&M vs. Arkansas on ESPN
Noon: Texas Tech at Houston on ESPN2
3:30: No. 1 Alabama at Vanderbilt on CBS
3:30: No. 5 USC at Cal on ABC
3:30: No. 16 TCU at No. 6 Oklahoma State on ESPN
3:30: Duke at North Carolina on ESPNU
4:00: No. 8 Michigan at Purdue on Fox
7:00: No. 17 Miss. State at No. 11 Georgia on ESPN
7:00: Syracuse at No. 25 LSU
7:30: No. 20 Florida at UK on SEC Network
7:30: No. 4 Penn State at Iowa on ABC
8:00: Notre Dame at Michigan State on Fox
10:00: No. 7 Washington at Colorado on FS1
10:30: UCLA at Stanford on ESPN
Kentucky High School Football Scores
Henry Clay 21, Lafayette 17
Ballard 20, Eastern 14
DeSales 38, Lex Cath 26
LCA 69, KCD 38
St. X 35, PRP 21
Bullitt Central 17, North Bullitt 14
Bardstown 20, Thomas Nelson 14
Scott 27, Mason County 21 OT
John Hardin 35, Meade County 28
Corbin 20, Mayfield 17
Metcalfe County 29, Clinton County 26
McCracken 56, Daviess County 40
Hazard 29, Prestonsburg 7
Taylor County 26, West Jessamine 20 OT
Behind the Scenes
Before today's game, relive last week's win with a new UK football video blog that takes you where few can go.
It's behind-the-scenes access to our team like you've never seen before! Check out the debut of the "Kentucky Football Vlog." pic.twitter.com/0YXgRU6ben

– Kentucky Football (@UKFootball) September 22, 2017