Good morning, friends. Normally, Mondays are the worst, but I, for one, welcome this opportunity to turn the page from a depressing weekend and look ahead to the future. What awaits us today? I'm glad you asked.
Mark Stoops will address the media
Before we truly move on, Mark Stoops will answer questions about Kentucky's heartbreaking loss to Florida in his weekly press conference. On Saturday night, Stoops accepted blame for his defense leaving two Florida wide receivers wide open for go ahead touchdowns, and I have a feeling there may be some more questions about that today. If you missed it, here was his response after the game:
Q. The receiver was standing on your sideline and nobody near him. What went on there?
MARK STOOPS: "There should have been a guy there and I should have called it (a timeout) and, quite honestly, we were looking at the unbalanced formation. I was looking at the set and I was fixed on our fits because we were having some issues obviously with that set. And we were looking at exactly the formation in there, the bunch set, and by the time we realized that there was nobody on him, I tried to call a timeout and it was too late. I was fractions off of getting the timeout. So Derrick (Baity) said that he did not see the player out there."

Q. The one at the end?
MARK STOOPS: "We subbed and Jordan (Griffin) came out when the other corner came out. We were getting into a big goal-line set and both corners came out and we left them uncovered. That's our fault. We tried to change personnel groups too late. We should have lived with the call that we had and tried to sub for bigger people — and that can't happen in that situation. Our players can't hear. It's loud and they can't hear and the communication is very — as you guys know — with the crowd noise with offense and I know it's like that on defense, it's the defense at home. And we have got to communicate much better. We have got to do a better job of coaching them."
Watching the replay stings, but you have to laugh at how one cheerleader screamed at the defense for leaving the receiver open:
Can't stop laughing at the Kentucky cheerleader giving the entire defense the business after this play. #UFvsUK pic.twitter.com/za2k0s3Qtc

— Will Mitchell (@wmitch) September 24, 2017
Same, girl. Same. Check the site around lunch for a live stream and full recap of Stoops' remarks, along with a new depth chart and an injury update.
We'll also find out the Missouri game time
The Cats host the Tigers on October 7. What time will that game kick off? We'll find out later this morning when the newest batch of game times are announced.
Jarren Williams named a U.S. Army All-American
It's a big morning for UK's quarterback of the future, who was given U.S. Army All-American honors at his school:
Congrats @Jarren2Williams on being named https://t.co/cowIr3J2yV All American. #ThePremierGame pic.twitter.com/vPznJsqmJY

— ADUB (@AnthonyAjwms404) September 25, 2017
Williams will play in the annual Army All-American Bowl in January in San Antonio.
UK's 2018 class off to a good start with Immanuel Quickley
If you've been offline since Friday afternoon, Kentucky got its first 2018 commitment when five-star point guard Immanuel Quickley committed in front of friends and family. Now officially a Cat, Quickley is already working on building the 2018 class around him, starting with his close friend Zion Williamson:
BBN!!! 👀🤷🏽‍♂️ @ZionW32 🔵⚪️ https://t.co/WjNJiIrnaR

— Immanuel Quickley (@IQ_GodSon) September 23, 2017
Williamson was supposed to be on Kentucky's campus this weekend for an official visit, but had to cancel due to a family situation. He's expected to reschedule.
Jarrod Polson wants you to know that's not him in that viral picture
A picture has been going around social media of Jarrod Polson holding up a "Stand for the flag, kneel for the cross" UK shirt, but last night, Polson tweeted that it is fake (photoshopped from his old UK picture) and he has no idea how it started to spread:
File this under "2017 is weird."
Za'Darius Smith on the cover of the New York Post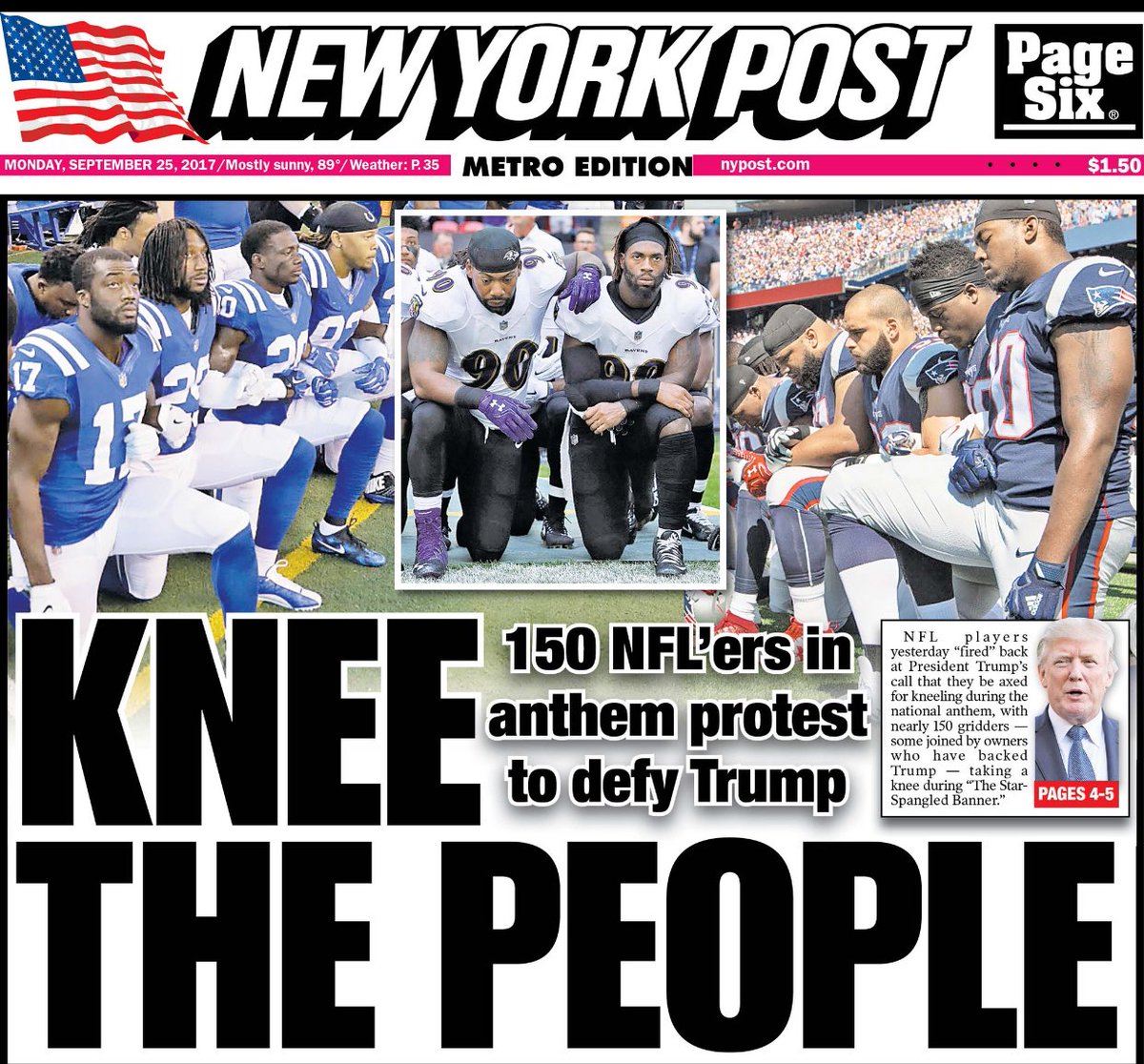 The former Cat was one of over 150 NFL players that protested the anthem in opposition of President Trump yesterday. When you add in the three teams that refused to come out of the tunnel for the anthem, 23% of the NFL protested.
While you all fight about that in the comments, I'm going to watch this squirrel score a touchdown:
🚨🚨🚨🚨🚨

SQUIRREL TOUCHDOWN

REPEAT: SQUIRREL TOUCHDOWN

🚨🚨🚨🚨🚨 pic.twitter.com/IHFJdqEP6b

– FOX Sports South (@FOXSportsSouth) September 23, 2017
Radio in an hour. Brace yourselves.