The SEC says Mississippi State is our "rival," but…
When the SEC expanded to twelve teams in the early 1990's, it also split teams into two divisions: the East and the West. In an effort to preserve rivalries, the league created permanent cross-divisional opponents in football for its 12 members, and Kentucky got Mississippi State. Even though I've never sensed much animosity between the two schools, they face off annually in a "rivalry" that, quite honestly, feels pretty weak. The rivalry between actual cats and dogs is probably more heated. Hating on Mississippi State is like hating on that polite, chubby guy three cubicles down. Sure, he always burns the popcorn in the office microwave, but he's always been nice to you, so why be rude?
Regardless, there's no denying there have been some big games between the two schools over the years, and both programs would have a lot to gain with a win Saturday. In that spirit, let's do our best to make this a rivalry…and probably fail.
---
The series is tied at 21-21…
Pretty even, right? That certainly would qualify this as a rivalry.
…But Mississippi State has won the last six.
Oh. The last time Kentucky beat Mississippi State was in 2008 in Starkville when Randall Cobb scored both touchdowns to give the Cats the 14-13 win over the Bulldogs. UK went on to win the Liberty Bowl that year, but ever since, Mississippi State has owned the Cats. In Mark Stoops' first year, Kentucky actually had a shot to win in Starkville, but finished just short, and last year, the then #1-ranked Bulldogs beat the Cats by two touchdowns in Lexington. This year, they're more evenly matched, but Mississippi State's still an 11.5-point favorite.
---
Their stadium is pretty cool…
Davis Wade Stadium underwent a $75 million expansion in 2014 to increase the capacity to 61,337. The north end zone was bowled in and a new high-def video board was installed to complement the humungous video board in the south end zone, at one time the largest high-def video board in college football.
…But it's in Starkville.
By now, you know our thoughts on Starkville. I battled a snow and ice storm to cover a basketball game there earlier this year and I've seen interstate exits that are more exciting. I remember tweeting as much during my trip and getting in a heated exchange with a member of Starkville's Chamber of Commerce who kept insisting what a beautiful, wonderful town it was. I kept asking her to tell me the cool places to go and she never responded. Case in point.
All of that being said, the La Quinta Inn was a wonderful haven from the snowstorm. If I ever go back, I'm determined to find the Cotton District, which my Mississippi State friends insist is the cool part of town. Google Maps and I tried and tried and kept ending up in an apartment parking lot. Have fun with that, Nick and Trey!
---
Cowbells are annoying…
Mississippi State's signature tradition is the ringing of the cowbells. Bulldogs fans started ringing them at games in the late 1930's, and even when the SEC tried to outlaw artificial noisemakers in 1974, fans still found a way to sneak them in. In 2010, the SEC amended the rule by acknowledging the role cowbells play in Mississippi State history (eye roll), so they are once again legal in Davis Wade Stadium.
…But they are effective.
The noise the cowbells make is awful, like ten thousand buckets of silverware being dropped at once. For that reason, they're pretty damn distracting. There have been conflicting reports on whether UK is piping cowbell noise into practice this week or not, but here's hoping Patrick and the offense will keep their cool when CLANGA CLANGA gets going.
…They also made Lou Holtz dance like this:
And for that, we should be eternally grateful.
---
Their coach is a sneakerhead…
Dan Mullen may not seem like the most exciting coach in the world, but he turned heads at SEC Media Days when he rolled in wearing Yeezy 350 Boost Lows, a popular pair of kicks designed by Kanye West:
…But most of the sneakers he wears are ugly.
A week later, he wore these airbrushed Mississippi State-themed kicks:
Those are not attractive, but at least they're better than these "Starkvegas" shoes Mullen wore last season:
The only thing worse than the nickname "Starkvegas" is putting it on a pair of shoes.
---
That time they beat us in 2007 really sucked…
UK was ranked 14th in the country when they hosted Mississippi State in 2007, two weeks removed from the stunning upset of #1 LSU and one week from a disappointing loss to Florida. A win over the Bulldogs would have kept UK in the hunt for the SEC East title and Andre Woodson in the Heisman conversation, but it wasn't meant to be. Mississippi State beat the Cats 31-14.
…but UK kind of shot itself in the foot.
UK lost a season-high six turnovers, all in the second half. When you do that, it's not as much the other team winning as you losing. Rich Brooks called it an "all systems failure." As DeMoreo Ford (how's that for a blast from the past!) said afterwards, "It just seemed like Mississippi State was hungrier than we were."
Can't fault them for that.
---
Dak Prescott is great…
Through seven games, the senior quarterback has thrown for 1,700 yards, 11 touchdowns and no interceptions, and he's completing nearly 66% of his passes. Yeesh. Last weekend, he became only the third quarterback in SEC history to throw for 50 touchdowns and rush for 30. This time last year, Mississippi State was #1 and Dak was considered a Heisman candidate. As Mississippi State has fallen out of the national spotlight, so has Dak, but he's easily the best quarterback Kentucky has faced, or will face, all season.
…But…
Actually, I can't find anything wrong with Dak. After seeing all the sob stories about him and his late mother last season, he seems like a great kid. (His mother died of colon cancer in 2013. Click this to read more about her and Dak's relationship. Bring tissues.)
---
Their bulldog is cute…
If you've looked at my Instagram page even once, you know I'm a huge fan of dogs, and Mississippi State's Bully is pretty adorable. Earlier this year, they "passed the harness" from Bully XX to Bully XXI, also known as "Jak," and there's enough "aww" in that Google Image search to narrate a Pound Puppies commercial.
…But it's not even the cutest bulldog in the league.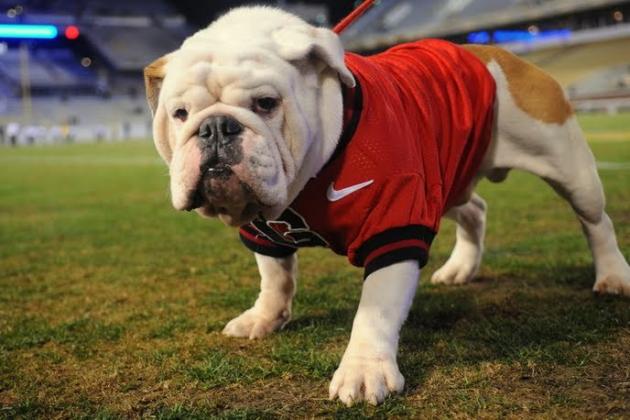 That honor goes to Georgia's Uga IX, Russ. Like most Ugas, he looks like he's either drunk, grumpy, or asleep most of the time, all traits that are a million times more adorable in animals than people.
---
The UK game is Saturday…
That's a big deal, right? With a win, Mississippi State can clench bowl eligibility and potentially move back in to the top 25.
…But 85% of the posts on their messages boards are about Ole Miss.
Considering the same could be said about us and Louisville, we don't have a lot of room to talk.
---
This UK fan thinks they'll be tough…
…But he was talking about basketball.
He was also very drunk and peed on a building about two minutes after this was over. True story. (Love you, Helmet guy!)
---
So, bring it on, Bulldogs. We're gonna beat the hell out of you!
…or lose and go back to nodding politely at you across the break room. Either way, Go Cats!