The New UK Student Center's Thursday Morning Wakeup
When I was in town last weekend for the Calipari Fantasy Camp, I couldn't help but notice all the construction going on across from Memorial Coliseum. That's the site of the new UK Student Center, a $175 million, 360,000-square foot facility that is quite possibly the fanciest building I've ever heard of. Earlier this week, UK released some details that showcase just how ridiculous it's going to be. Here are some of the features:
A 250 variable seat "Blue Box Theater" equipped with state of the art technology
Senate Chambers for the student government
A "Social Staircase" located in the center of the building. Inspired by the limestone creek and riverbeds, the staircase will allow students to socialize, relax and converse
Subway, Chick-fil-A, Panda Express, Greens to Go, Starbucks and other dining options
A state-of-the-art fitness complex
Outdoor social spaces
A 650-seat cinema
Two large multi-use ballrooms
A "fireside lounge" for studying
Not impressed yet? Watch this video:
I can't say a lot because I went to a college that did our laundry for us, but good grief. You kids don't know how good you'll have it once that thing's done in January 18. Just don't complain too much when the Chick-Fil-A's closed on Sundays, okay? We all need that reminder that you can't have it all in life sometimes.
Here's what's going on today in the wonderful world of UK sports…
We're one day closer to the Florida game
And it feels like this week has dragged by. Yesterday, DJ Eliot told reporters the defense has been focusing on shutting down Florida wide receiver DeMarcus Robinson, who torched the Cats last year with 15 receptions for 216 yards and two touchdowns. Who will be throwing Robinson the ball? Jim McElwain says both Will Grier and Treon Harris will play, but did not specify a starter. Both have the ability to scramble, particularly Harris, something that should make fans a little nervous.
Nervous until you remember this guy is our quarterback:
As expected, Kelvin Taylor's "demotion" won't last long
McElwain moved the junior tailback to third on the depth chart after his throat-slashing gesture against ECU, but, predictably, it sounds like Taylor will play plenty vs. Kentucky on Saturday. "A ton," in fact.
"He's a wonderful guy to be around," McElwain said of Taylor, continuing a week's worth of backtracking after his tirade. "He'll play a ton Saturday night."
Alright. We've been warned.
Will Ryan Flannigan play?
For the third straight week, we'll wait to hear whether or not UK's star linebacker will be able to suit up. Judging by Mark Stoops' comments on the SEC teleconference yesterday, it doesn't sound promising.
"Certainly, I'm a little concerned. I really don't have an update other than his status has not changed. He is not cleared for contact yet. And it's an issue as I mentioned before it could linger or he could wake up tomorrow and be cleared. We just have to prepare as if he will not be there this week."
Jemele Hill sported a Throwboy Tee on Mike & Mike this morning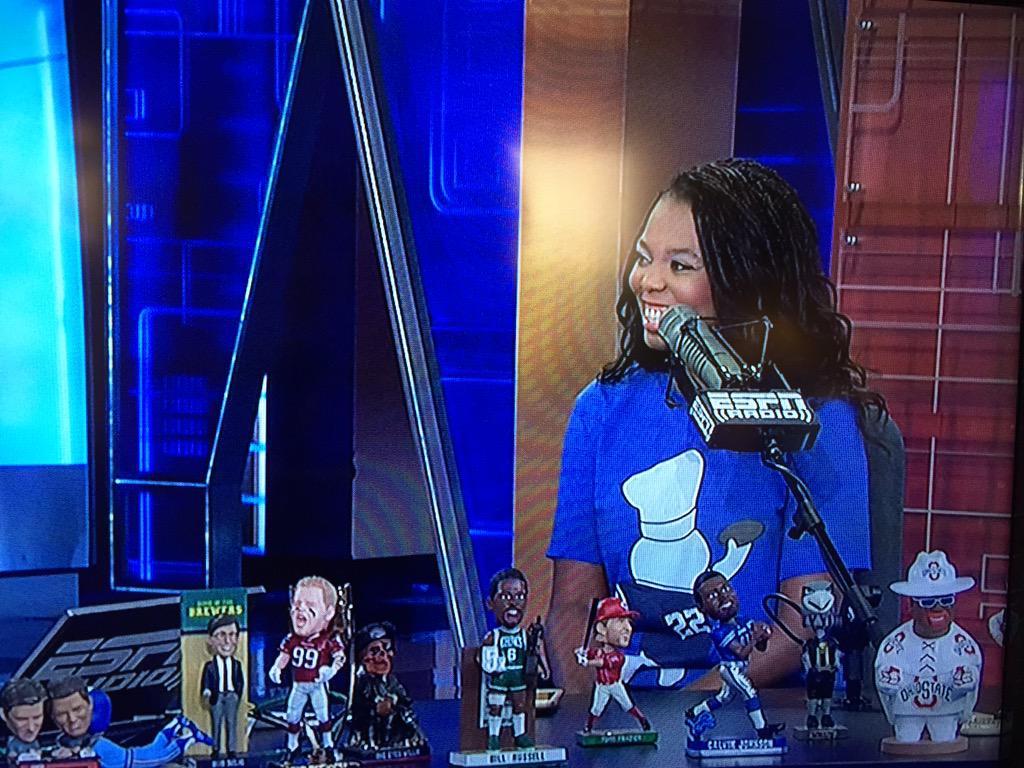 The BBN's relationship with ESPN's "His and Hers" cohost hasn't been great (in 2009, she had to apologize to UK after taking a shot at Calipari and in April, said last year's team shouldn't be considered among the all-time greats in the sport), but it's good to see Jared's designs in the spotlight.
So, this Waka Flocka thing may happen for the Auburn game
On the radio show this week, Matt and Ryan threw around the idea of having rapper Waka Flocka perform "Grove Street Party" before the Auburn game. UK fan John Ross Gambrel took the idea and ran with it, starting a GoFundMe account to raise $30,000, Waka Flocka's appearance fee. We all laughed at it yesterday, but KSR is hearing it might actually happen. According to our sources, Waka Flocka is free that day and UK is open to him coming. There's a lot more to do to make this work, but it's not as far-fetched as we first imagined.
I'm going to San Francisco tomorrow. Any recs?
After bringing you all the latest UK news in the most ridiculous manner possible today, my husband and I are headed to San Francisco/wine country for a week. I've never been before and you guys have never let me down, so please give me your recommendations.
We're already planning on touring Alcatraz and doing all the super touristy things like the Golden Gate bridge, Lombard Street, Painted Ladies, Chinatown, etc. etc. We're also going to watch the Florida game at Zeke's, so if you're in the area, please come join us. I hear it's a wild time.
KSR in an hour
Grab your squad and get ready.