The Last Saturday Without College Football's Morning Wakeup
7 days and 10 hours from now, college football season kicks off under the lights of the New Commonwealth Stadium. County choirs will be singing, flags will be flying, and hits will be heard until they are deafened by sirens.
It's been a long wait since last season's loss to Louisville. Now it's time to move forward. This team is ready to show the BBN a product on the field we haven't seen in a long time. They're All In, but WE aren't yet. The game still is not a sell out and there's no reason it shouldn't be.
Go buy your ticket today. The snippets of energy and excitement from last season will increase exponentially, ensuring that you will enjoy every moment you spend next Saturday inside the New Commonwealth Stadium.
After doing this last year, just imagine what's coming in 2015.
Unfortunately, the early hunger for football will not be appeased at all this weekend. We won't hear from the football team until Mark Stoops' Monday press conference, but there's still ways to get through your day.
Jen Smith of the Herald-Leader has a wonderful story on Melvin Lewis and the bond he shares with his Mother, despite the many miles between Compton and Kentucky. If longform reading isn't your thing, longform listening is available on the KSR College Football Preview Podcast. We've had a great response so far, if only that idiot producer knew what the hell he was doing.
Kash was Money and Friday Night Football was Crazy
Kash Daniel had a night for his Central Kentucky Big Blue fans, even if it did require him to piss off the Frankfort faithful. His Painstville Tigers came, saw, and conquered with a 43-0 win. Kash ran for 120 yards and 2 touchdowns, he threw a 53-yard TD bomb and had 16 tackles despite not playing in the 4th quarter. I don't think anyone left more impressed than Freddie Maggard.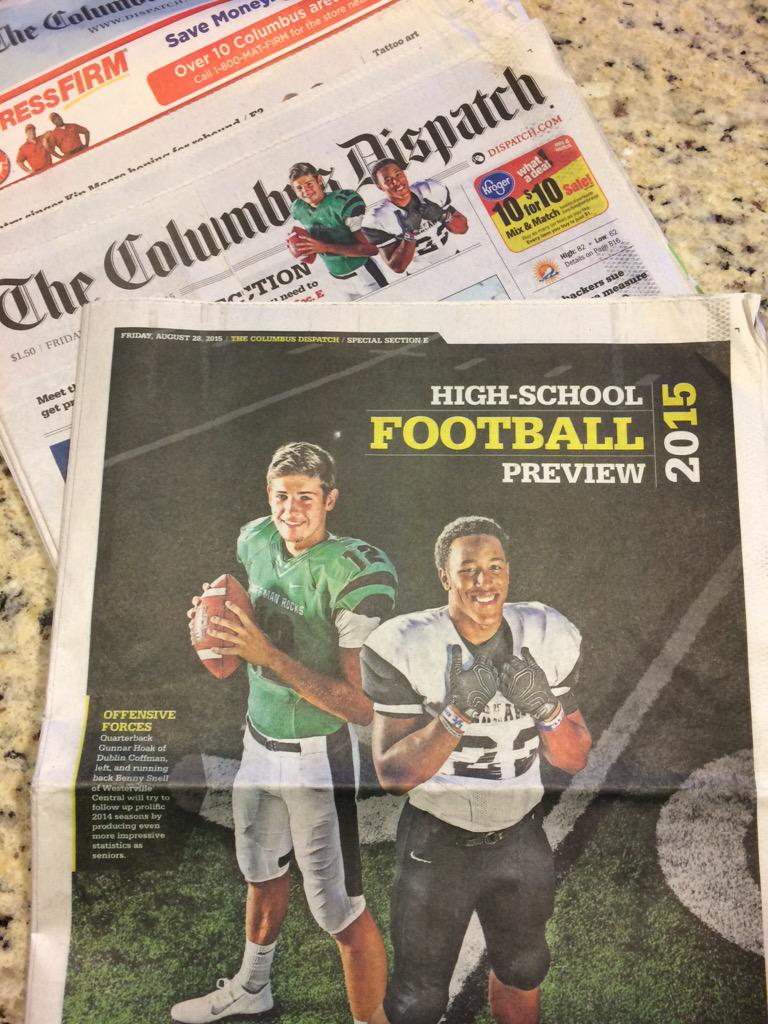 He wasn't the only UK commit to ball out. Gunnar Hoak led his team to a dominating victory on 8-of-13 passing for 201 yards, with three touchdowns and an int. The guy that made the Columbus Dispatch front page with Hoak, Benny Snell, was pretty OK too, with two 40+ yard touchdowns in a 28-21 overtime victory.
Trey Hunstman will be back with a lot more this afternoon on Wildcat commits, and his crazy night at LexCath. Henry Clay fell hard to St. X, but the Ryle-LexCath finish was quite the doozy. Stay tuned.
Kobi Simmons is On Campus
It seems like a weird time to be on campus, but the first weekend after class has started is usually pretty damn fun. Hopefully not too much fun, but maybe enough to secure a commitment before his September 19th planned announcement between UK, Georgia, Ohio State and UNLV.
UK Volleyball got a Season Opening W
Craig Skinner's squad came out hot, taking down number 19 Michigan State at Memorial Coliseum in five sets. It couldn't have been done without an historic debut at libero from sophomore Ashley Dusek. Dusek had 34 digs, only the second time in UK history someone has had more than 30. If you missed last night's action you're in luck, they're playing at Memorial again today – IUPUI at 10:30 and Little Rock at 7:30.
Vote AJ Reed for Minor League Player of the Year
MiLB.com
To celebrate the beginning of the end of baseball season, it's tradition to help AJ Reed win another award. In the minor league rankings he is currently Top Ten in batting average (.342), 2nd in homeruns (29), and first in RBIs (109). I'm sure he'd prefer a September call-up over an award – although he could get both – but we still must play our part and vote here.
Final Weekend of the State Fair
Those corn dogs aren't going to eat themselves. Neither are the donut burgers. That's why I'll be there today, because when else is it acceptable to eat donuts, burgers and corn dogs in the same meal?
Celebrating 10 Years of KSR
We've been doing this thing for a long time, and tonight, it's time to celebrate. Hanging out with the likes of Leach of Lukasz are always great, but what's more exciting is meeting people in person you've only been internet friends with before. A couple years ago it happened in a giant meeting room and the awkwardness was amazing. I doubt that will happen this year, because ain't no party like a KSR party cause a KSR party don't stop. And HAVE YOU SEEN DREW FRANKLIN'S SNAPCHAT?!?!?!