The Governor's Cup and Thanksgiving on the KSR Podcast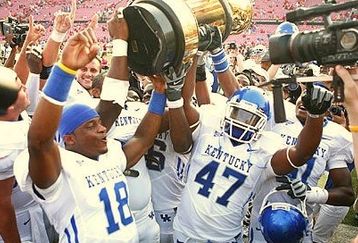 Normally during Louisville week, the hate would be overflowing from our Podcast Crew.  There aren't many that hate Louisville more than Jared Lorenzen, but the hate really won't kick in until the day after Thanksgiving.  Instead of talking a lot of trash, we talked about Kentucky's chances of getting a bowl birth with a win over Louisville, AND:
—  The position group that will win or lose the game.
—  Our favorite Thanksgiving side dishes.
—  Our confidence in the Cats, on a scale of 1-10.
—  The right way to do Thanksgiving, "The Jared Lorenzen Way."
—  Tyler's crush on Les Miles.
—  Freddie's childhood as a raccoon hunter.
Find it on iTunes at "Kentucky Sports Radio" or LISTEN HERE.