The Deuce and Juice: The Dynamic Duo Leading UK's Receivers
There isn't a more exciting position to watch in 2015 than the development of Kentucky's deep group of wide receivers. Depleted upon Stoops' arrival, the head coach and offensive coordinator believe they're 2-deep at every spot, with 10-12 competent pass-catchers available. Which begs the question – who's going to be the superstars?
Garrett "Juice" Johnson and #2, Dorian Baker.
The dynamic duo have created a buzz around camp entering the season, making big play after big play. When Patrick Towles delivers them a pass, he doesn't have to be perfect, "just get it in their zip code."
A Quintessential Dichotomy
Juice is primarily a slot receiver, working the middle of the field, but also streaking along the sideline. A quiet intellectual, Juice has spent countless hours over the summer studying film to perfect his craft, "He spent a lot of time in the summer in meeting rooms. You'd walk by the meeting room and there's Juice sitting there, eating lunch by himself watching something," wide receiver coach Tommy Mainord said. "Countless hours he's spent here, trying to educate himself, not only in what we're doing, but different guys running routes."
He was the breakout performer of the Florida game, catching 6 passes for 154 yards and 2 touchdowns in his home state. Unfortunately, it was only a fleeting flash of greatness. It was disheartening, but it's provided motivation, "There's really nothing I could do about it now," Juice said. "That's why I took it upon myself in the offseason to keep working to make sure that I don't keep peaking, and just going up and down."
Mainord sees a difference on the field, bringing established maturity to his play, "He's a quick guy, he's very quick, and he's got a good imagination on running routes. He sticks his foot really well, and has good ball skills."
Baker has taken a similar approach in mentality, but has completely different tangibles. The outside receiver is a physical specimen, remembered most for dismantling an LSU defender while his quarterback scrambled. Towles likes having that guy on his side, "I wouldn't fight him. I think there's some guys that are offensive linemen that wouldn't."
His physicality isn't just a marvel while blocking, it also helps him create separation downfield to make big plays. In tough 3rd and long situations, he can open a window for a first down. "Well, he's big, physical, fast, strong. I mean, what else you want?" Shannon Dawson said. "The kid's a talented kid, no doubt."
His mentality is also much more aggressive, so aggressive that some might call it cocky. "You come in with a mindset, 'There's money on the line. There's jobs on the line and we've got a game in two weeks (now two days) to come out ready to roll."
That mindset has him ready for Saturday, "(I'm) Anxious. Almost too anxious; can't sleep at night, I don't even eat as much. I'm just hungry. I'm going to do my eating on the field, that's how I see it."
Competition Doesn't Create Riffs in Chemistry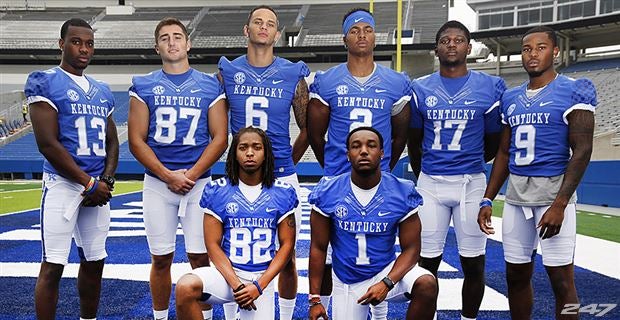 Just like Baker and Johnson, we saw flashes from all of the returning receivers at some point last year, but consistency kept the young talents from truly exploding onto the scene. The problem has been remedied with depth, and tough competition everyday at practice.
Juice acknowledged that it can be tough during the dog days of camp, but there's a voice in the back of his head that keeps pushing him. If the energy is lacking, somebody steps up to inject excitement.
Blake Bone and Jeff Badet go back-and-forth, Thaddeus Snodgrass pushes Baker, and Johnson has to fend off Ryan Timmons and T.V. Williams. They know that nothing will be given to them, "We're not sitting here with a guy that had a hundred catches last year, and so to me, we have a bunch of players that are role players," Dawson said. "People need to prove their worth."
Despite the fights to prove their worth to the new offensive coordinator, Baker knows they are all in to win it as one, ""If he makes a play, it's almost as if I made a play because we're so close. We're family. We kind of expect those things out of each other," Baker said. "We don't look at who did it or who done it, we look at it as a collective unit."
The Swagger Comes with Awesome Alter-Egos
As a unit, this group exudes confidence like I've never seen before. It isn't just on the field. While walking around campus, you'll see a group of them on the corner near Whitehall with their chins held high. The students take notice.
On the field, their play has earned them nicknames. Juice isn't reserved just for Johnson, with the entire unit donning themselves as "The Juice Boys," breaking huddles with a call of "JUICE." Individually, T.V is obviously "Television," but Baker has been the most regarded. Drew Barker calls him American Pharoah, Patrick Towles referred to him as a "two-car garage," but the best description is from Coach Mainord, "He can hardly walk in a door without knocking it down, that's his nature."
Looking Forward
Freddie Maggard has remembered every person to play for UK since Curci's Cats in the 70's, and he cannot recall a deeper group of wideouts then what Kentucky brings in 2015. They've made plays during the preseason. All that's left is seeing what they can do on Saturday.
They were young last year, discovering the nuances necessary to be successful in the SEC. Baker described it as "an introduction year." A year ago, they were a bunch of kids, achieving their dream to play in the SEC. Now they are living it everyday, transforming themselves into potential superstars, day by day.
"It's almost unbelievable," Baker said. "We feel untouchable now."