Stoops says he expects Alex Montgomery to go through with his rehab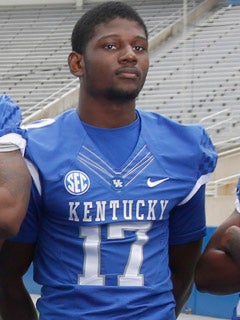 It's been a rough road for sophomore wide receiver Alexander Montgomery, who suffered another knee injury during the Vanderbilt game. It's not the same knee he tore his ACL in a few years back, but it's still a significant setback that Stoops told reporters will require surgery.
"He needs surgery, so he'll be out for some good time," Stoops said on today's SEC Coaches Teleconference.
According to Jon Hale, Montgomery told reporters a few weeks back that if he injured his knee again, he would consider retiring from the sport instead of going through rehab again. Fortunately, Stoops said he doesn't believe that's the case.
"We haven't had any of those discussions yet," Stoops said. "I know it was a tough rehab for Alex the first go around, so hopefully he'll handle it better. He has some experience at it, it's a tough situation for him but I expect him to battle his way back."
Hang in there, Alex.