Stephen Johnson and Benny Snell Explain their Viral Moments vs. South Carolina
Beloved by the Big Blue Nation, Kentucky fans fell in love with Stephen Johnson and Benny Snell all over again after Kentucky's fourth consecutive win over South Carolina.
Their play did enough, accounting for 345 of UK's 353 total yards of offense, but their production isn't what took the internet by storm.  You couldn't log onto social media without seeing the picture above that came at the end of Johnson's 24-yard third down run.
"It was the same guy that didn't shake my hand at first," Johnson explained, "so when I saw him I kind of got a little petty and stuck my tongue out to him."
Snell's viral moment was much more subtle and didn't get noticed until two days later.
Watching the SkyCam replay of the game. Guess who found the camera after his first half TD review? @benny_snell #BBN pic.twitter.com/V9iJlhucLF

– Josh Edwards (@JEdwar247) September 18, 2017
Did Snell know what he was doing?
"Yes sir. It was following me around the whole time, so I just knew.  I didn't know if it was like the TV or what it was, but I knew somebody was going to see it," he said with a chuckle.
What could have been their most sensational moment didn't happen because Stephen dropped Benny's Wildcat pass.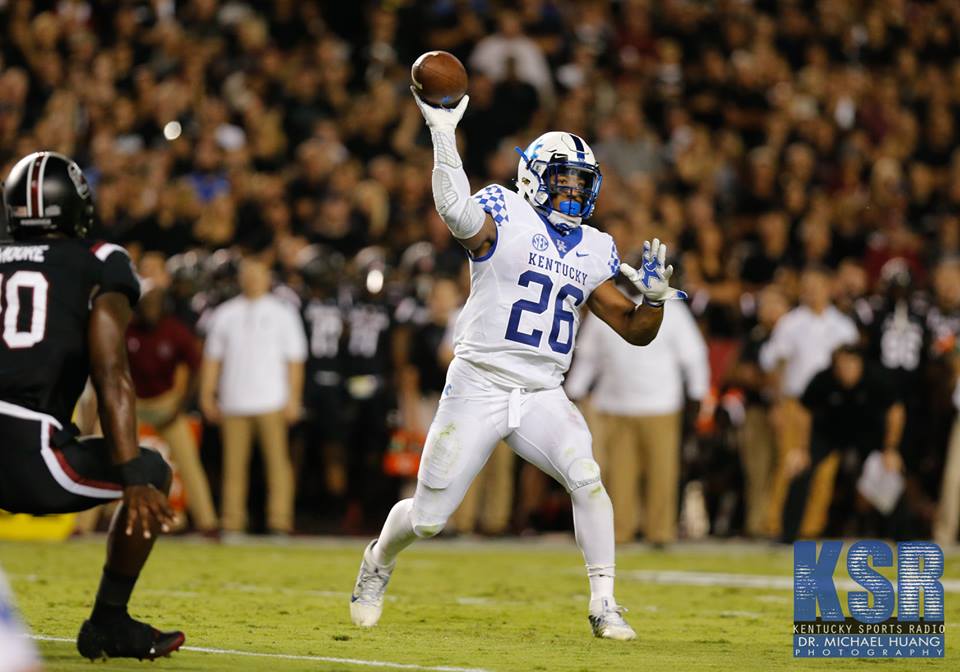 "I saw it was wide open.  I lost it in the light," Johnson said.  "I should have — like I heard all the time — is just catch [it in] the light.  I definitely gotta work on that now.  We'll probably end up doing it again at some point."
Benny couldn't believe it.  "I'm like, 'Oh my goodness. It was a touchdown.  I already know.'  It's a 100 percent completion rate to me.  I'm not worried about what the stats book says."
For the last two days, Johnson has caught grief from his teammates.  He believes Benny deserves a 100 percent completion rate.  "Yeah, that was my fault.  It was definitely my fault.  It was a good pass, so I gotta make it up to him somehow."