Spring football games represent the beginning of the longest offseason in athletics. With very little to look forward to in the sports world until September, DVR's will be overworked with folks watching American classic films like Coneheads and Red Dawn along with television series such as Sons of Anarchy, Game of Thrones, and Alf. Anyway, back on subject; can we learn anything about this football team on Friday that we don't already know?
The standard answer would be no. But, the media was limited to just one open practice. We've–I've not seen enough of the 2017 Cats to provide an accurate assessment.
Here's what I'll be looking for on Friday:
One-On-One Matchups
Receivers vs. defensive backs. Defenses will be forced to deploy basic packages to simplify preparation for all roster players. Most likely, that means that the secondary will play zone. In a zone defense DB's are assigned an area, not an individual receiver. But, there will be one-on-one engagements for the football.
— Dorian Baker's spring production has gathered universal praise from the coaching staff. I'm anxious to see more from the senior.
— Early enrollee Clevan Thomas' ability to navigate the middle of the field was noticeable last Saturday.
— Who will replace the departed Jeff Badet?
— Devante Robinson and Jordan Griffin's names have been frequently mentioned. How have the young DB's progressed?
Instead of gauging success based off the play's result; take a gander at the outside linebacker's reaction and redirection to an RPO or how running backs read line-of-scrimmage pathways. Inside linebackers taking on a lead blocker will be another fun collision that will be prominent on Friday.
— Jamar "Boogie" Watson replaced Denzil Ware during last Saturday's scrimmage and the defense didn't miss a beat. Keep your eyes on #31.
— Kash Daniel is now a seasoned sophomore and forcing the issue for MLB clock. Also Eli Brown as well as OLB's Jaylin Bannerman and Jordan Bonner will receive a high number of reps. Linebacker development will be critical for Matt House's defense.
The center position will be under the proverbial microscope. Dial in on Bunchy Stallings, Drake Jackson, and possibly Nick Haynes. Notice pre-snap coordination with fellow offensive linemen. Post-snap appraisal will focus on the center's first step and if there is wasted motion from stance to initial contact with a defender. Once engaged, was there movement or a stalemate? Fun stuff.
Another must-watch will surround youthful defensive linemen TJ Carter and Kordell Looney. Carter is more advanced in pass rush moves but Looney's bull-rush is also formidable. See how both pursue the football, or "Strain" to make a tackle as defensive coordinator Matt House likes to scream. We've heard coaches and players discuss an emphasis on line-of-scrimmage penetration and aggression. Will we see a difference in defensive line strategy?
— NT's Naquez Pringle, Matt Elam, and Jacob Hyde are fighting for inside position. Pringle developed nicely in the Cat's final seven games.
— Matt Elam is entering his last rodeo. Now a senior, can the E'town native make a move?
— Defensive tackle Adrian Middleton's body change is obvious which has helped his pass rush prowess.
— Kengera Daniel is finally settled in on a single position, defensive end. Gifted with every tool necessary to pressure the quarterback, can Daniel consistently force action across the line-of-scrimmage?
Quarterback Anticipation
Hate to spoil the show, but spring games are fixed to make the quarterbacks look good. There will likely be very little blitzing. Fronts and coverages will be basic. Not certain, but red jerseys may also be worn. Thus, QB's will all the advantages to shine.
I'm working with a few young talent evaluators. I always tell them to watch the quarterback's facemask when we watch film. The facemask is an indication of eye placement. By doing so, you can estimate the QB's thought pattern by understanding where his eyes are looking. Younger passers have a tendency to stare down receivers. Veterans often "look off" defenders prior to throwing the football.
Receivers should be open due to scheme. But, quarterbacks must anticipate their intended location on the field and "throw em open". Example, during last Saturday's scrimmage I saw redshirt freshman Gunnar Hoak progress from his first read to his third as he checked down for a completion. This tells me that Hoak has a high understanding of the play's intent. Next level stuff.
— Don't necessarily judge quarterbacks by completion percentage. They will be working with an abundance of receivers; timing may be off. Consider decision making a more valuable gauge.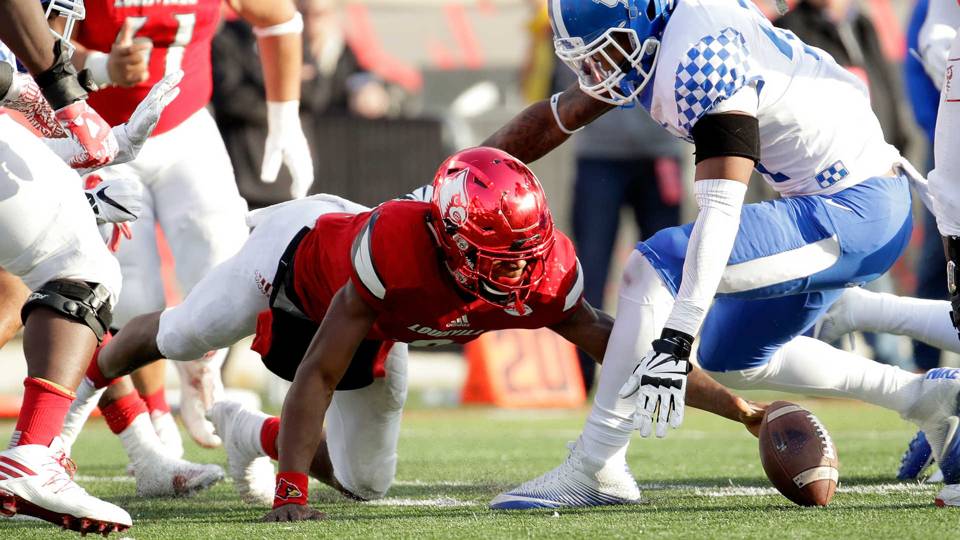 Defensive Havoc
UK improved in two critical defensive categories in 2016; QB sacks and tackles for loss (TFL).
— 2016: Cats finished 11th in the SEC with 21 QB sacks and 10th in the league with 69 TFL.
— 2015: SEC-14th with 17 QB sacks. SEC-13th with 53 TFL.
Even through improvement, Kentucky ranked in the bottom half of the SEC in both categories. Beyond the line-of-scrimmage defensive interaction has to become more frequent.
— I'm interested to see the number of non-linebacker QB pressures. Organic, or specific positional QB disruptions from defensive tackles, nose tackles, and defensive ends are what should be important on Friday night.
— Also keep in mind that most likely blitzing will not be allowed.
Kentucky's opponents scored 113 points off 28 turnovers a year ago. Comparatively, the UK scored 63 points off 23 forced turnovers. That's a negative 50-points and -7 turnover margin. This is a must, non-negotiable improvement scenario.
— Offensive ball security has been a point of emphasis.
— Forcing turnovers has been a constant defensive message throughout spring practice.
— Something has to give.
Speed
I'm not talking about the fancy GPS system that measures player's miles per hour and heart rate. Friday will tell us if team speed has increased or not and can be judged strictly by the eye test. I'm continually impressed by the strength and conditioning staff when visiting the training center. My first impression of the team was that it was bigger, stronger, and faster.
— RB Benny Snell appeared more explosive and faster in the scrimmage I saw last Saturday. Don't know the scientific numbers, but he seemed noticeably quicker.
— Same can be said about senior WR Dorian Baker.
Weather forecast has changed, looks to be clear come game time. Come on out. Should be a fun show.