September, Kentucky's latest most critical challenge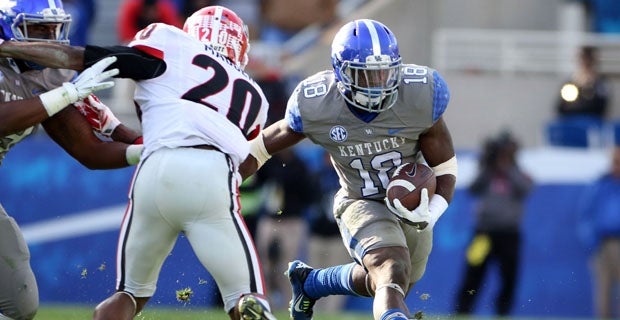 By year three, media types (me included) have declared numerous "most critical" scenarios for Mark Stoops. On three or four separate occasions we've proclaimed a game as "most critical". I can also throw in four or five "most critical" recruits. In 2015, the latest development is the month of September. I won't label it the most critical thirty days of the Stoops era, but the month's four football Saturdays are darn important.
September 5th, Louisiana Lafayette
After stating that the Wildcats would be on week one upset alert, I'm now backing off such warnings. A little bit. I'm confident that the Ragin Cajuns would have waxed the Cats in 2013. Last year, the game would have been closer but I would have given ULL the slight edge. However, after diligently analyzing both teams while paying particularly close attention to returning personnel, I've concluded that ULL's 2015 weaknesses are UK strengths.
During the new Commonwealth Stadium's unveiling, ULL will sport seven new defensive starters. As customary, veteran Head Coach Mark Hudspeth will replenish his defense with experienced backups and JUCO reinforcements. But after losing both of its most effective pass rushers; two cornerbacks and linebackers, opening the season with a road SEC win is unlikely. Louisiana will also have to replace all-conference quarterback Terrance Broadway. Brooks Haack is the new starter and will be lined up behind a depth deficient offensive line. However, elite running back Elijah McGuire returns. He alone gives Hudspeth a constant touchdown threat. McGuire will be the most versatile running back that Kentucky will face. Coming off four consecutive 9-4 records and four bowl wins are impressive accomplishments regardless of conference.
In addition to the W/L column's initial pencil mark, the Wildcats will need to excite an enthusiastic yet unconvinced fan base. For Kentucky, its opening performance must catapult the Wildcats into three difficult yet winnable SEC games. How UK plays in week one will provide a peek into how successfully it travels to Columbia.
September 12th, at South Carolina
Coming off a 2014 Lexington loss and an unaccustomed onslaught of doubters, Steve Spurrier will be eyeing revenge. Columbia is an extremely difficult venue, especially for Kentucky. The Gamecocks will be coming off a semi-rivalry game against North Carolina in Charlotte. If Spurrier loses to the Tar Heels, the UK game will then transition into a season saving, must-win affair. Carolina's quarterback situation is undecided and fluid. That same unknown can also be applied to its defense that's now led by veteran defensive coordinator Jon Hoke. Spurrier's chips are all in on Hoke salvaging a defense that gave up several 2014 late leads and was absolutely embarrassed by Texas A&M. The Gamecock defense is talented, but not quite at the elite category we've grown accustomed to. Linebacker Skai Moore and defensive end Marquavious Lewis will lead a unit that will get a talent boost from the additions of junior college defensive linemen and Kansas safety transfer, Isiah Johnson. Schematically and personnel wise, South Carolina is a team lacking an identity. Offensively, tackle Brandon Shell and versatile athlete Pharoh Cooper will lead a group that now ironically relies on clock management and the power run game. The Head Ball Coach is far removed from his Florida Fun-n-Gun glory days. Two factors will give the Gamecocks a slight edge. First is the game's geographical location. Second is the Legend of Steve Spurrier. Last year's contest proved that the two team's talent gap has closed. Once obviously favoring South Carolina, talent disparity is now a thing of the past.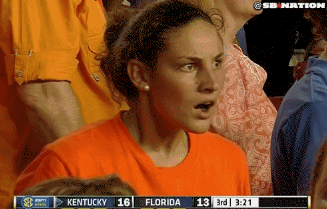 September 19th, Florida
Quoting the great American lyricist Ryan Lemond, "everybody's poo-poo'ing Florida." The Gators will arguably bring the SEC's best defensive secondary into Commonwealth Stadium. UF linebackers are also elite but both are coming off knee surgery. Oddly, the front four are considered the unit's weakness. Cornerbacks Vernon Hargreaves III and Jalen Tabor have lockdown ability. Hargreaves is considered the top CB in the country. Offense is where the mess lies. The Gators have quarterback uncertainty with questionable skill player support. Running back Kelvin Taylor returns as does 2014 Cat Killer WR DeMarcus Robinson. Florida desperately lacks offensive line depth and will rely on true freshmen at key positions. This game all of a sudden appears winnable. UF will have momentum. Its first two games are at home against putrid New Mexico State and a bowl game rematch vs. East Carolina. On a personal note, I've never liked Florida, at all. After more than my share of trips to the Swamp, if any SEC team deserves a dose of humility, it's the Florida Gators. Opportunities like the one UK will have on September 19th don't come around very often.
September 26th, Missouri
The habitually disrespected Missouri Tigers are well known for developing NFL defensive linemen. Last year, defensive ends Shane Ray and Marcus Golden wreaked havoc in opposing backfields. Both are now professionals. Pre-season sophomore All SEC defensive tackle Harold Brantley was unfortunately injured in an offseason car accident and is lost for the season. The incredibly talented defender will return in 16. In addition to Brantley, and following spring practice, promising sophomore defensive end Marcus Loud was dismissed from the team. The Mizzou defensive line will still be solid, but minus the aforementioned four, it is now less daunting. Offensively, Missouri returns its maverick quarterback, Maty Mauk. Statistically, Mauk won't wow. However with a 14-4 record as a starter, all he seems to do is win. Dangerous running back, Russell Hansbrough, will join Mauk in the backfield. Missouri won't scare easily. Even through personnel losses, the back to back SEC East Champions are formidable, but not unbeatable. Upon its Commonwealth Stadium visit, the Tigers will be 3-0.
I wanted to provide a brief overview of UK's September opponents. Prior to each game, I'll post a detailed yet understandable scouting report. The KSR crew will make their season predictions on a later date. But as you've read, I can confidently see Kentucky starting 3-1 or possibly even 4-0. Other than South Carolina, UK's first four games will be categorized as a "pick'em" or at worst, slight underdogs vs. Florida and Missouri. Realistically I can also envision 1-3. History tells me that 2-2 is the month's best case scenario.
Therefore, in my humble opinion, September is the most critical month of the 2015 season. Start hot, Cats are going bowling. Come out of the gate slow, the pressure to win six becomes burdensome. Due to its new offensive coordinator and rookie players filling key roles, Kentucky seasonal prognostications are virtually impossible. This especially applies to the junior college defensive linemen Alvonte Bell and Courtney Miggins situation. As of today, neither have reported to campus. That makes me incredibly uneasy. Ryan Flannigan showed us that late arriving JUCO players struggle in SEC adaptation. That's why I've said that 2015 must be evaluated game by game. I'd rather prolong my Missouri guess but that wouldn't be fun Kentucky goes 3-1 in September.