SEC Nation will be at William T. Young Library Friday and Saturday
The SEC Network is setting up shop this weekend at a popular intersection on Kentucky's campus.
Beginning this afternoon, you'll find SEC Network personalities on the west lawn in front of Willy T near Rose Street. If that did not paint a clear enough picture, this will do the trick.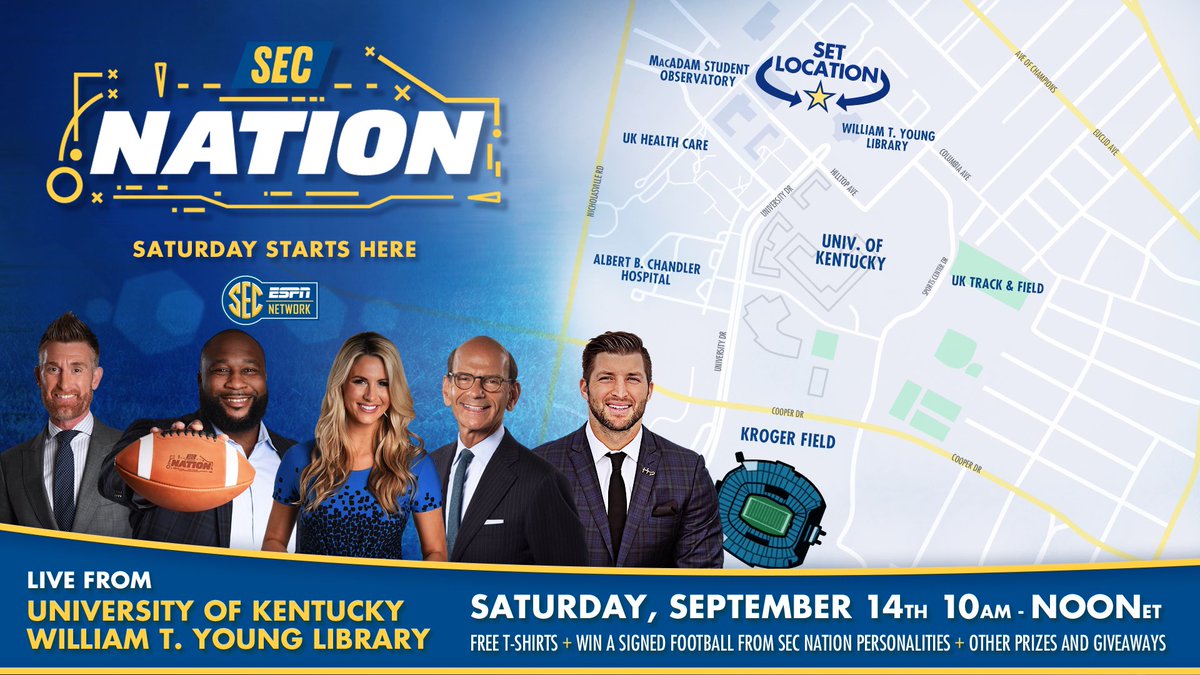 Ignore Laura Rutledge in the graphic. She's out on maternity leave. In her place is Marty Smith, who's pretty fired up to see the Big Blue Nation.
Saturday: #SECNation x #BBN

And that's the bottom line, cause @MartySmithESPN said so?? pic.twitter.com/ETGWLzYvFz

— SEC Network (@SECNetwork) September 11, 2019
Tim Tebow is enjoying his time in the Commonwealth. This morning the former Florida quarterback went fishing with Kash Daniel.
"We're trying to start our own streak."@TimTebow & @KashDaniel15 gone fishin' ? #SECNation pic.twitter.com/wKnx9d1P27

— SEC Network (@SECNetwork) September 13, 2019
All of the action begins with The Paul Finebaum Show from 3-7 p.m. ET. Paul will be joined by a few of your favorite UK personalities. Get there early for the big show Saturday morning. It airs from 10-noon. Once the show ends, join us for a party at KSBar and Grille.
[mobile_ad]