SEC Media Days: The Georgia Bulldogs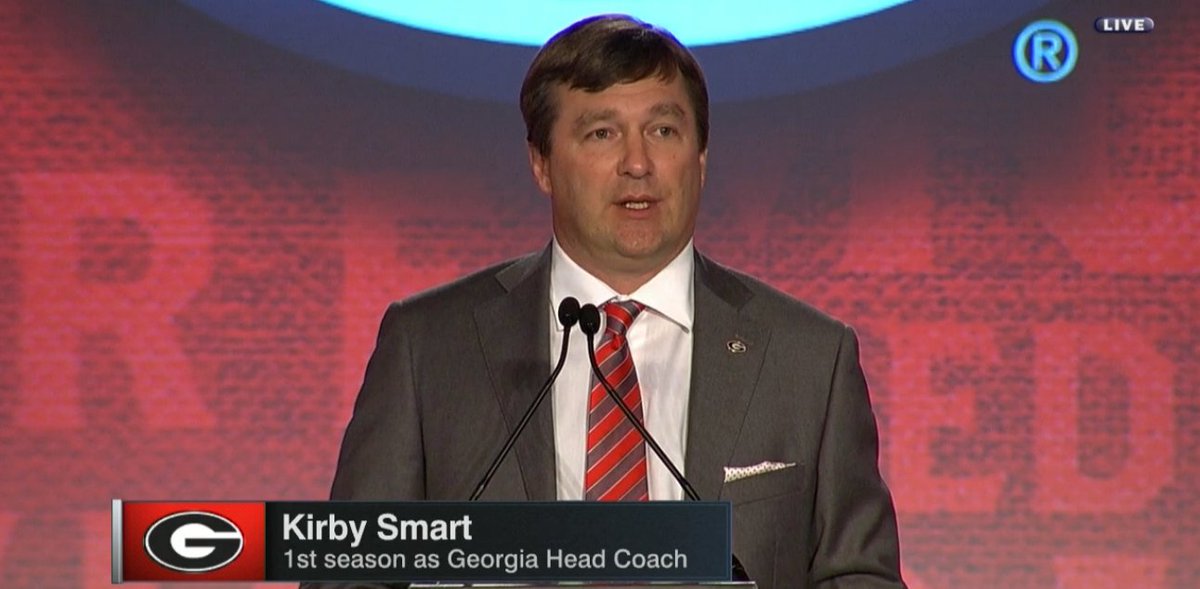 With no avail, over the years several football programs bid to lure Kirby Smart out of Nick Saban's shadow. But in Bear Bryant fashion, "When momma came a callin" Smart returned to his alma mater. Unlike the South Carolina situation, Mark Richt left the personnel cupboard full. Annually Georgia possesses one of the most skilled rosters in college football. 2016 will not vary from that norm. IF RB's Nick Chubb and Sony Michel are back to 100%, the Dawgs will again be a serious contender in the SEC East. Today in Hoover, the most pressing questions focused on its ongoing quarterback competition.
Kirby Smart Remarks
"63 percent of our team is going to be sophomores or less. So we've got a young team. And we also only have 12 scholarship seniors on this team. So, I know two of the young men that I brought today are juniors, and they are leaders on our team, and I'm going to speak about them here briefly."
"We have six returning starters on defense. The biggest concern for me and our team is the defensive line. We have to do a great job there and stay injury free. We have to develop the guys on campus. If those guys get better, we'll have good depth there. With only 12 scholarship seniors, like I mentioned, I think any time you have that, the best teams I've been around in the SEC, whether University of Georgia's running back coach or University of Alabama, the teams that win the SEC, they always have great senior groups. Not necessarily quantity, but quality. I think that's very important when you look at a team."
"The options we're going to weigh are going to be what gives us the best chance to win. Notice I didn't say exactly what you said, where we're going to play the best player. We're going to play the best player that gives us the best opportunity to win football games. And I don't know who that is. If I knew, I promise you, I would tell you. I would give you the information. But I don't know that. And I think that a lot of those 28, 29 practices that we're — we have will tell us that. I mean, practices we're able to have to show the improvement and leadership that each guy has."
Interpreting Coach Speak
First, Smart focused on his positive experiences with Nick Saban and offered gratitude for his time under the five-time national championship coach. But, he recognized the differences between Georgia and Alabama as well as the need to put his own stamp on the Dawg program. By saying this, Smart conveyed the message that he is ready to be an SEC head coach and no longer Saban's assistant.
Smart spoke of defensive line concerns. Welcome to the world of the other 12 SEC teams coach (minus Missouri). While stockpiling future pro's in Tuscaloosa, Smart's remarks mirror that of the rest of the league. Defensive linemen are the most difficult to find, recruit, and sign. There's just simply not enough to spread throughout 14 teams. Smart's DL worries echo UK's top preseason concern list.
Georgia has 12 scholarship senior players. With 63% of his team being sophomores or younger. Smart strategically placed expectation management on his 2016 roster. Dawg fans won't buy it, but it was a smart play.
Now, as for who will start at quarterback. "We're going to play the best player that gives us the best opportunity to win games." Couple this remark with another statement in which he referenced the fact that not all SEC Champions won the title with a senior quarterback and I can now see true freshman Jacob Eason as number one on the depth chart. However, Smart conveniently talked about the QB competition as wide open. IF Eason is the guy, senior Greyson Lambert is a seasoned veteran who can relieve the rookie if he falters.
By The Numbers
— Returning Starters Offense: 8
26.3 points and 377 total yards per game. Ranked 8th in SEC Total Offense.
— Returning Starters Defense: 6
Allowed 16.9 points and 306 yards per game. Finished 3rd in SEC Total Defense.
— 2015 Record: 10-3
— Opponent prior to Kentucky: Florida
— Past Two Games: 2014, Georgia 63-Kentucky 31. 2015, Georgia 27-Kentucky 3.
Best Three Players
OG Greg Pyke, the All SEC lineman earned the team's best effort award during spring practice. Has started 23 games. At 6'6, 316 pounds, Pyke is a physical and experienced presence on the Bulldog line of scrimmage.
RB Nick Chubb rushed for 747 yards on 92 carries and 7 touchdowns in an injury shortened 2015. As a freshman, Chubb was the SEC Freshman of the Year after rushing for 1,527 yards while averaging 7.1 yards per carry. When healthy, Chubb is one of the best running backs in college football.
OLB Lorenzo Carter is a 6'6, 242 athletic freak who had an inspiring freshman season but sputtered in year two. As his role increases, expect an All SEC season in 2016.
How Kentucky Beats Georgia
In their past two meetings Georgia has beaten UK by an average of 28 points. This can only be interpreted as disconcerting. Stopping the Dawg rushing attack will be priority number one. Nick Chubb and Sony Michel combine for a powerful one-two punch however both are currently rehabbing injuries. Due to question marks at quarterback, forcing Georgia to rely on an air attack will be Kentucky's best course of action. True freshman Jacob Eason and senior Greyson Lambert's QB competition will go deep into fall camp. Last year's game in Athens was offensively offensive. I expect Eddie Gran to remedy this phase. However, managing the Dawg pass rush will always be a concern.

Of all the historically SEC powers, Kentucky has experienced the most success against Georgia. Talent will favor the Dawgs, however on its schedule, UK is sandwiched between Georgia's two traditional rivals: Florida and Auburn. This can only help.