SEC Media Days Breakdown: Florida Gators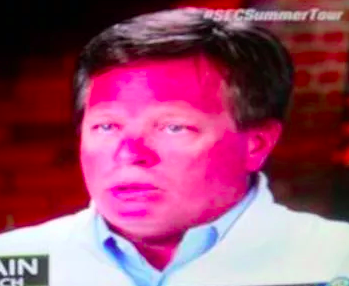 Coach Speak: Coach McElwain needs more sunblock, less Gatorade. I liked the hire but found it interesting his staff is comprised more of teachers than recruiters. The Bull Gator is displaying confidence and excitement. Traits that were both missing towards the end of the Muschamp regime.
Team Strengths: Gator's defensive back seven is elite when healthy.  Given an unproven yet athletic front seven, McElwain's defense will be called upon to carry the young team through the beginning of 2015. Weekly, Vernon Heargraves III will be the best player on the field and is dangerous as a defensive back and returner.
Weaknesses: Who's going to play quarterback? Whomever is named starter won't exactly strike fear into opposing defensive coordinators. For the life of me, Florida's ineptness in recruiting offensive skill positions remains an anomaly.
Offensive personnel to watch: WR Demarcus Robinson.  Remember him? Robinson embarrassed the Wildcat secondary in last year's close loss in the Swamp. Other than Robinson and possibly RB Fred Taylor Jr., the Gator offense is lacking legitimate threats.  One or two may surface prior to the Kentucky game.
Defensive personnel to watch: CB Vernon Heargraves III is arguably the nation's best at his position. His running-mate, Freshman All American CB Jalen Tabor, is also elite. Gator LB's are talented but both are coming off injury.  Jarrad Davis and Antonio Morrison's health will determine overall defensive effectiveness.
How Florida beats UK: If Demarcus Robinson again has ten plus catches, the losing streak continues. Until proven wrong, I don't see a Wildcat cornerback that can check the physical receiver. Plus, Gator cornerbacks are dangerously good. A lazy Patrick Towles' pass could easily turn into six points for the bad guys.
How UK beats Florida: More of a culmination than an individual occurrence. IF the Cats jump out early and maintain momentum gained from its first two games, I don't see Florida having the horses to swap touchdowns. UK has to start fast and stay faster. This isn't only on offense.  By taking advantage of a young Gator offensive line, I can see DJ Eliot dialing up creative blitz packages to force the QB's hand. A raucous Commonwealth Stadium will greatly impact the final score. If UK can take a lead into the fourth, Mr. Barnhart best grease the goal posts.