Redshirt in play for Alvonte Bell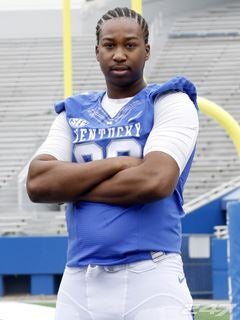 The wait for Alvonte Bell has been a long one, and it may get even longer. The JUCO transfer is now looking at a redshirt season, though he is listed in the three-deep depth chart at defensive end this week. He has yet to see the field this season and Stoops is hesitant to send him out there with a redshirt available.
"That is what we are working on," Mark Stoops said today, when asked about the possibility of a redshirt. "We're preparing him. He's practicing with us and he's getting better. I don't want to burn it if it's just going to be very limited play."
Bell originally committed to Joker Phillips as a member of Kentucky's 2013 recruiting class, then took the junior college route when he failed to qualify at UK. He signed with Kentucky again on Signing Day this year, two and a half years after he first announced he would become a Wildcat.
Now it looks like it may be one more year before Bell makes his debut in Lexington on the defensive line. If that's the case, it will have been over four years between the day he committed and the day he plays his first down in Commonwealth Stadium.