Ready or Not, It's Matt Elam's Time to Shine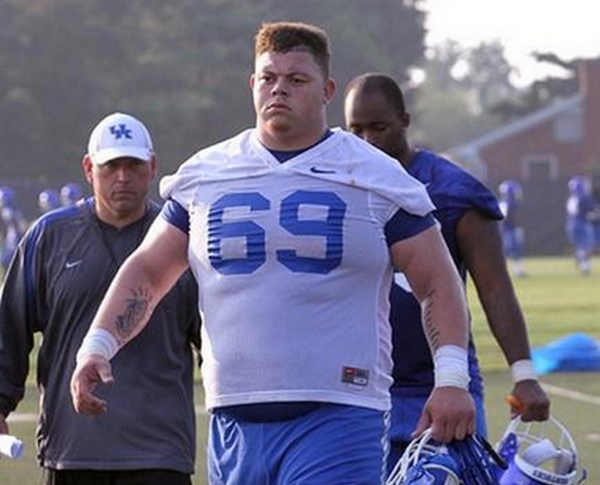 Kentucky's Senior leader on the defensive line, Melvin Lewis, suffered a broken fibula last night, leaving the nose guard duties for the foreseeable future to Matt Elam.
There is no doubt that Melvin will be missed.  Luckily of all the bones to break, the fibula injury heals the fastest.  I wouldn't be surprised to see Melvin play before the seasons over.
Nonetheless, Matt Elam will become a critical part of D.J. Eliot's defense.  Even though Kentucky hasn't employed as nose guard as frequently over the past few games for schematic reasons, a stout run defense starts at the nose.  After giving up 332 yards on the ground over the last two games, it MUST improve during the second half of the season.
Last night was probably the most Matt has played all season, and he wasn't too bad at all.  He played some early, before replacing Lewis in the second half, finishing with a career-high with 6 tackles.
Entering the season there were two things Elam needed to improve: staying low off the line of scrimmage and his conditioning.  The staff has worked diligently to get the massive man to come off the ball lower.  It's tough for a guy who's 6'7″ but he's done a pretty good job.  Jimmy Brumbaugh has put him in a four-point stance (two hands on the ground instead of just one), which has worked…until he gets tired.  Matt's conditioning has improved, but it showed its ugly face when Auburn entered the red zone.  They attacked the middle of the defense.  Matt stuffed them a few times, before he was driven off the ball near the goal line, leading to an Auburn touchdown.  Simply put, when he gets tired, he stands taller.
Elam's conditioning cannot improve in a week.  It will be interesting to see how much he will play in the weeks to come.  I'm excited to see how the young fella responds to the demands.  It will not only test his physical capabilities, but his mental fortitude.