No Votes For Kentucky In AP Poll
After receiving 8 votes from the Coaches  there was some hope that members of the press would show the Cats some love too. Alas, it wasn't meant to be. But on the season outlook front, what a difference a week makes. On Tuesday after the AP poll was released there were five ranked teams on Kentucky's schedule with a couple others knocking at the door. Now most of those teams lost or had a poor showing which has shaken up the rankings. Here's where UK's opponents now stand:
7. Georgia, Up 3
Georgia is insanely talented on both sides of the ball. The road to Atlanta in the east is going to run through Athens.
18. Auburn, Down 12
Jacksonville State is located 2 hours north of Auburn in Jacksonville, Alabama. Their roster is probably filled with guys who grew up wanting to play for the Tigers and Saturday's game was their Super Bowl. Auburn managed to avoid the upset but they have lost the swagger of a title contender that could give them the mental edge. I have a hard time seeing them win this weekend at LSU.
22. Missouri, Down 1
Missouri has a great defense and an inconsistent offense that almost cost them against Arkansas State. They face UConn this weekend and should be undefeated when they come to Lexington in two weeks. I like our chances.
28. Mississippi State, Down 3 (32 Votes)
The Dawgs may have battled back to make it a game late but they were not very impressive for the majority of their time on the field.
29. Tennessee, Down 6 (30 Votes)
Which was the real UT? The team that ran out to a 17-3 lead? Or the one that gave up 14 points in the fourth quarter and wound up losing in double OT? Much like Kentucky, they are a young team dealing with inconsistency.
36. Florida, Down 3 (12 Votes)
Florida held on to survive against East Carolina. East. Carolina. They also produced the above gif that is awesome taken out of context with one Gator tackling another. Jim McElwain is also proving to possibly be just as crazy as Will Muschamp. We owe them big time from last season's gameclock debacle. I can't wait.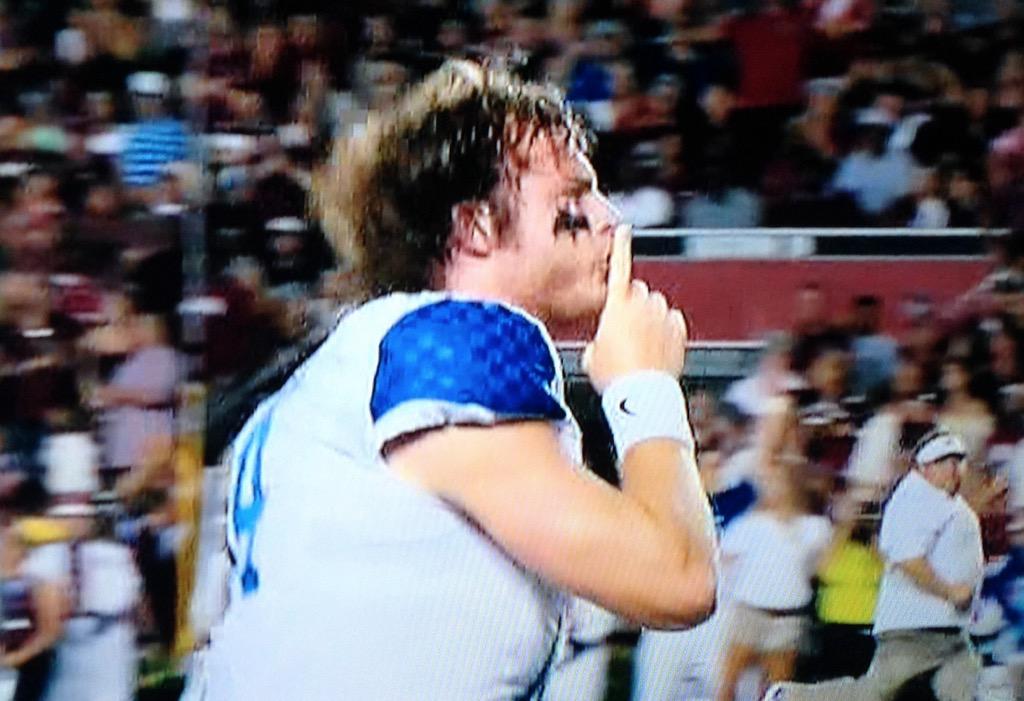 So the Cats aren't ranked after 2-0. No real shock there. Patrick Towles says "Shhhh, keep sleeping on us" we're going to keep shocking these September teams.