National Cream-Field Donut Day's Morning Wakeup
Did you get your cream-filled donut today? You should have, because its National Cream-Filled Donut Day.
The sugary, sweet day has been celebrated on September 14 ever year since it was created by someone I suspect is overweight many, many years ago. I am going to do my part in carrying on the tradition by getting my hands on one as soon as I write this morning's post. I encourage you to do the same.
So read these brief morning notes then find a cream-filled donut or four. Diets always start on the next Monday, you know.
We will hear from Mark Stoops this morning.
It's Monday. You know what that means. Mark Stoops will host his Monday football luncheon with the media in a couple hours to talk about Saturday's win and the challenge ahead when Florida comes to town. His team is 2-0 and excitement is through the roof, so it'll be interesting to hear what he has to say about the Cats. Check back here around noon or so for a recap of his comments.
Florida game spread moves to -3.
After opening at -4.5 in favor of the Gators, the spread has moved down to a field goal at -3, according to VegasInsider.com.
When's the last time we saw a line like that against Florida???
Watch John Calipari's comments after yesterday's alumni game…
And Terrence Jones…
The crowd for the alumni game was insane.
Check out the line at the gates almost TWO HOURS before tip-off…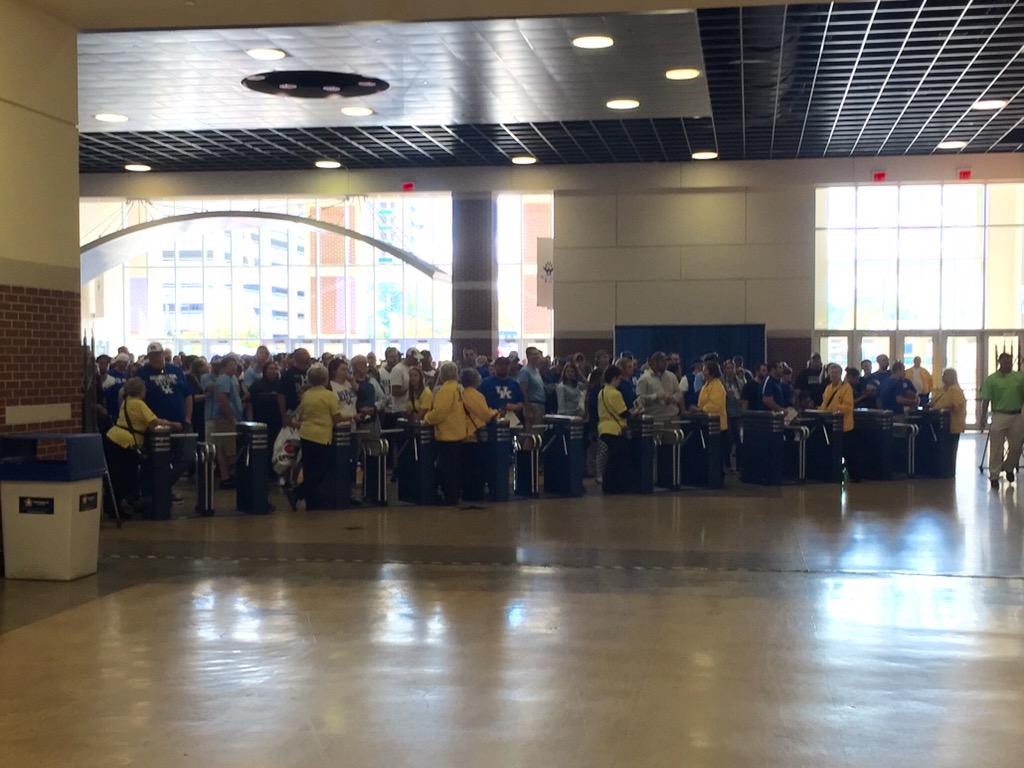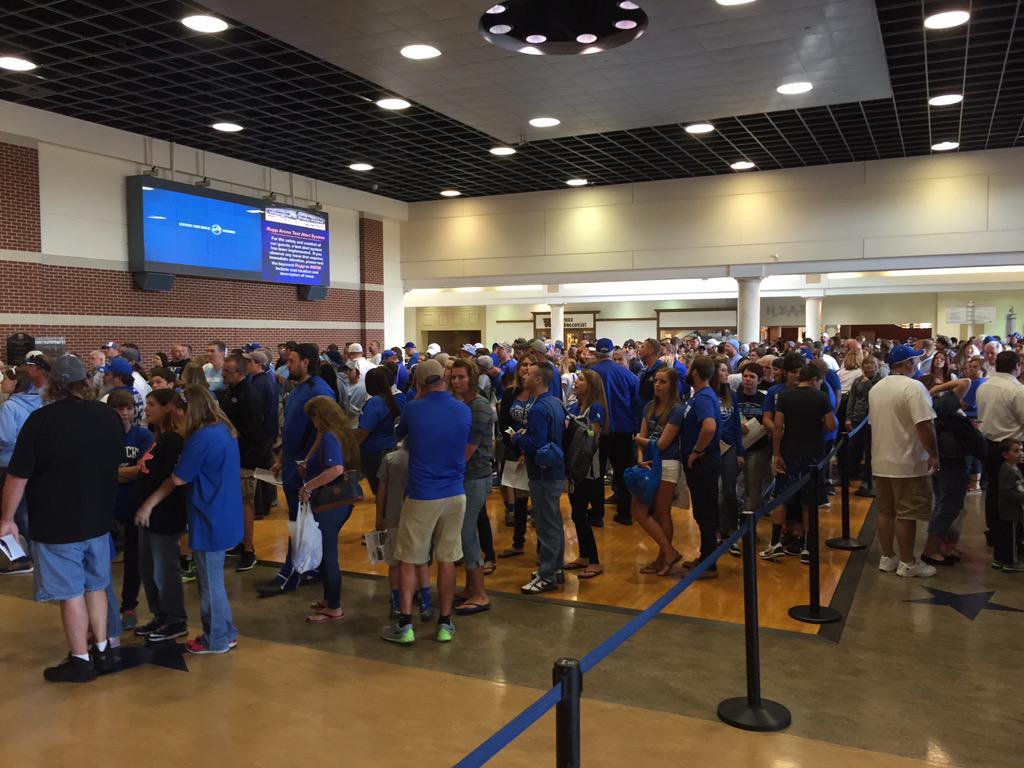 You people are the craziest. Only at Kentucky will you find a thousand people lined up out the doors for an alumni game. I hope all of these people enjoyed it as much as we did.
Swaggy Cal is excited about the season.
I attended the alumni game after party last night at the Hilton and John Calipari was on fire. He's in full Swaggy Cal mode and it showed when he was on stage hosting the auction. I better not tell you all he said, but I will you tell you he's very confident in his new group. The Duke game was a hot topic, especially with Jay Williams in the building last night. Williams was on the receiving end of a lot of trash talk from Cal looking ahead to this year's Champions Classic. It was a lot of fun listening to Cal give it to Jay and other rivals on next year's basketball schedule.
Cal will be in North Carolina today to visit Edrice Adebayo.
But that's enough basketball talk for now. We have an undefeated football team.
Kentucky Sports Radio radio is going to be a fun one this morning.
Matt has plenty of stories from his trip to the Hall of Fame on Friday and then to Columbia for the big win on Saturday. Tune in this morning to hear all about it as KSR looks back on a fun, action-packed weekend.
Go Cats.