Monday Evening Notes From Today's Football Press Conference
I attended today's press conference on my afternoon off for two reasons: (1) to learn a thing or two about the new coaches; and (2) because I always seize the opportunity to rub elbows with the likes of Alan Cutler, Larry Vaught, Lonny Demaree, Keith Taylor and the other legends of the UK media room.
With KSR football masterminds Nick Roush and Freddie Maggard in attendance — laptops in laps and fingers in noses — there was very little I could offer this here website without stepping on their toes or outshining their hard work with my elite written coverage of all things UK. So I took a backseat and let those two do all of the work, while I people-watched around the room and occasionally paid attention to what was being said.
I didn't plan to write anything about the afternoon, but I'm bored waiting on an Uber to get me for an 8 pm Christmas party so I thought I'd do some brief evening notes.
And yes, I am going to a Christmas party on January 4. In a Santa onesie. Look out, Lexington.
Here's some stuff from the day…
Freddie Maggard's sock game was strong.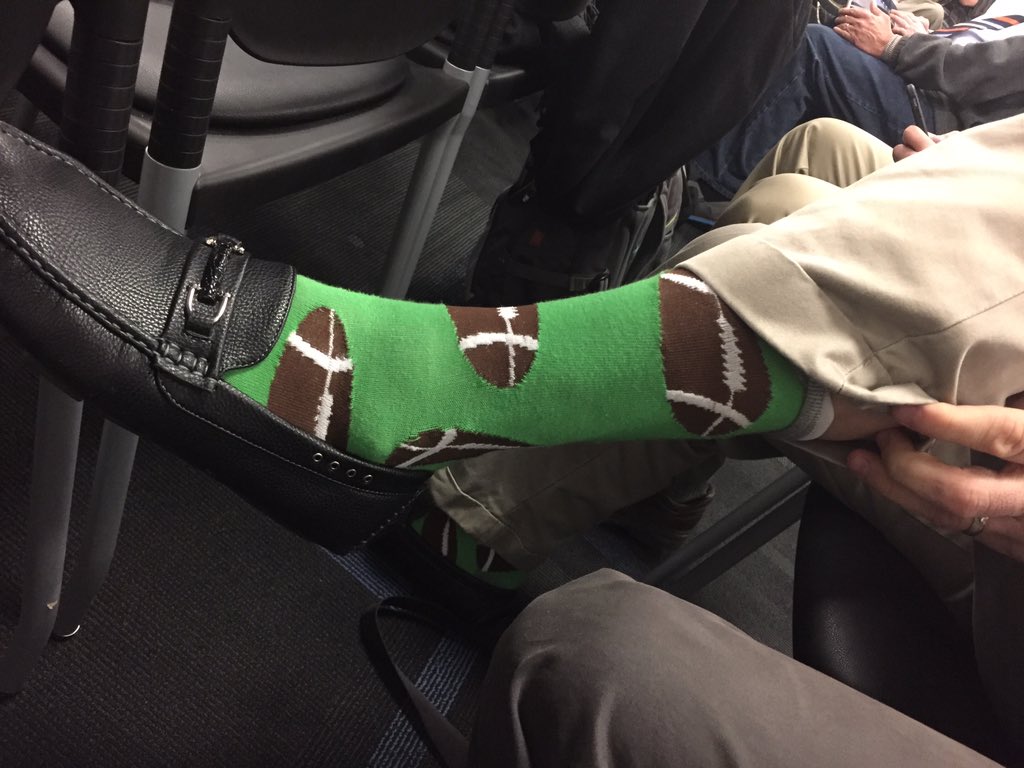 First and foremost, Freddie Maggard — or should I say, Freddie Swaggard — brought out the best from his sock drawer for this one.
Way to dress up, Freddie. That'll take you places.
Mark Stoops confirmed his daily Starbucks location.
One thing you probably haven't read in all of the reports from the day is Mark Stoops confirming where he buys his morning cup of coffee.
Stoops told reporters he stops at "The Kroge" every morning to pick up his daily Starbucks. "Kroge" being short for Kroger, with sources telling me it is the Beaumont location.
I also frequent the Beaumont Kroger, although I've never seen Stoops at the Starbucks. I assume he gets up and going before I do each day.
Stoops was drinking from an unmarked cup of coffee during today's press conference, likely from the football facilities.
Lonny Demaree continues to see every movie in the theater.
His most recent recommendation: Tarantino's The Hateful 8.
Lonny also thinks Concussion is too much like a documentary, but Will Smith will receive an Academy Award Nomination for his performance. Also, he didn't bother watching The Martian because he didn't care for Gravity and he assumes they are similar. Like me, Bridge of Spies put him to sleep.
I love talking movies with Lonny.
The new media room in Commonwealth Stadium is much smaller.
It makes for a more intimate environment with our peers in the media. It also makes it much harder to see around John Clay filming everything on his iPad in the front row.
I like the two new coaches.
I'm running out of time to get too in depth here, but I will say I like the new additions and it's not just to get some hype behind the hires. Coach Gran and Coach Hinshaw genuinely seem excited to join Big Blue Nation and they have a plan in place that they believe will hold up in the Southeastern Conference.
Only time will tell if that holds true, but I like the thought of 90 plays per game and going "800 miles per hour," two things we were told to expect from the offense.
Congrats to Derrick Ansley.
Keeping Ansley on staff was huge for the program as he is a major up-and-comer on the coaching scene. The new co-defensive coordinator tag is well deserved and it was necessary to keep him around Lexington.
Uber's almost here. Go Cats.