Monday A.M. Headlines: It's Ole Miss Week
Football season rolls on with Week 2 of UK's season beginning today ahead of the home opener in Kroger Field this coming Saturday. Sunday was a day of rest and to let the AP drop Kentucky from the polls, but it's on to the next one today as the Cats pick themselves back up from a tough loss to get ready for Lane Kiffin's Ole Miss Rebels.
It feels good to feel football again.
Mark Stoops will hold his Monday press conference at noon.
As is tradition, head coach Mark Stoops will spend 30-45ish minutes in front of reporters on this Monday at noon. Stoops will turn his camera on to further explain what he saw in Saturday's loss at Auburn after a cooling off period and time to rewatch the tape. He'll probably have more words to say about Chris Rodriguez's no-touchdown and Terry Wilson's spiderwebs in his first game back in over a year.
You'll get a new KSR Football Podcast today.
Monday also means the KSR Football Podcast will get together to play a few hits for the football crowd. Nick Roush, Freddie Maggard, Charles Walker and I plan to record around 3 o'clock, so check the feed early in the evening for the Week 2 episode.
Ole Miss is up next and Kentucky opened as the favorite.
Are you ready for Lane Kiffin?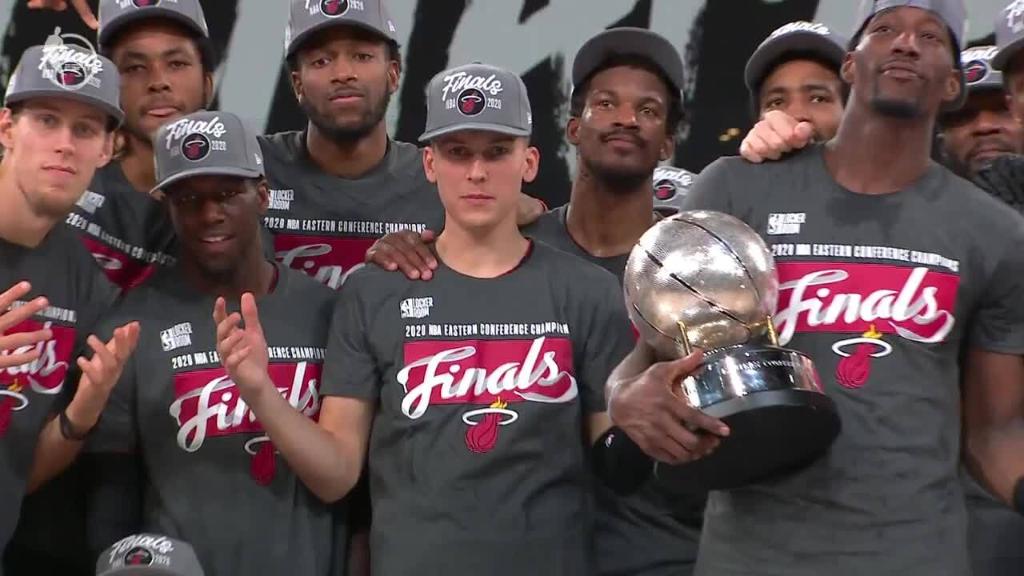 Tyler Herro, Bam Adebayo are going to the NBA Finals.
Just like no one predicted, Tyler Herro and Bam Adebayo are the first of Calipari's non-Anthony Davis Wildcats to lead their NBA team to the NBA Finals. The Heat's improbable run through the bubble has been a blast to watch for all basketball fans and last night it culminated in Miami knocking Boston out of the Eastern Conference Finals with a 125-113 win in Game 6.
Adebayo led the charge for Miami with 32 points on 11-of-15 shooting from the field and 10-of-11 at the line, in addition to his 14 rebounds. Tyler Herro played 35 minutes off the bench to help fill the scoring column with 18 points of his own.
Game 1 of the Finals is Wednesday night with two other Wildcats, Anthony Davis and Rajon Rondo, standing in the way with the Los Angeles Lakers. Whatever happens, at least two UK alums will get rings in a couple of weeks — three if we throw in Heat president Pat Riley and Lakers head coach Frank Vogel.
Cats had a day in the NFL too.
The full 'Cats In The NFL' recap will go up a little later this morning; for now, enjoy a couple of big defensive plays from Mike Edwards, a second-year safety out of Kentucky, and Za'Darius Smith, the fan favorite from early in Stoops' tenure who is now terrorizing the NFC North in Green Bay.
Mike Edwards can ball. Great insurance to have on this team. pic.twitter.com/EyNeiVEp2j

— JC Cornell (@CornellNFL) September 27, 2020
Za'Darius Smith is playing GROWN MAN football ?@TheRealZSmith | #GoPackGo | NBC pic.twitter.com/pvlsALR9Bo

— Sunday Night Football (@SNFonNBC) September 28, 2020
Oh, and the Titans are 3-0.
The NBA Combine is going virtual.
Immanuel Quickley, Nick Richards, Ashton Hagans and Kahlil Whitney will participate in the new format, while Tyrese Maxey will sit out to protect his nice draft stock.
EJ Montgomery is not included among the participating draft entrants, furthering the criticisms of his decision to bolt for the league.
Four former Wildcats to participate in virtual NBA Draft Combine
Monday Poll:
panel management
Happy 'Ask A Stupid Question Day'!
September 28 is Ask A Stupid Question Day in America, a holiday created to encourage students to ask more questions in school. HolidayInsights.com explains it as: "A movement by teachers to try to get kids to ask more questions in the classroom. Kids sometimes hold back, fearing their question is stupid, and asking it will result in ridicule."
Well this isn't a classroom but if you have questions, stupid or not, leave them in the comments section below or send them to me on Twitter and I'll respond in a post later today. (The stupider, the better.)
Tune in to KSR!
There is plenty to discuss now that football season is back, plus the MLB Playoffs have created a house divided between the Reds and Braves, so Matt Jones and Shannon The Dude will set the scene for the week ahead for the show's two favorite baseball teams. Turn on your radios at 10 a.m.