Meet the Candidates: Tim Beck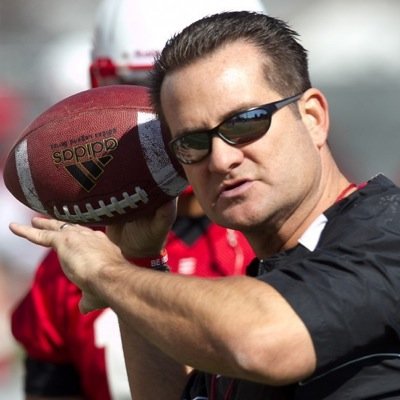 Throughout the day, KSR is profiling who we're hearing are the top candidate for UK's offensive coordinator position. So far, we profiled ECU OC Lincoln Riley, Murray State's Chris Hatcher, Cincinnati OC Eddie Gran, and Miami OC James Coley. Next up: Nebraska offensive coordinator Tim Beck. 
TIM BECK
Current position: Offensive coordinator, Nebraska
Age: 48
Twitter: @NU_speed_kills
Alma Mater: UCF
Current salary: $700,000
Coaching history:
2011 – present: Quarterbacks Coach Nebraska
2011 – present: Offensive Coordinator Nebraska
2008 – 2010: Running Backs Coach Nebraska
2005 – 2007: Wide Receivers Coach Kansas
2002 – 2004: Head Coach Mansfield
1999 – 2001: Head Coach Turner
1996 – 1998: Offensive Coordinator Missouri State
1993 – 1995: Head Coach Saguaro
1990 – 1990: Outside Linebackers Coach Illinois State
1988 – 1989: Assistant Coach Miramar
Offensive philosophy: Run-oriented spread
If Stoops goes with Beck, that would be the biggest adjustment from the current pass-oriented scheme. Beck's offense at Nebraska is heavy on the run and ranked 16th nationally in scoring offense and rushing offense. His offense has four tempos, utilizing two sprinters, two bruisers and two fullbacks. What about passing? Beck's offense ranked 92nd nationally in passing offense, averaging only 198 passing yards per game. For the past two years, Stoops and company have recruited Air Raid style players, so this would be a huge adjustment, but one that may make recruits like Damien Harris happy.
Latest offensive statistics:
Total offense: 35th, 446.3 yards per game, 5,355 total (2,979 rushing, 2,376 passing), 6.29 yards per play
Rushing offense: 16th, 248.3 yards per game, 544 carries for 2,979 yards total and 33 touchdowns, 5.48 yards per carry
Passing offense: 92nd, 198 yards per game, 158-308 (51.3%) for 2,376 yards total, 21 touchdowns and 11 interceptions
Mark Stoops ties:
Beck is also a Youngstown, Ohio native and Cardinal Mooney High School alum, so he is very familiar with Mark Stoops and Vince Marrow. In fact, Stoops and Beck were a year apart at Cardinal Mooney and Marrow worked with Beck at Nebraska for two seasons.
Etc.:
Has a parody Twitter account, @

RogueBeck

Daughter plays volleyball, so an extra security guard may be needed to keep Bobby Petrino away
Was a 2012 & 2013 Broyles Award nominee for the best college football assistant in the country