Mark Stoops' Player Development
An unfounded and irresponsible criticism of Mark Stoops has been a deficiency in player development. While profitable for message board fodder and social media click bait, questioning Stoops' player development scores as the most ridiculous in a long line of irresponsible denigrations.
In this post, we are going to outline three offensive and defensive players that were not shiny star prospects coming out of high school but have developed into upper-level, SEC performers.
Let's dig in:
OFFENSE
Guard Logan Stenberg
— 6'6, 320-pound redshirt freshman from Madison, Alabama's James Clemens High School. Had a dominant performance in Alabama-Mississippi all-star game as a high school senior. Stenberg was credited for 34 pancake blocks in his final season at James Clemens.
— Played in all 12 regular season games rotating with Nick Haynes at Guard. Has proven to be a mauler with rapidly improving technique
— Redshirted as a freshman
— Has the potential, size, skill, and demeanor to develop into an NFL player
— I made the comment on National Signing Day that the Logan Stenberg for 5-star RB Damien Harris trade would eventually be a win for Mark Stoops. Most, as usual, thought I was crazy. However, identifying and signing high-level line-of-scrimmage players proves to be a challenge for all college football programs. Reality states that rosters are built from the inside-out. I'll take a physical, offensive or defensive lineman over a running back any day of the week and twice on Saturdays.
— Chose UK over: Kentucky was Logan Stenberg's only Power 5 offer.
---
Offensive Tackle Cole Mosier
— 6'6, 335-pounds junior. Former in-state, walk-on from Walton-Verona High School
— Mosier secured the starting left tackle position in fall camp but later missed time due to an injury. He has safeguarded Stephen Johnson's blindside since becoming healthy. Mosier was governing in UK's win over Louisville as the Wildcat offensive line surrendered zero QB sacks to the nation's #7 ranked defense. It also racked up 581 total yards.
— Played in 12 games as a freshman with 2 starts vs. Florida and Ohio
— Sophomore season: played in 11 games, 1 start vs. EKU
— Redshirted as a freshman
— Chose UK over: No Power 5 offers, walked on at Kentucky
---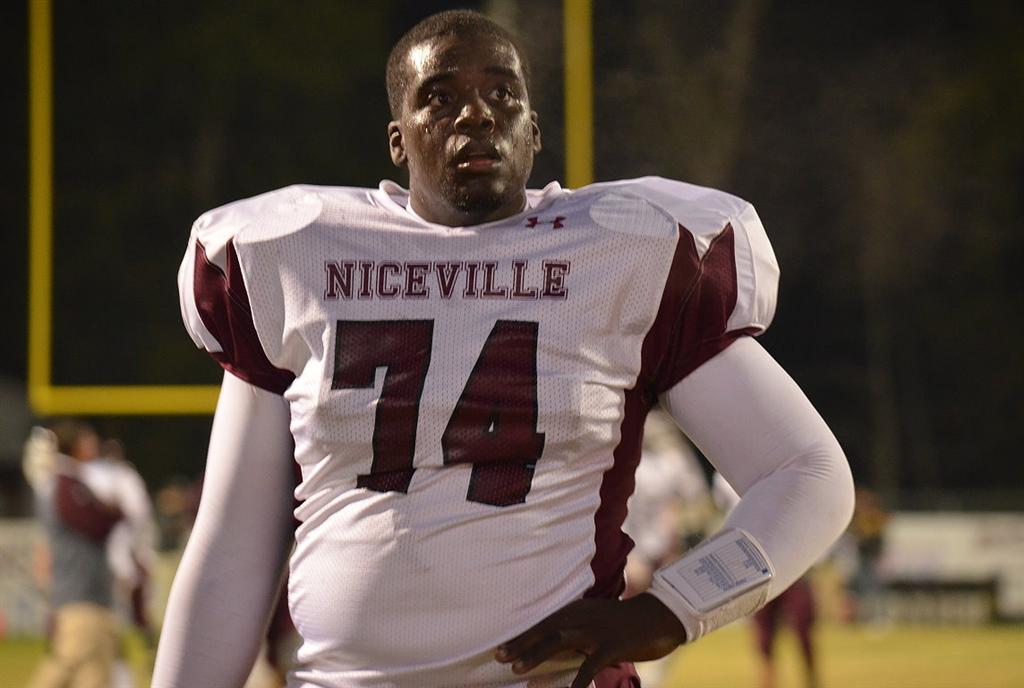 Offensive Guard Nick Haynes
— 6'3, 315-pound junior from Niceville, Florida
— John Schlarman's top non-Toth technician and best athlete. Haynes will become the leader of the offensive line once Jon Toth departs for the NFL.
— Started all 12 regular season games in 2016. Pro Football Focus, or PFF, listed Haynes as the nation's top graded guard for his performance in UK's 35-21 win at Missouri. PFF also had Haynes as the highest graded Wildcat in its win over the 11th ranked Louisville Cardinals.
— Sophomore season: 5 starts, played in 11 games
— Chose UK over: Kentucky was Nick Haynes' only Power 5 scholarship offer.
Haynes/Stenberg/Mosier and offensive line mates helped Kentucky smash offensive records:
Finished as the SEC's 3rd leading rushing team with 2895 yards.
Broke a program record by averaging 5.5 yards per rush.
Only Power 5 team to have 2, 1,000 yard rushers in Boom Williams and Benny Snell.
RB Benny Snell became the 1st UK freshman to rush for over 1,000 yards as Snell ran for 1057 in 2016.
---
DEFENSE
OLB Josh Allen
— 2-star prospect from Montclair, New Jersey where he led the state in QB sacks with 22. Moved from Alabama where he was an all-state receiver as a junior.
— Was not offered by the State University of New Jersey, Rutgers. Thus, evaluators skipped over the SEC's future leader in Forced Fumbles. Not a smart move.
— Was forced into action as a 6'5, 205-pound linebacker due to Jason Hatcher's depth chart inconsistencies and tribulations. Played in 12 games as a reserve OLB and on special teams. Registered 4 tackles, 1.5 tackles for loss, and .5 QB sack.
— Fast forward to 2016; now 6'6, 240-pounds, Allen finished the regular season ranked 1st in the SEC with 4 forced fumbles, 10th in QB sacks with 7, registered 55 total tackles and 8.5 tackles for loss.
— With 2 more seasons to add size and strength; Allen will depart Lexington at 6'6, 265-pounds before departing for an NFL career.
— Chose UK over: Monmouth and Buffalo. Kentucky was Josh Allen's only Power 5 scholarship offer.
---
DT Adrian Middleton
— 6'3, 303-pound sophomore. Played in 4 games as a freshman; finished season with 8 tackles
— Developed into starting defensive tackle after Regie Meant's sudden departure from the program. Started 10 regular season games in 2016.
— Played his best game as a Wildcat on the season's biggest stage with 6 tackles and 1 tackle for loss in UK's Governor's Cup victory.
— Finished 2016 as the Wildcat's statistical defensive linemen leader with 33 tackles, 5.5 tackles for loss, and 1 QB sack.
— Middleton was a vital in-state signee in the Class of 2014; however, he was not one of the heralded, must-gets as depicted by recruiting services. He was also the first player in the three-year history of his high school to sign a scholarship with a Division I university.
---
Nose Tackle Naquez Pringle
— 6'3, 320-pound junior, Itawamba Community College.
— Pringle's improvement is a classic case study of Jimmy Brumbaugh's ability to develop defensive linemen.
— I did not project Pringle as a fall contributor based on spring practice performance; however, weight loss, conditioning, and positional development catapulted Pringle into a high-level contributor as well as an eventual starter for Mark Stoops.
— Pringle played in 11 games, starting 5 in 2016 as he totaled 33 tackles, 2.5 tackles for loss, and 1 QB sack.
— Chose UK over: Kentucky was Naquez Pringle's only Power 5 scholarship offer coming out of junior college.
All that glitters may not always develop into gold. As shown above, player development is as much about grit and attitude as it is physical traits and star rankings. I'd argue that shiny trophies are won and lost on the line-of-scrimmage.
For those familiar with the military, I'll provide this analogy: Officers are like 4-5 star recruits. Sure, they look pretty in uniform and are popular for social gathering invitations but at times are not keen on putting in work. 2-3 star players that develop into upper-level starters are like NCOs, or Non-Commissioned Officers. NCOs are the backbone of all military organizations and are reliable when the tough gets going.
As we enter "Silly Season," or the period of time leading up to National Signing Day, remember this: don't infatuate on stars to the point that you ignore building blocks. Prospect identification and player development are equally as important as recruiting.
It's not personal, it's personnel.