Marcelys Jones dismissed from the team for a violation of team rules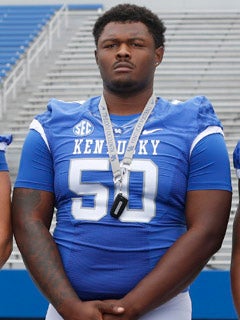 After sharing the good news that Patrick Towles has been named the starting quarterback, Mark Stoops had to temper it with some bad news. Stoops says he had to dismiss Ohio State transfer Marcelys Jones for a violation of team rules. The 6'5″ 315 lbs. offensive guard transferred to UK in June, but, unfortunately, it was all for naught.
A LOT happened in that presser and Nick will recap it all for you, but here's a quick injury report:
Senior linebacker Ryan Flannigan is still out with a shoulder injury, but Stoops insisted it is "nothing major."
Freshman linebacker Jordan Jones will be out a couple of weeks with an illness
Sophomore running back Boom Williams is back running again after a minor knee injury, but Stoops said he still hasn't been a full go at practice.
More coming in just a little bit. Phew.