Making The Case For Patience
There is a portion of the Kentucky football fan base that is ready to pull the plug on the Mark Stoops era. It is not a large portion of the fan base, but it does exist. I've read the comments. I've seen the tweets. I've heard the radio calls. I've even been within earshot of some real life, face-to-face conversations and debates. There are people out there, believe it or not, who truly think it is time for Mark Stoops to go.
To those people, I simply say: Stop. Just stop.
Calling for Mark Stoops' head is ridiculous. Have some patience for crying out loud. This is Kentucky football, not basketball. The program has been a bottom-feeder since the beginning of time. Dinosaurs used to hammer Mississippi State to cover the spread each year. Cavemen would put all of their sticks and stones and bones on the under for Kentucky football wins in a season. It has been this way forever, so why are some fans putting the team on a pedestal now? Why, all of the sudden, are expectations through the roof for a program that reaches a bowl game at the same rate I wash my bedsheets?
As a fan base, Big Blue Nation is guilty of overrating its own team right now. A lot of us have forgotten our hope and expectation prior to the start of the season: reach a bowl game. And a bowl game is still very much in reach. Those eight- and nine-win season predictions were always a little farfetched. Reality is, this was always a six- or seven-win team at best. The early season success with a win at South Carolina and a close game with Florida threw everyone off a little bit and we set the bar too high. It's time we reel it back in and remember: this is Kentucky football, a program trying to build a foundation it's never had.
The problem with the current mood is too many people are quick to forget this is a long process. It's not a quick turnaround by any means. It's not basketball, where you hire a John Calipari and sign a John Wall and a DeMarcus Cousins and all is right in the world. Football takes several years to turn around, especially for a program that never had success to begin with.
Let's use fat people, for example:
Kentucky football is the 'Before' photo in P90x commercials. It has been fat its whole life; living on a Mountain Dew-stained couch in its basement, surrounded by broken dreams and wadded up tissues full of its own tears and shame, watching all of its athletic, handsome friends crush life. Then one day, it got a little confidence because someone at the grocery asked, "Have you lost a weight?" — when in reality, it dropped like five pounds because it switched from soft drinks to diet green tea because the internet said diet green tea speeds up metabolism. So now it's down a couple pounds and got a little confidence, but it is still overweight. Not as fat as it once was, but still not the 'After' picture.
I don't really know where I am going with this analogy, but I think I'm trying to say: Kentucky football fans want the chiseled abs without eating salads and running the neighborhood every night. They want the 'Before' to become the 'After' immediately. They want instant results, and there's no liposuction for a college football program.
Kentucky football is the guy on the left, always has been. Let's have some patience and put in the work to be more like the guy on the right. (But not as creepy looking.)
Okay, that's plenty of chest hair and weight loss references for this conversation, let's talk numbers…
Remember Rich Brooks?
Of course you do. He gave us the best years of our Kentucky football lives, just not too long ago. Brooks coached the Cats to four consecutive bowl games and the program's only two eight-win seasons of the modern era. Not to mention, several memories with wins over top-ranked LSU and Stevie gettin' loose to upset ninth-ranked Louisville. Those were the good times.
But do you remember Rich Brooks' first three years?
Fans were begging for him to go after seasons of four, two and three wins to begin his UK career:
Rich Brooks' First Three Seasons
2003: 4-8 (1-7)
2004: 2-9 (1-7)
2005: 3-8 (2-6)
Mitch Barnhart stuck with him, however, and asked fans to do the same. That very next year, Brooks' Wildcats defeated Clemson in the 2006 Music City Bowl, Kentucky's first bowl game since 1999, to complete an 8-5 year. Kentucky would reach four more bowl games to make five straight; four under Brooks and one under Joker Phillips, Brooks' successor.
But many fans wanted him fired after three seasons. Wouldn't that've been a mistake?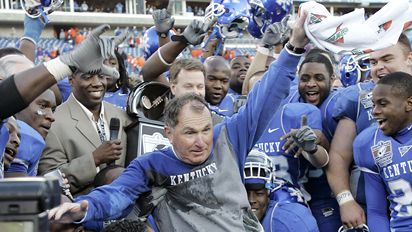 Here's another argument for giving Mark Stoops more time:
Kentucky sucked when he took over. I mean that exactly how I wrote it. With all due respect to Joker, who I like, Kentucky wasn't just a bad football team in his final year; Kentucky sucked. As one SEC assistant coach told KSR after Mark Stoops' first year, Stoops took over the least-talented team in FBS football. Not just one of the worst, this coach told us it was the single worst roster of the 128 programs in the nation. That, alone, should give Stoops a little extra leeway in rebuilding his personnel, which he has done better than anyone thus far. Kentucky's first three recruiting classes under Mark Stoops are the three best in school history. And again, it takes time in football; John Wall and DeMarcus Cousins can't throw on a uniform and make you good. Football players need years to grow and develop, and the youth on Mark Stoops' roster looks promising. Give these guys time to become juniors and seniors.
With all that said, the lack of competing the last four weeks is concerning. As I defend Stoops and trust he'll do better over time, his team can't have another showing against Vanderbilt like the piss poor performances it gave the last four weeks. Let's be realistic, Kentucky wasn't going to win any of the last four games, outside of a possible upset over a very bad Auburn team. (Remember, we're still fat.) But fans expected more than what they got out of the Wildcats. Whether it's a personnel, a coaching, a morale, an execution or a whatever-else problem, the problem needs to be fixed to continue on the upward climb of building a winning program.
Moving forward with this year, there is still a legitimate chance of putting together a successful season. Kentucky can still win out to complete a 7-5 regular season. If it is able to do that, we will look back and laugh at the conversations and radio calls over these last few weeks. A 7-5 season would be outstanding for Stoops in Year 3 and the four-week stretch of ass-kickings would quickly be forgotten. Even a 6-6 season is a huge success at Kentucky, whether you're willing to admit that or not.
Can we talk numbers again? Digest these then I'm done…
— In the last 30 years, Kentucky has had only six winning regular seasons. SIX IN THIRTY YEARS. Win out for a seventh winning season at 7-5, or drop a game and finish at 6-6 for only the 10th season at .500 or better. Hell, a 5-7 year is still about average around here.
— In the last 30 years, Kentucky has been to eight bowl games. As mentioned above, four of the eight came in Rich Brooks' last four seasons, with another in Joker Phillips' first year, following Brooks' retirement. Kentucky hadn't won a bowl game since 1984, prior to the 'FIRE RICH BROOKS' campaign.
— Since the SEC went to East and West divisions in 1992, Kentucky has finished fourth in the East only five times. A win over Vanderbilt locks up fourth place for the sixth time in the history of the division. Only once has Kentucky done better than fourth, when it finished third with a 6-6 overall record in a down year for the conference in 1993.
See? It may seem bad right now coming off the last few weeks, but it's really no different than what it has always been, if not better. This is far from a down period for Kentucky football.
Be patient, Big Blue Nation.
Relaaax…