Major Changes To Expect At Kroger Field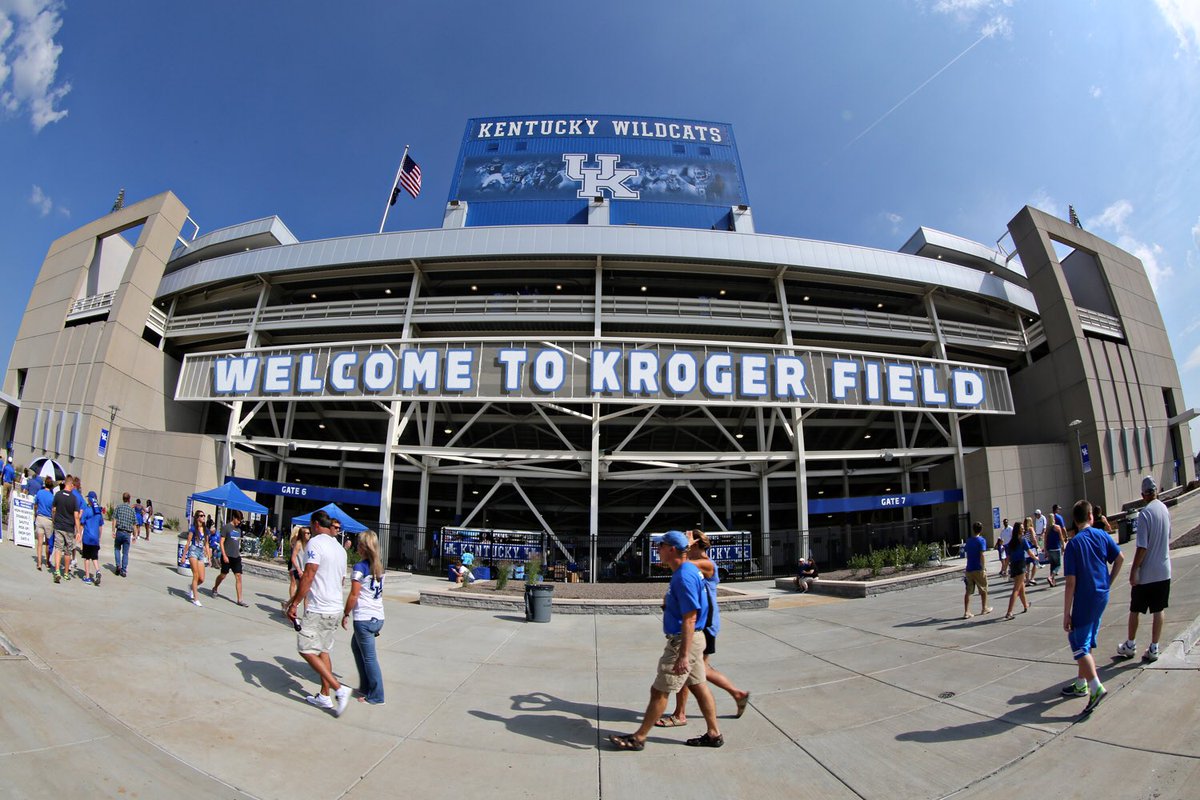 Get your Plus Cards ready because we're going Krogering!
Today the University of Kentucky announced a partnership with Kroger that includes the renaming of Commonwealth Stadium to Kroger Field. The change is effective IMMEDIATELY so throw out any of those old Commonwealth t-shirts and posters because those days are dead. This is Kroger's world now, Big Blue Nation.
Many of the details of the deal and the rename were made public during the Monday afternoon press conference in Lexington, but tonight I'm going to share with you a couple of the changes that were not mentioned.
Expect these major changes to your Kentucky football experience beginning this fall…
Aprons and name tags for the coaching staff
As is the case with all Kroger employees, Mark Stoops and his staff will be written up each time they come to work without their aprons and name tags. Two aprons and two name tags will be provided in orientation; any additional aprons and name tags must be purchased and the cost will be taken out of their paycheck.
Coinstar kiosks at every gate
Kroger's fancy coin-counting machines will be conveniently located at the ramp of each gate throughout Kroger Field. Fans who dump their jars of loose change into the Coinstar kiosks can either (a) donate their coins to the K-Fund or (b) convert their coins to cash tickets, redeemable at any concession stand.
An 11.9% fee applies to all cash conversions.
U-Scan concession stands
Kroger's U-Scan self-checkout process will be available throughout Kroger Field for all food and drink purchases; although, fans can expect to miss entire possessions of the football game while waiting for the one U-Scan attendant to address any of those frustrating malfunctions with the scale and/or product barcodes.
High school kids will still be available behind the counters for those fans who prefer face-to-face transactions and human interaction.
Kroger Fuel parking lot stations
There will be a decline in parking spaces in the lots surrounding Kroger Field as Kroger plans to open three news Kroger Fuel stations. Plans are in place to install pumps in the Red, Blue and Green lots.
UK season ticket holders will receive a 30 cent discount on each game day fill-up up to 25 gallons.
Full grocery integration
By the time of full completion in Fall 2018, the new Kroger Field will be a fully functional grocery store and football stadium, the first of its kind. The final layout is still in the design phase, but imagine the players taking the field through the frozen food aisle, beneath the Kroger Field Pharmacy.
Change the game!